This is our Guide For Vegetarians and Vegans Traveling to Iran. One of the most significant parts of a fantastic trip is trying new food. You can quickly get familiar with a culture when you eat its traditional dishes, but things can be difficult when you have a different dietary lifestyle. If you are a Vegan or a Vegetarian, you might be concerned about what to eat during your trip to Iran. You don't need to worry because we are going to show you the ultimate guide to enjoy your journey as a Vegan/Vegetarian and taste traditional Persian foods which are healthy and delicious.
Being a Vegetarian in Iran
Good news! Being a Vegetarian in Iran is not difficult, but it could be tricky if you don't have enough knowledge about Iranian Cuisine. Although the Persian diet is full of meat-based dishes, you can find lots of veggie foods in most Persian restaurants. You just need to know what you should be looking for.
Kashk e Bademjan, Mashed Eggplant, and Walnut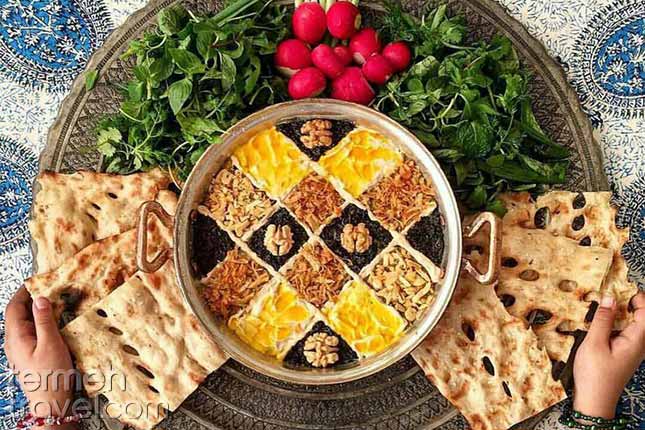 This dish is one of the most famous and delicious Persian foods called "Kashk e Bademjan." For making it, we need chopped and fried eggplants, fried garlic and onion, whey sauce (Kashk), dry mint, and walnut. We need to mash and mix everything, and the meal is ready. Remember that in some restaurants they do not combine all the ingredients, so you can decide if you want whey sauce or not.
Persian Kuku
Kuku is an egg-based Persian dish combined with various ingredients and similar to Italian frittata omelettes, but it has less egg. You can find different kinds of Kuku in Iran, but interestingly, Iranians do not call them omelettes; they are known as "Kuku" or "Kookoo." There is another dish called omelette that Persians eat for breakfast, which has lots of tomatoes and some eggs, so except for breakfast time, do not ask for this one.
Kuku sabzi, which has fresh herbs, eggs, some nuts, and barberries, is one of the most famous Kukus that you can find in some restaurants. We have another well-known Kuku called "Kuku Sibzamini," which translates to potato omelette or potato patties, which is soft on the inside and crunchy on the outside. Depending on the city or the restaurant that you choose, you can find different kinds of Kukus like "Kuku Kadoo" (Zucchini) and "Kuku Kalam" (Cauliflower).
How do you make Ash Reshteh?
If you are a fan of soups, make sure to try Persian "Ash" or "Aash." There are so many different types of Aash in Iran, and most of them are made without any meat. The essential ingredients of most of the Persian soups are the same, like Peas, beans, lentils and some herbs such as parsley, spinach, coriander and dill which makes Aash a perfect meal, but in the most popular one which is called Ash Reshteh or Ash-e Reshteh, people add fried onion (Piaz Dagh), whey sauce (Kashk) and noodles (Reshteh) to those ingredients. Persian noodles have an enriched flour-based, white color, and a different texture from Eastern noodles.
How to make Ash-e Dough?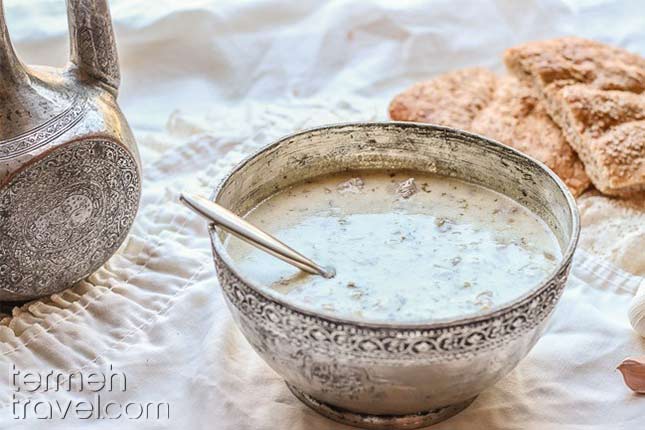 "Ash-e Dough" is another popular type of soup. For making it, people use "Dough" (sour yogurt, water, and dried herbs), which is a delicious Persian drink. There are different types of Ash-e Dough as well, but the most traditional one belongs to Ardabil (a city near Tabriz in the Northwest of Iran) so do not forget to try Ash, especially in cold winters.
Traditional Foods from The North of Iran
Because of the great weather and variety of harvests, North of Iran is the paradise of different tastes, so no matter what flavor you like, you can always find something good to eat, and as a vegetarian, you are going to enjoy the dishes for sure.
Mirza ghasemi or smoked eggplant with tomato and egg is one of the best meatless foods that you can try. In order to make this delicious dish, you need to roast the eggplants until they are cooked and then you need to peel and chop them. Next, you should heat garlic and onion in a pan with some oil until they are golden and add chopped tomatoes. When the tomato juice has evaporated, you have a sauce, and you can break an egg in it and mix it. Then you need to add the chopped eggplants to it and garnish it with parsley.
Mirza Ghasemi is a dip, and people eat it with bread.
Baghali Ghatogh
Baghali Ghatogh is another dish that you should not miss. The combination of fava beans, eggs, and dill with a touch of Persian spice makes it enjoyable.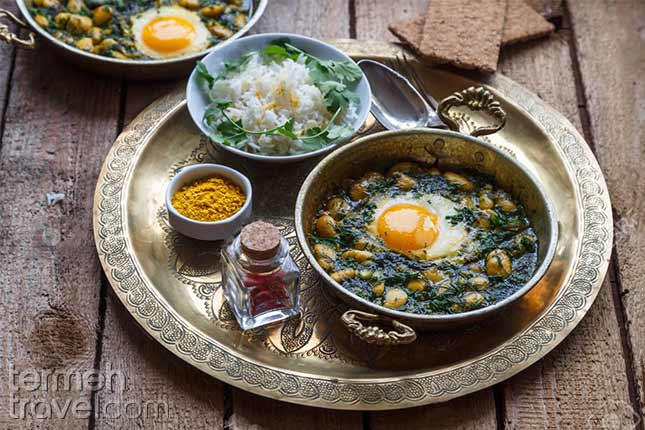 First, you should peel the beans and cut them in half. Then, you need to fry the garlic in a pan and add the beans to it. In the next step, you need to add some dry dill and two glasses of water in the pan and let it cook for 15 minutes. After that, you should break two eggs in the stew and stir it. Then you have a delicious stew that you can eat with bread.

Torshe Tareh or Torshi Tareh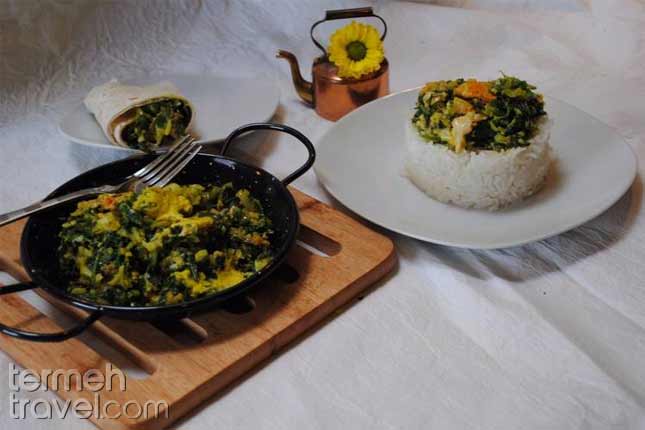 Torshe Tareh or Torshi Tareh is a kind of herb stew with eggs. It has a sour taste and is ideal as an appetizer. To make this healthy dish, you need to fry the garlic with turmeric powder, salt, and pepper, then add some chopped spinach, parsley, and mint to it and put it aside. You need to add fried eggs to the material and mix them well. Then add a cup of sour orange juice and some salt to it and let it cook for 5 minutes. You can serve this flavourful dish with rice.
It is kinda easy to find food in Iran when you are a Vegetarian, but what happens when you are a Vegan?
Veganism In Iran
Like many other countries in the world, being a Vegan is not easy in Iran either, but it does not mean that you cannot find and enjoy food in this country. You can always find different kinds of salads in every restaurant. Some Persian dishes are completely Vegan as well.
Yatimcheh
Yatimcheh is one of the easiest Persian dishes to make, and people can make it with different ingredients.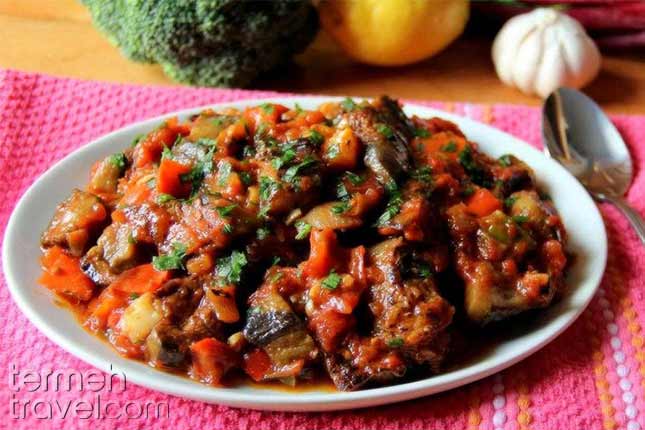 To make Yatimcheh, you need to chop an onion and fry it in oil, then add some salt, pepper, and turmeric to it. Next, you need to add chopped eggplants and tomatoes to the onion. You can use zucchini instead of eggplant as well.
Polo or Iranian Rice Dish
Rice is a significant part of Iranian Cuisine. The combination of rice with some legumes and herbs is very popular among Iranians and pleasant to try.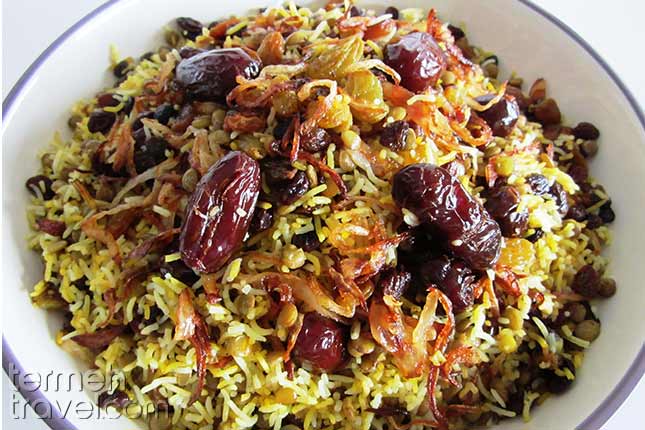 Adas Polo translates to rice with lentils and is very healthy and delicious. If you want to try it in a restaurant just ask them if their Adas Polo has any meat. (In some restaurants they serve this food with raisins and walnuts)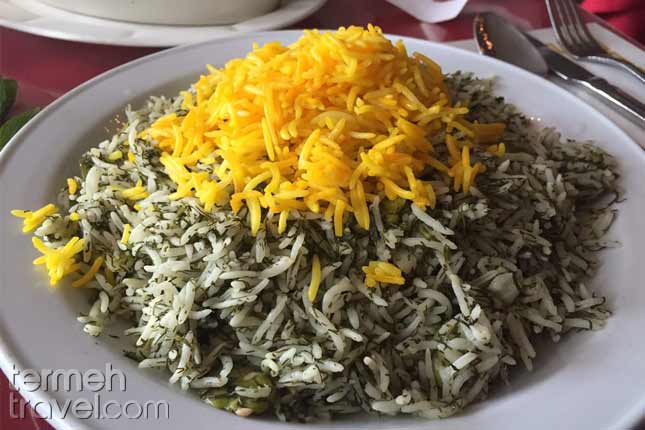 Baghali Polo is cooked rice with fava beans and dry dills. For having a delicious Persian Baghali Polo, you need to cook the rice for 10 minutes and rinse the rice off. Then you need to add the fava beans and dry dill to it and let it cook for at least 30 minutes until the rice is soft entirely.
When it comes to Loobia Polo, the ingredients can be different from place to place. Some people make it with green beans and tomato sauce, and others use dill and pinto beans. No matter which type of Loobia Polo you want to try, do not forget to ask for Shirazi Salad that is made of cucumbers, tomatoes, and onions with a sour sauce. This unique sauce is called Ab Ghoureh which is unripe grape juice. In many parts of Iran, people still make this juice themselves. In the middle of summer, they harvest unripe grapes, wash them, remove the stems, and extract the juice. Then they add a little salt to it and use it for the rest of the year.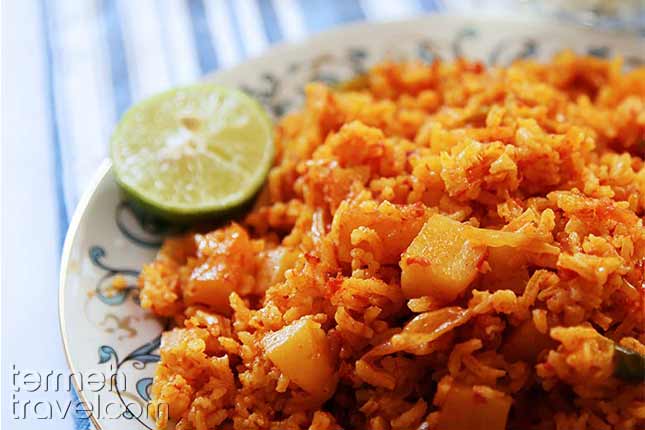 Also, we have Dampokht-e Goje, which is a delicious vegan Persian food. In order to make it, you need to soak the rice for some hours. Then you should fry a chopped onion until the color is golden and add chopped tomato and potato to it. Add this combination to the rice and cook it with a glass of water.
Do not forget to add some extra oil to the rice because you will have a gorgeous and delicious Tahdig at the end.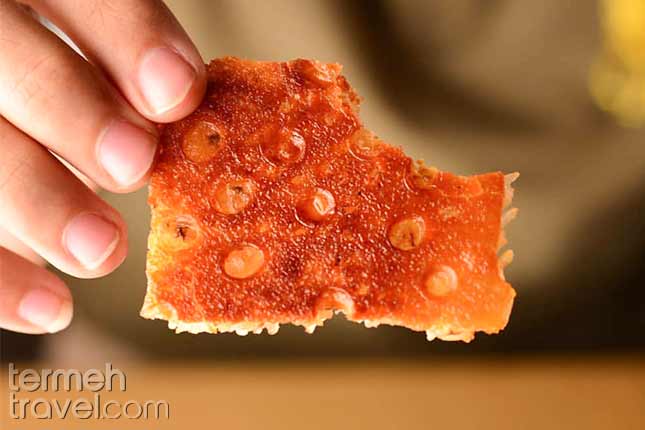 Tahdig is a delicious crispy pan-fried layer of rice and an essential part of every Persian food which is served with rice. For making Tahdig you need to pour oil in the pot and then add the rinsed off rice to it. Then you can let the rice be crispy at the bottom of the pan while the rest is soft and steamy. You can use thin flatbread, slices of potato or rice with saffron to make it even more delicious.
All of these foods can be served with meat, but you can tell the waiters that you are a Vegan and they will bring you the meal without meat in it.
Street Vegan Foods in Iran
We can agree on the fact that street foods are yummy, so here is a list of Persian Vegan street foods for you to try.
Sambooseh is a popular food in the southern cities of Iran. They make their Samosa (Sambooseh) out of fried thin bread stuffed with potatoes, onions, parsley and a generous amount of local spices. It usually has a triangular shape, but luckily, you can find this delicious fried role of potato and herbs everywhere.
Also, there is another popular food called "Felafel" or "Falafel" among Iranians. Falafel is originally an Arabic food which is made of fava beans, but Iranians change the ingredients and make it with chickpeas, herbs, and special spices. You can find the best Falafel in the south of Iran in cities like Abadan, Ahwaz, and Bushehr.
Adasi or lentils stew is a delicious and healthy food during winter that can be made with or without tomato sauce. Khorak-e Loubia (Bean Feed) is almost the same. For making these stews, you need to fry the chopped onion and add lentils or beans to it. In the end, you can add some tomato sauce, lemon juice, and salt and pepper to Khorak-e Loubia, but you do not need to add the sauce to Adasi.
Cooked fava beans or Baghali is another street food that you can find mostly in winter. Its smell is fantastic and is because of the hogweed powder that Iranians add to it.
You cannot travel to Iran during winter and not try steamed beets. Aside from the taste, the color and the look of it is amazing. Iranians call it Labou, and it has a sweet taste.
Balal or grilled corn is one of the most popular street foods in Iran. You can find it around parks mostly during summer. The secret of its deliciousness is submerging the roasted corn in a bowl of warm water and salt for a few seconds. Then it is ready to be eaten.
The two most famous places that you can find street food in Iran are Si-eTir street in Tehran or Lashkar Street in Ahvaz. During the night, these two streets are filled with food trucks and people who want to enjoy exceptional street food.
Best Vegan and Vegetarian Cafes and Restaurants In Iran
Hopefully, almost all of the Persian dishes can be made without meat and animal products, so by looking for Vegan and Vegetarian cafes or restaurants, you can find something you would like.
If you are traveling to Tehran, the good news is that you have a lot of options, but here are some of the cutest places to go: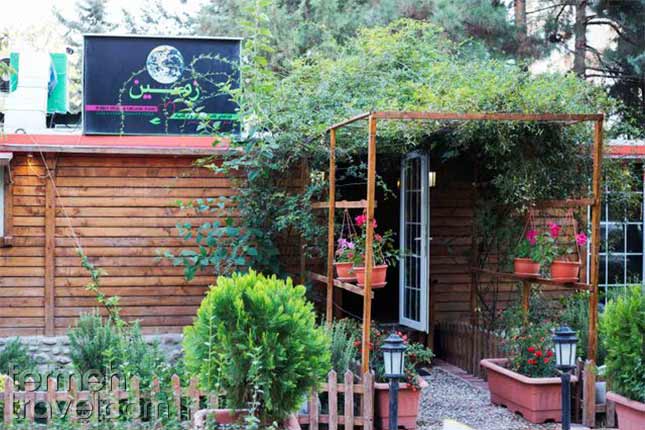 Zamin is a cozy cafe and restaurant in the western part of Tehran with stunning decoration that you can choose to sit in its little garden or inside. All of the food in this restaurant is vegan. Zamin can be a perfect place if you are looking for traditional meals like Ghormeh Sabzi or even Kebab, but you can find some Italian and Mexican food on the menu as well.
This restaurant is in Pardisan building, located in Shahrake Gharb.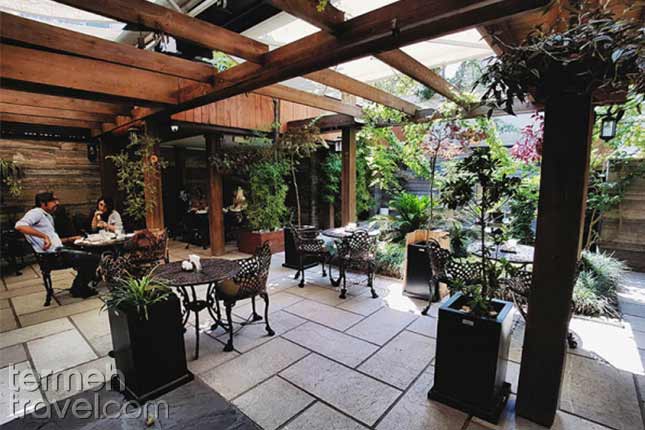 The great atmosphere of this place will definitely catch your eye the second you enter, and the food is delicious as well. You can find both veggie and Vegan foods here. Every detail about the food is mentioned on the menu, so based on the type of your Vegetarian diet, you can order your food.
You can find traditional Italian food here. The cafe also has many Persian and international desserts for you to try.
Ananda is in the Pasdaran district, which is in the north of Tehran. You can go there by bus and taxi.
It is open from noon to 11 PM
This restaurant is located in Lavasan, which is a lovely place to visit, and you can taste most of the traditional Persian foods along with different Vegan and Veggie foods from all around the world.
The best way of going to this place is by using a taxi.
You can also find vegan and vegetarian food in:
Khaneh Vegan restaurant In Hashemiyeh Blvd in Mashhad
Dr. Nik restaurant in Tabriz, In Valiasr street, Atlas building
Reyhan fast food located in Bozorgmehr street of Isfahan
Salamat-e Niyayesh restaurant in Shiraz located in Niyayesh street