If you ask Iranians what Mirza Ghasemi means to them, most of the answers will guide you to the dense forests and misty fields of Gilan province. Lace-up your shoes, follow the fresh smokey smell of vegetables to the green fields, and colorful houses of Gilan and help yourself to a magnificent appetizer.
Mirza Ghasemi is an eggplant based vegetarian dip dish, full of pleasant surprises. Although different flavors in this starter can be new to you, they are moderate and combined well enough to delight you.
To know more about the reason for naming this dish, Mirza Ghasemi, we need to take a look at Moayeri's journal. He was one of the royals in the Ghajar dynasty who kept a diary. In his journal, Moayeri talks about the governor of Gilan called Muhammad Ghasem Khan, who was a food lover and used to invent new dishes; and Mirza Ghasemi is one of them. Therefore, Mirza Ghasemi is called after him as a sort of credit.
What Do You Need to Make Mirza Ghasemi?
The reason that makes Mirza Ghasemi eco-friendly is the fact that you do not need to use any meat inside it. All the vegetables in this Persian dish, plus eggs, give their own characters to the food and make it exquisite. So before picking your basket to head to the grocery store, let's learn more about each of the ingredients.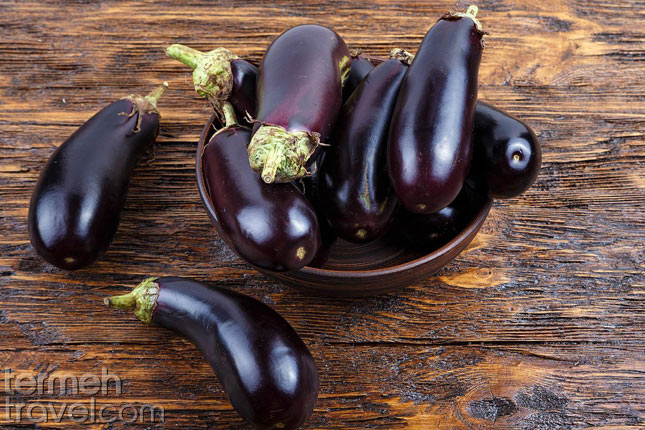 Eggplant: Eggplant or aubergine is the main ingredient of Mirza Ghasemi. This extraordinary vegetable has a wide range of nutrients to benefit your body. According to "Medical News Today," eggplants help your heart health by providing potassium, Vitamin C, and B. They also control your blood cholesterol and manage your weight because of the fiber sources inside them.
Enough with science, the magical flavor of eggplant is what you need to make a fantastic meal. However, barbecuing the eggplants would take it to another level. The aroma of roasted eggplant makes your mouth water and builds up your expectations positively.
Tomatoes and Tomato Paste: Tomato is a superfood that supports your health in different ways. The rich source of vitamin C and antioxidants in tomatoes decrease the risk of cancer and make your skin look fresh and bright. The Folic acid inside it improves your blood cells as well.
In some parts of Iran, people make Mirza Ghasemi without tomatoes or tomato paste, but using tomatoes in Mirza Ghasemi gives a mild sour taste to it, which makes it super delicious. However, the secret behind that shiny red color of Mirza ghasemi is tomato paste. Therefore, do not forget to have at least one spoon of tomato paste on the table.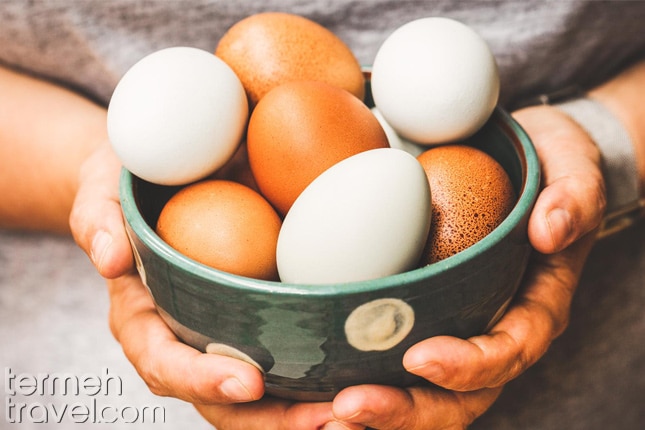 Eggs: Egg is one of the most important ingredients in Mirza Ghasemi that makes you feel more energetic and full after eating the meal. Therefore, if you are concerned about your weight, having eggs in your diet would be a wise choice. The minerals that exist in eggs help with your brain function, and they also make your skin feel healthier and more beautiful.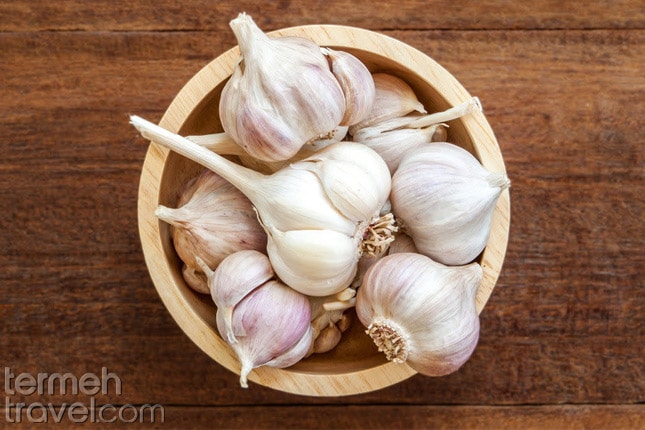 Garlic: The secret behind the heavenly taste and smell of Mirza Ghasemi is garlic. Although you can omit using it if you are not comfortable with eating garlic, the authentic taste of Mirza Ghasemi would not exist anymore.
For many centuries, people of different cultures used garlic as a medicine, but people realized the culinary properties of this wonderful vegetable later, so they started using it to flavor dishes. Therefore this natural antibiotic keeps you healthy and offers you a delightful flavor.
How to Make Mirza Ghasemi?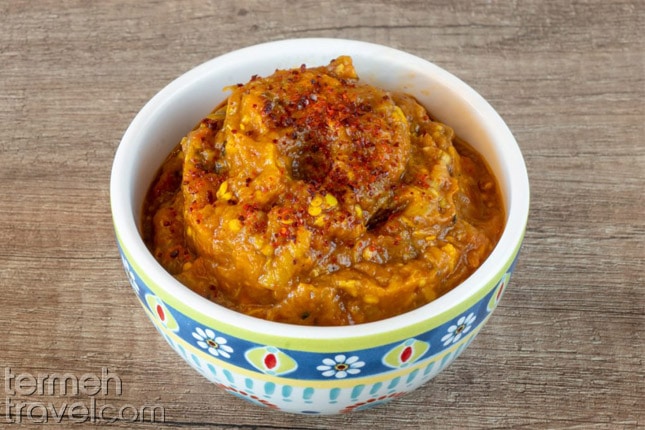 The excellent news is that Mirza Ghasemi goes to the "easy Persian dishes to make" category, so if you are new to cooking, you should be confident about making it. However, it is better to stick to the recipe to have a grasp of Mirza Ghasemi's real taste.
First of all, you need to know what are the ingredients that Iranians use to make this dish.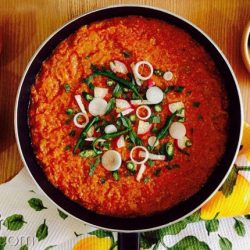 Print Recipe
Mirza Ghasemi, The Sensational Flavor of North
If you ask Iranians what Mirza Ghasemi means to them, most of the answers will guide you to the dense forests and misty fields of Gilan province. Lace-up your shoes, follow the fresh smokey smell of vegetables to the green fields, and colorful houses of Gilan and help yourself to a magnificent appetizer.
Ingredients
Eggplants: 3 large 100 cal

Tomatoes: 3 medium.

If you are using tomato paste, 2 tomatoes would be enough. 20 cal

Tomato Paste: 1 spoon 13 cal

Eggs: 2 medium 78 cal

Garlic: 3 large cloves of garlic 3 cal

Vegetable oil: 2 spoons

2 more, If you want to fry the eggplants instead of roasting them. 124 cal

Salt and black pepper: as much as you desire 0 cal

Tumeric: 1 teaspoon 29 cal
Instructions
Step One: Roast, fry or put the eggplants in the oven; then dice them perfectly.

Step Two: Peel and chop the tomatoes and garlic.

Step Three: Stir them in a pot with vegetable oil, add the spices to it and then add the diced eggplants into the pot for 10 minutes.

Step Four: Crack the eggs into the pot and mix them with the ingredients and enjoy your Mirza Ghasemi after another 10 minutes.
Notes
You can serve your Mirza Ghasemi with Persian Bread or Kateh which is a kind of Persian rice.
How to Make Mirza Ghasemi?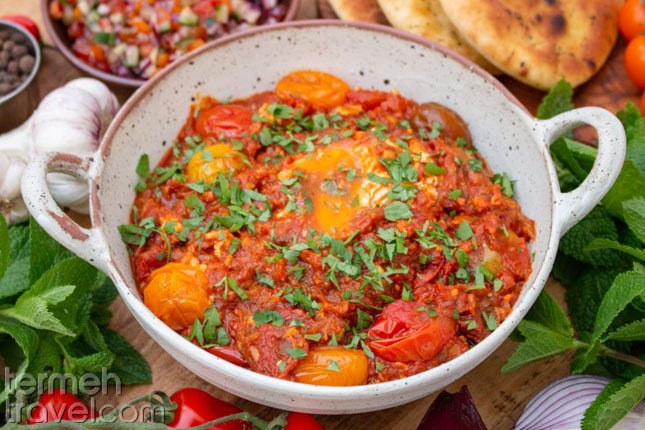 Step One: First, you need to start making this dish with eggplants. There are three methods to prepare them. The one that we suggest is to wash eggplants well and roast them on an open flame. You can use a barbeque as well to reach the smoky flavor that we are looking for. Then by putting the eggplants in the cold water, you can peel them easily.
The second method is the healthy one, but the smoky flavor will go away. You can preheat the oven to 220 C or 420 F, put the eggplants inside it for about 45 minutes, and peel them.
The third method is frying the eggplants on oil. You need to peel them, add some salt, wash them, and fry them until both sides of them look gorgeously golden.
Then you should chop the peeled eggplants well and put them aside.
Step Two: In this step, you need to peel the tomatoes and chop them perfectly. Then smash the garlic with the flat side of your knife's blade, and dice it.
Step Three: Then put a pan on the heat, add the garlic and stir them in the pan. You should be careful because garlic can burn easily. When the garlic starts looking golden, add salt, pepper, and turmeric to it. If you are using tomato paste, this is the time to add them into the pan and stir it well. Then chopped tomatoes and eggplants go inside the pan to get mixed with other ingredients. You can stir the ingredients and let them cook for about 10 minutes.
Step Four: After 5 minutes, it is time to crack the eggs inside the pot and stir them. However, it is ok to leave the eggs the way they are to cook if you like. Let all the ingredients cook for another 10 minutes, and your food is ready.
You can garnish Mirza Ghasemi with ground walnuts and herbs and eat it with Persian Bread or even Kateh (rice).
How to Make Vegan Mirza Ghasemi?
As mentioned before eggs are optional in Mirza Ghasemi. The only thing that you need to do to make Mirza Ghasemi vegan is to avoid using eggs. Just remove those eggs and enjoy your vegan meal.
What is Kateh?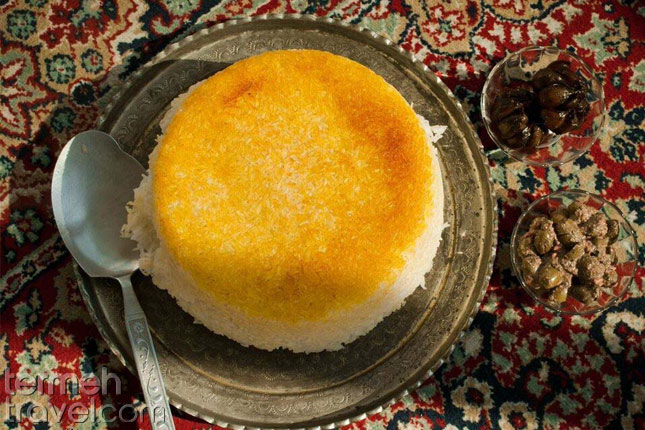 Iranians love to have rice with their food, and they have two different methods of cooking it. In the first method, they boil the rice and drain it, then let it cook again, and it is called Chelo. However, in the second method, which is healthier, they put the rice, salt, and oil in a pot, then add water to it (usually the double size of the rice) and let it cook for 1:30 hour. This method is called Kateh and goes well with Mirza Ghasemi.
Works Cited: Moayeri, Doust Ali, Rejal-e Asr-e Naseri, 1334