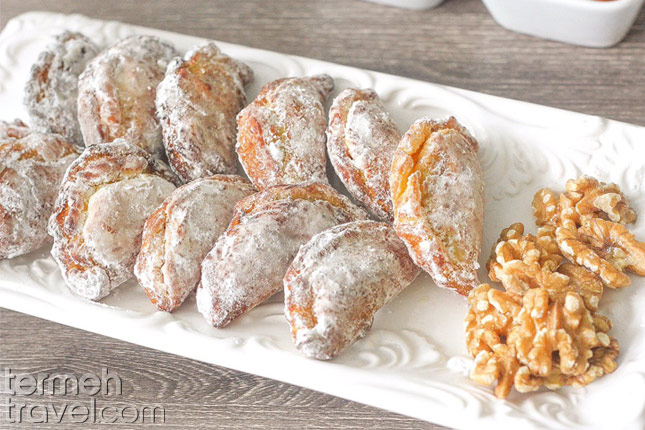 Qottab, Sweet Persian Dumplings
Qottab is one of the Persian pastries that you can look for inside the cabinet of grandparents' homes, especially if they are from Yazd. As a child who always craved something sweet, I used to stand on a chair, reaching my hand as far as I could, trying to open the door of an old cabinet to find some Qottab.
Then, when the mission was accomplished, I had to eat them according to a proper manner. Every Persian child knows that they should first lick the sugar powder on the Qottab completely and then gnaw it slowly like a hamster. At this point, you can taste and smell the cinnamon and cardamom in it, and feel the satisfying texture of the ground almond under your teeth.
Now I'm tall enough to open the cabinet without any extra effort, but I still enjoy a cup of Persian tea with a few Qottabs after a long day. Eating it reminds me of my childhood, my grandparents, and brings back many good memories. Now I want to tell you how to make a delicious Qottab to make you feel what I'm talking about.
What Do You Need to Make Qottab?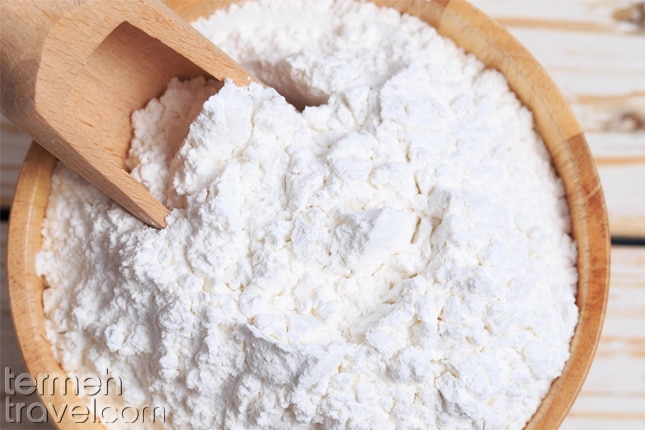 Flour: We need all-purpose flour to act as the base. Flour is like the key ingredient for making any kind of pastry, and Iranians value it more than the rest of the world. In Iran, wheat is a significant and, to some extend sacred ingredient. The root of this belief goes back to Zoroastrianism and exists in Persian culture.
This white powder, made of wheat, is beneficial for controlling the metabolism of your body. Flour is also rich in folic acid and vitamin B9, which prevents cancer. Besides these benefits, flour is easy to access, and it can be a useful item in your kitchen.
Sugar: Although we know about the disadvantages of eating too much sugar, sometimes you need to give your body a break and enjoy a sweet pastry. Qottab, can be a great option in these situations and satisfy your sweet tooth. The amount of sugar used in Qottab is considerably less than other pastries, so you can eat a few of them without worrying about your health. However, you can always go with more healthy options like raisins, and dates and choose a natural source of sugar.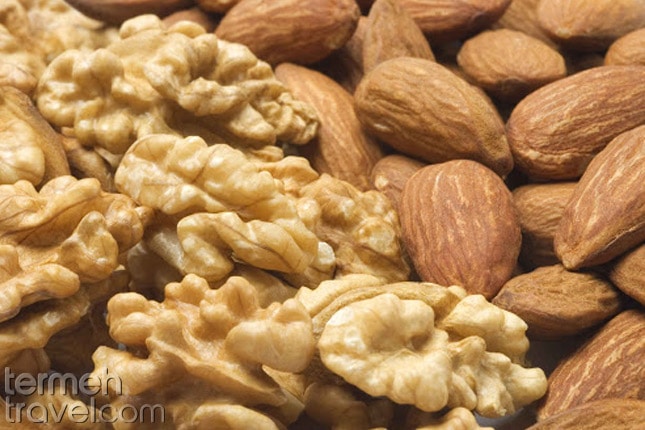 Nuts: We usually use grind almond and walnut in Qottab, which makes it incredibly delicious and highly nutritious. According to Healthline, almonds are full of antioxidants that are perfect for helping the damaged cells of your body. The vitamins A and E in almonds can make your skin look fresh, bright, and reduce the acne spots.
Also, walnuts are loaded with Omega-3s, which prevent heart disease. By lowering the risk of Alzheimer's, walnut is a good option to eat every day. You do not need to worry too much about the oil in them since it is a natural oil and, in fact, when added in the right amount and consumed regularly it might help you lose weight.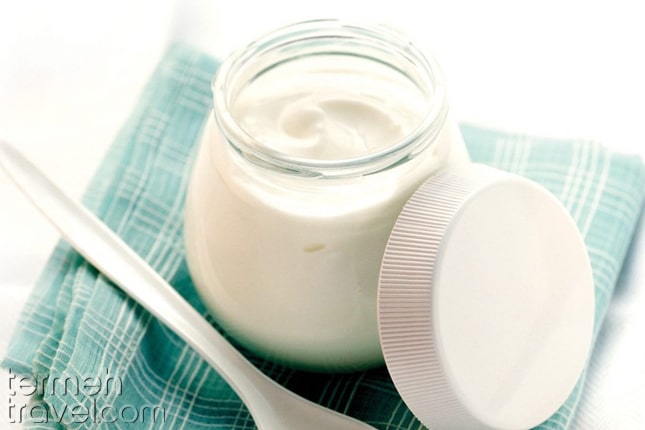 Yogurt or milk: You can use either yogurt or milk to make a fluffy dough. The reason for using either of them instead of water is the soft texture that they provide. They are also nutritious since both of them are rich sources of calcium, which is beneficial for your bones. If you want to use yogurt, it is good to go with Islandic yogurt, which is plane and delicious.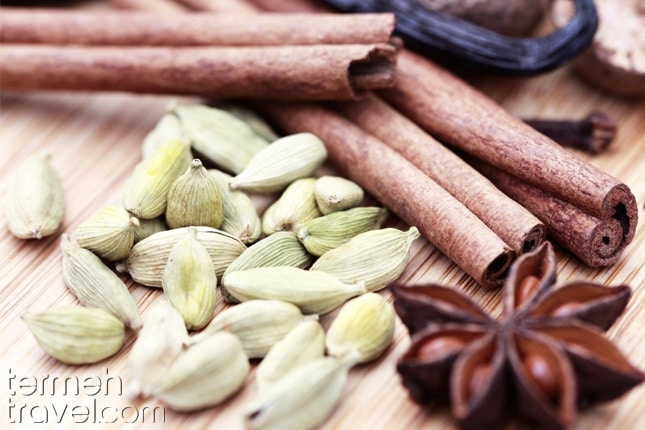 Spices: cardamom and cinnamon are what we need in our Qottab. Both of these fantastic spices give a delightful aroma to the pastry and fill your home with their wonderful fragments. Both cardamom and cinnamon help with heart problems, and according to Healthline, cardamom is a natural antibacterial, while cinnamon acts as an antioxidant.
How to Make Qottab?
Unlike what it may look like, making Qottab is not that difficult. However, you need to follow each step and pay attention to small details, which could turn a normal Qottab into an excellent one. Before taking a look at the ingredients, you can adjust them to fit your taste.
Qottab, Sweet Persian Dumplings
Total Time
1 hour, 15 minutes
Notes
Qottab can go great with your afternoon tea or coffee, so go ahead and make some.
Ingredients
All-Purpose Flour: 3 cups 1500 cal
Sugar: ½ cup 340 cal
Plain Yoghurt: ½ cup 30 cal
Butter: 100 gram 700 cal
Vegetable oil: ½ cup 900 cal
Baking Powder: 1 tsp 3 cal
Sugar Powder: ¼ cup 120 cal
Ground Cardamom: ½ tsp 2 cal
Cinnamon Powder: 1 tsp 6 cal
Ground Walnut and almond, ¼ cup each 280 cal
Egg Yolk: 1 50 cal
Instructions
Step One: Make your dough by combining baking powder to yogurt and add it to the flour and sugar. Let the dough rest for an hour.
Step Two: Roll the dough and cut it with a circle-shaped object.
Step Three: Fill the dough with the combination of ground walnut, almond, sugar, cinnamon, and seal the edges with your finger.
Step Five: Fry the dumplings or bake them in the oven for 15 minutes then roll them in the sugar powder. Enjoy!
Nutrition Facts
Qottab, Sweet Persian Dumplings
Serves: 4 persons
Amount Per Serving:
Calories

65

% Daily Value*
Total Fat

3

4.6%
Saturated Fat

2.8

14%
Trans Fat
Cholesterol

15.9

5.3%
Sodium

24 mg

1%
Total Carbohydrate

7.8

2.6%
Dietary Fiber

1

4%
Sugars

1.6 g

Protein

2.3
| | |
| --- | --- |
| Vitamin A | Vitamin C |
| Calcium | Iron |
* Percent Daily Values are based on a 2,000 calorie diet. Your daily values may be higher or lower depending on your calorie needs.
Step One: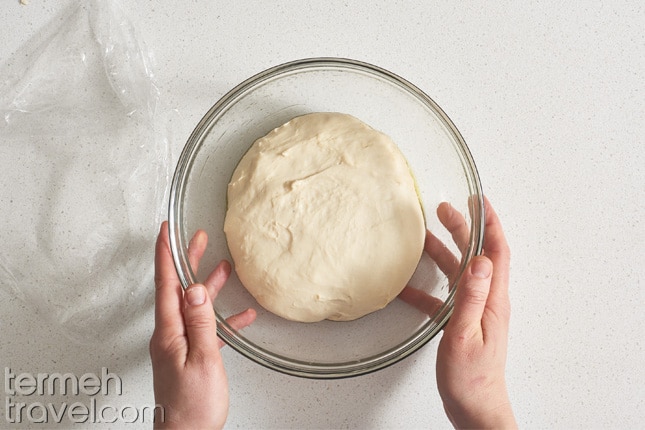 You need to start making Qottab with preparing the dough. Combine the baking powder with yogurt in a bowl. You need to add it to the yogurt instead of the flour to have a puffy dough. Then mix the butter with sugar and add yogurt and egg yolk to it. After that, you need to add the flour little by little into the bowl and whisk it well. Then cover the bowl with a piece of fabric or a plastic wrap and let it rest for about an hour.
Step Two:
In this step, combine the ground walnuts, and almonds with two tablespoons of sugar, ground cardamom, and cinnamon. These ingredients are the filling of your Qottab, and they will make your pastry delicious and nutritious.
Step Three: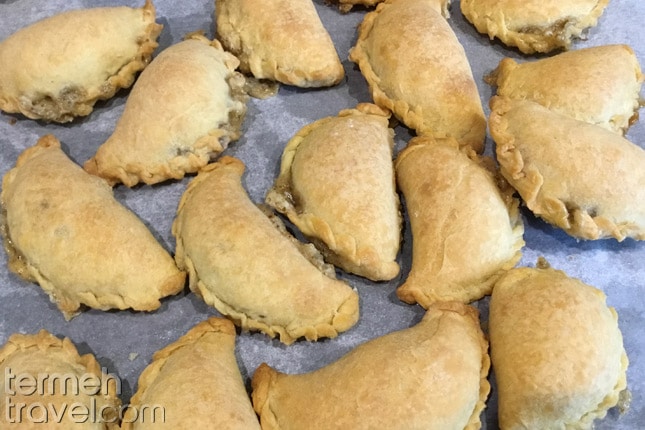 If you want to make Qottab by baking, you should preheat the oven to 170 C or 350 F and place a baking sheet in there. Then flour the counter and roll the dough at about 3 centimeters thickness. After that, it depends on you to decide about the shape, but using a 5-centimeters cookie cutter would be an excellent option to cut the dough. Fill each circular dough with the combination of nuts, spices, and sugar and seal the dough's edges with your finger or a fork.
Step Four: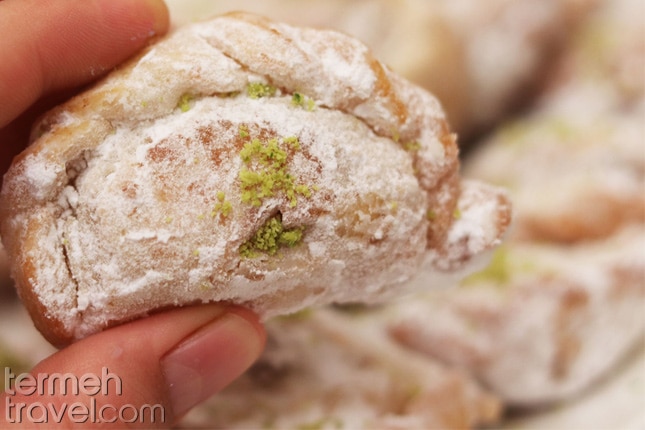 Use a brush to spread some oil and whisk egg yolk on each Qottab and put it inside the oven for 15 minutes. However, the common way of making Qottab is to fry them in hot oil until they look golden. After using either of these methods, you should roll the Qottabs in sugar powder and let them rest for an hour to get colder. Then enjoy these sweet balls with a cup of tea.
How to Make Vegan Qottab?
To make vegan Qottab you can omit the egg yolk and use vegan yogurt or water instead of the dairy. However, using these vegan ingredients may result in Qottab being not soft and tender anymore. Therefore, you can add some extra vegan butter or even coconut oil to make it close to your desired texture.
Both regular or vegan Qottab can go great with your afternoon tea or coffee, so go ahead and make some.