Tehran, the capital of Iran, is the beating heart of this gorgeous land. You can see the dynamic of life in this crowded city. The combination of tradition and modernity creates fantastic opportunities for everyone to find their desired form of accommodation. From the most luxurious hotels to the coziest hostels, you can find the perfect residence in Tehran to fit your budget. If you are going to visit the metropolis and do not know where to stay, continue reading to find Best Hotels and Hostels In Tehran
Best Hotels and Hostels in Tehran
1. Espinas Persian Gulf Hotel
Espinas Persian Gulf Hotel located in Keshavarz Blvd can be a great luxurious option. A red carpet is laid down at the entrance to welcome you inside, and friendly receptionists make sure to answer all your questions while staying in this place. The modern design of this hotel is inspired by Persian culture.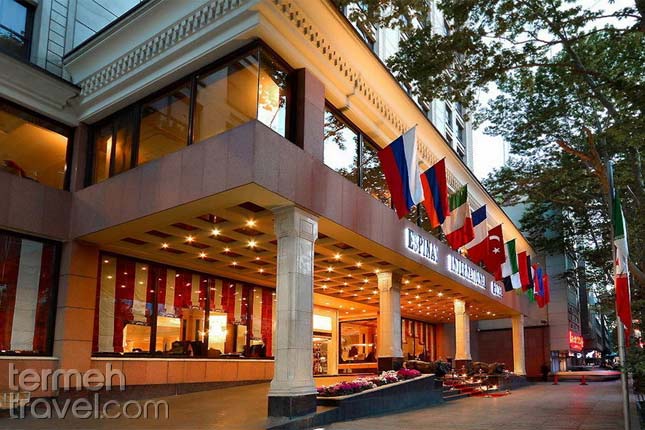 Beautiful Persian rugs on the floor and paintings of different parts of the world on the wall, create an eye-catching atmosphere. Two magnificent sculptures of Persia's monarchs in the middle of the lobby show the glory of this hotel.
Based on your preferences, you can choose different types of rooms and enjoy five-star services provided for you. The location of this hotel lets you have easy access to all parts of the city.
The variety of restaurants would not let you dine outside of the hotel. You can find the Mediterranean, French, and Thai food in this place, but for having a unique experience, you should try Mandak traditional restaurant. All the furniture and the design of this restaurant are inspired by the Safavid dynasty. Traditional foods, along with traditional live music, show the authenticity of this place.
Also, do not forget to use the free indoor water complex during your stay in the hotel.
2. Espinas Palace Hotel
Espinas Palace Hotel is one of the luxurious hotels located in the northwest of Tehran, Saadat Abad district. If you are looking for a quiet place to enjoy the pleasant weather of Tehran this five-star hotel would be a perfect choice.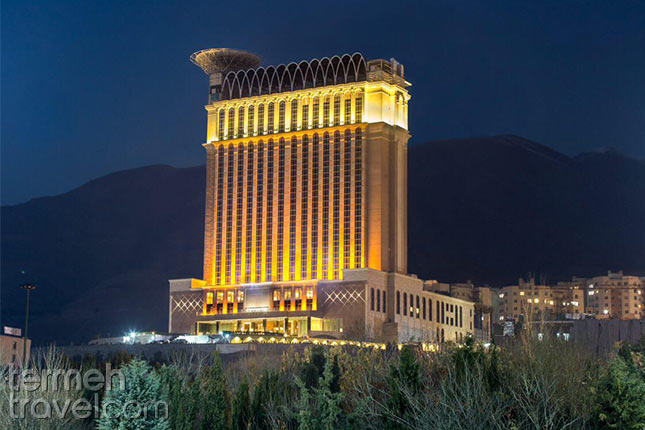 The design of this hotel is very impressive. During the day, sunlight shines through the grand windows and gives the royal gold and red color of the walls and the marble floor a palatial look. No wonder this hotel is called the palace. During the night, you can look at the city lights through the windows and enjoy the fascinating dance of city lights. You can also have easy access to Milad tower and Tehran International Exhibitions.
Various dining options are available as well as a swimming pool, sauna, Jacuzzi, and massage treatments that can make your stay magical. You can also enjoy the nutritious breakfast lounge with Persian and International food to start your day.
Also, having particular rooms for disabled guests helps everyone to enjoy this hotel without any limitations.
3. Tehran Grand Hotel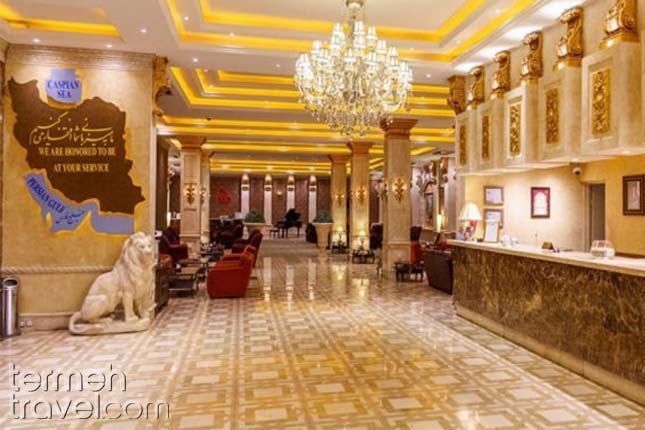 If you are looking for a luxurious hotel, but you are concerned with your budget, Tehran Grand Hotel would be a perfect option. Four-star Tehran Grand Hotel located in Valiasr street is designed with luxurious gold carved columns inspired by Roman architecture. The floor is tiled with fine marble, and the reflection of the elegant chandeliers' light on the floor makes the lobby look more gold and bright.
A plush coffee shop furnished with comfortable red couches and a magnificent black piano creates a relaxing area to meet new people and get fresh throughout the day.
Breakfast in bed, currency exchange, laundry, dry cleaning, and ticket service are some of the facilities that this hotel offers. The final alluring feature is that each room is decorated with beautiful wooden furniture and fabric to make you feel comfortable during your stay in this hotel.
4. Parsian Azadi Hotel
Another fascinating five-star hotel in Tehran is the Parsian Azadi Hotel located in the north of Tehran. This building used to be the royal hotel during the Pahlavi dynasty, which was called "Hyatt hotel."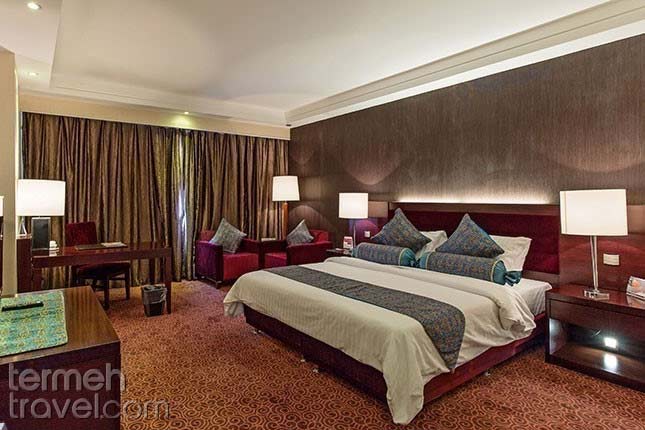 Like any other five star hotels, Persian Azadi Hotel offers the best services for its guests. The first thing that you see in this building is the mid-century themed lobby combined with modern Persian design. Black sofas are surrounding a large curved screen TV. Also, the green indoor plants in different parts of the lobby and Persian carpets on the ground attract guests with different tastes. During your stay in this hotel, you can book traditional, modern, and Victorian designed rooms.
The variety of restaurants with different types of foods such as Italian, Japanese, and Persian can guarantee that you would not leave the hotel for dining. You can use the swimming pool, sauna, and fitness center of this hotel to relax. Do not forget to visit Tajrish Bazaar because it is not that far.
5. Esteghlal Hotel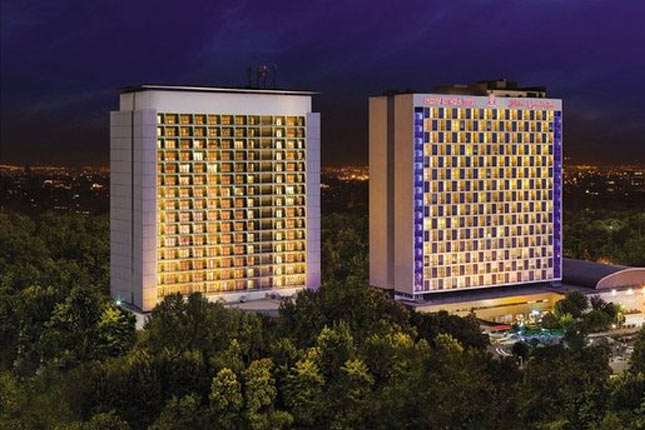 Another luxurious hotel in the north of Tehran is the Esteghlal Hotel, which was named "Royal Hilton" and changed to the Esteghlal Hotel after the Islamic Republic of Iran.
A grand modern lobby designed with warm colors and decorated with stunning Persian paintings on the walls connects two towers of the hotel. The east tower is more equipped than the west tower, providing more services and different restaurants.
To experience dining in the garden, you can choose Abshar restaurant in the hotel which is furnished with wooden chairs and tables. Also, there is a Turkish restaurant that serves both Turkish and International foods called Matbah. Its design is inspired by Turkish culture and provides a fantastic atmosphere with pine green colored roof and red velvet chairs.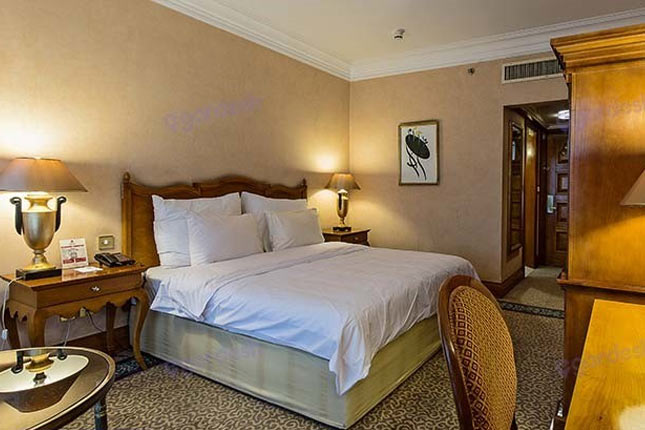 This hotel offers an exceptional service for the guests. Also, you can use the tennis ground, spa, gym and a private balcony with a fascinating view of the city.
If you are a fan of shopping, you can spend your time in Parkway street and Palladium Mall, which are two famous shopping centers in Tehran.
6. Ferdowsi International Hotel
If you are going to stay in a hotel, but you are concerned about your budget, Ferdowsi hotel would be a proper option since the location of this hotel is fantastic. You can have access to most of the tourist attractions of Tehran such as the Grand Bazaar, Jewelry museum, and Golestan Palace.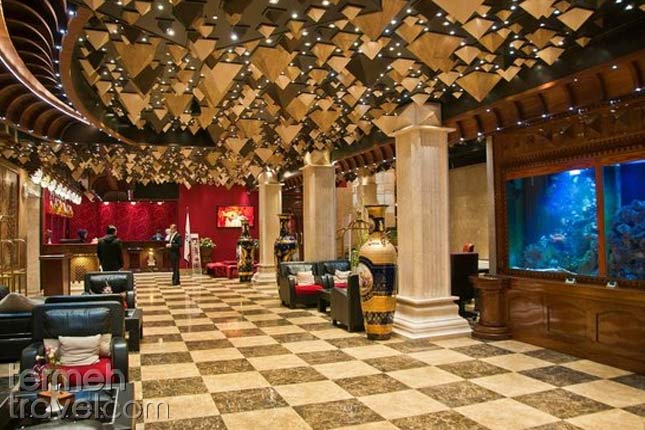 This hotel is where tradition and modernity meet. The reception area is designed with royal red color and fascinating sculptures of Persian soldiers. The carved walls of the hotel's lobby show the pictures of ancient Iran shining under vintage wall lights.
You can enjoy different types of food in Persian, International, and fast-food restaurants providing French and Chinese food during your stay at the hotel. The traditional design of its Persian restaurant with blue-tiled walls and Persian ceramic dishes creates a unique experience of dining in Iran.
7. Amirkabir Hotel
Amirkabir Hotel is located in Naser Khosrow, which is one of the oldest streets in Tehran. Because of being more affordable and providing excellent services, this hotel attracts many guests throughout the year.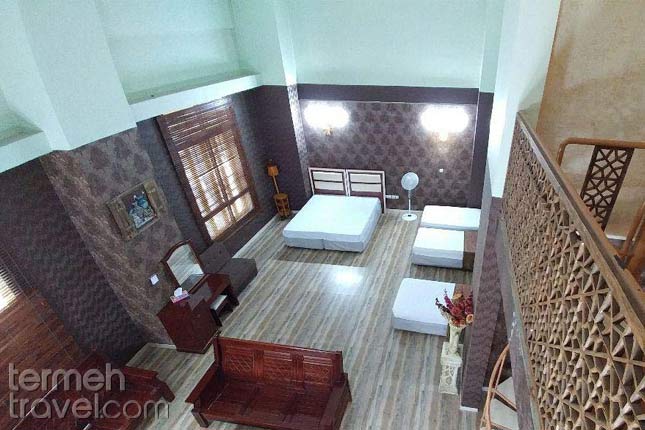 Amirkabir Hotel has a gorgeous lobby with traditional design and ambiance. Every part of this hotel is made of wood, from furniture to columns and stairs. A rectangular pool surrounded by delightful plants in the middle of the lobby also makes you feel calm while staying in one of the most crowded capital cities in the world.
You can have access to every form of transportation without any difficulties; however, you can walk to many attractions like Golestan Palace and Masoudieh Palace.
8. Parastoo Hotel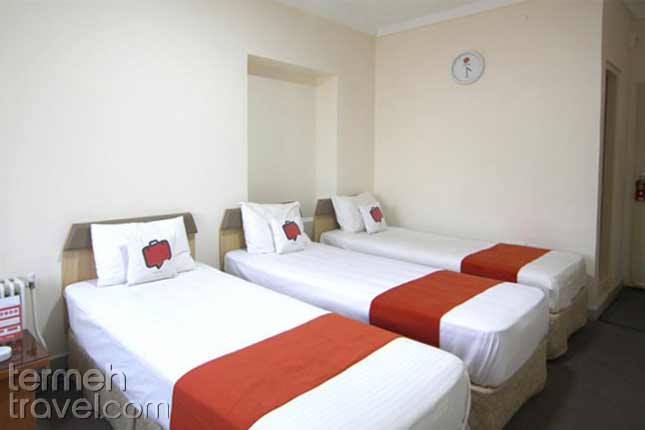 Another affordable hotel you can use during your trip to Tehran is Parastoo hotel, which is one of the first built hotels located in Jomhouri street. Jomhouri is one of the oldest and most crowded streets in Tehran, which makes Parastoo Hotel accessible to different parts of the city.
The small yet warm place with its welcoming receptionist makes you feel like home, and the comfortable gray sofas in the lobby would be a perfect place to hang out. This hotel offers single and double rooms with TV, telephone and free Wi-Fi. You can also use the swimming pool, sauna and massage, and its wellness center as well.
What Is the Best Hostel in Tehran?
Although you can find different types of hotels with different prices in Tehran, the world of hostels offers more. Hostels allow you to meet new people, hang out with them and last but not least save some money. But how can you find a suitable hostel in Tehran?
According to the Hostelworld website, these hostels are the best in Tehran.
See You in Iran is more than a hostel. Here, you get to know new people in the cozy meeting point cafe with wooden furniture and delicious beverages. Looking outside of the window you will see a big yard full of trees and flowers with a cute swing and wooden table to spend the evenings. A tent made of fabric and straws can also be an excellent place to relax and chill. Although this hostel offers breakfast and Iranian black tea, you can start cooking in a communal equipped kitchen and enjoy the friendly atmosphere of this place.
You can decide to stay in separate dorms for male and female-identifying guests, or you can book a room and enjoy the privacy.
The best word for describing this residence is stylish. The vivid color of the wall creates an eye-catching contrast with the furniture. Persian vintage decoration of the house makes you feel the artistic aspect of Iranian culture and grand windows of the rooms let the light shine inside and make the place bright.
Staying in "See You in Iran Hostel" gives you the opportunity to get to know Persian handicrafts and buy them. The amazing location of this hostel which is in Iranshahr, gives you easy access to tourist attractions of Tehran such as Golestan palace as well.

10. Arian Hostel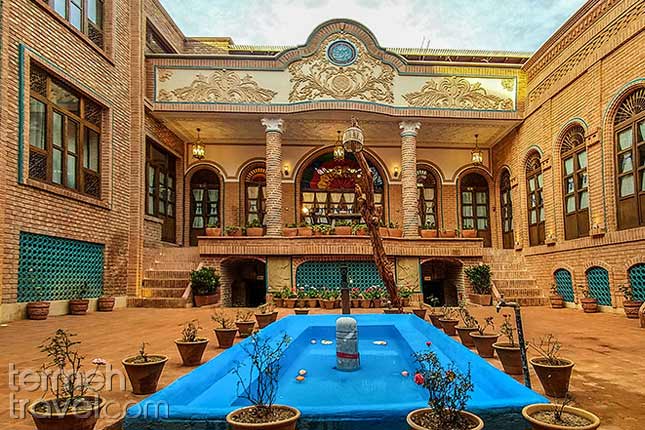 Arian Hostel also called Razzaz House, is located in the historical part of Tehran, near Golestan Palace and The Grand Bazaar. The decoration of this hostel gives you a taste of Persian tradition.
The first thing that catches the eye is the astonishing yard with a big blue pool in the middle surrounded by flowers, wooden doors, and colorful windows. You can enjoy the evening by drinking Persian tea and hanging out in the beautiful balcony full of flower pots.
This hostel has a fully equipped kitchen, TV room, dorm room, and roof terrace with barbeque. You can also use free Wi-Fi in the hostel as well, and your kind host will be on hand to help you during your stay.
11. Tehran Heritage Hostel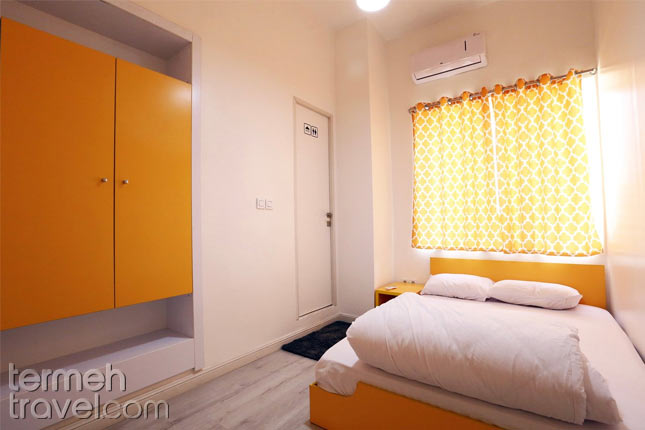 The largest hostel in Tehran is ready to host backpackers and travelers who are looking for a lovely and cheap place to stay. The combination of tradition and modernity is noticeable in this place.
Entering the building, you will see a pool in the middle of the cute yard and different types of flowers and trees. Two little huts made of straws are placed in two sides of the yard to hang out in. Going upstairs, you will see a modern hall with many rooms. You can use both private and dormitory rooms.
Free breakfast, Wi-Fi, and city maps will cost you no money during your stay in the hostel. Along with being fully equipped, this hostel is also wheelchair friendly for disabled guests.
12. Vono Hostel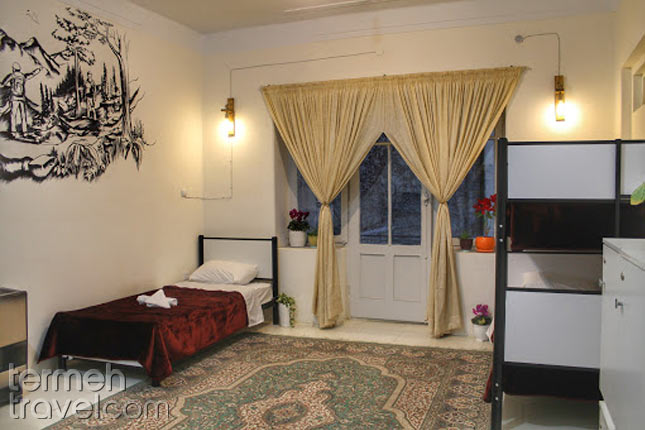 If you are looking for a colorful cozy hostel, Vono in Valiasr street would be a great choice. Its gathering area is furnished with handmade wooden furniture, which creates a friendly atmosphere to hang out or work. Also, a little library filled with Persian poetry and historical books if you are interested.
There is a cute cafe in the middle of the yard with blue walls decorated with flowers and colorful tiles on the floor. A tiny fountain in the center of the café adds to the beauty of this place. Each wall has its unique decorations, such as beautiful paintings about different parts of Iran, the colorful map of the world and wooden shelves with artistic sculptures.
This hostel has 24 hours' reception and housekeeping to help you anytime you need.
13. HI Tehran Hostel
You can find the HI Tehran Hostel in Enghelab street, which is one of the central streets in Tehran. The first thing that will catch your attention is the contrast of colors. The combination of red tiles of the yard with green plants creates great diversity. The square-shaped pool in the center of the yard surrounded by comfortable blue and yellow outdoor chairs is also fascinating.
The atmosphere of the yard makes you want to spend all day sitting in there and enjoying the sunshine. The smart usage of colors in arranging the decoration makes the rooms come alive. A creative aspect of this place is a map of the world on the main wall for you to pin your hometown.
The gathering area can help you hang out with people and make new friends, and the fully equipped kitchen with round table wooden chairs around it can make you feel like home. Free Wi-Fi is available, and you can exchange your cash in the hostel.
Staying in each of these places would be a great experience, so do not hesitate to book your favorite residence and travel to Tehran.