A Sosis Bandari sandwich with its delicious toppings and amazing sauce is one of the most favorite picnic foods of every Iranian family. Iranians love picnics on summer nights, especially at weekends when you know you do not need to wake up early tomorrow morning. The families usually prepare some Sosis Bandari at home, pack it with soda, lettuce, tomatoes, ketchup sauce, baguette, and of course pickles and go to a park to have a cozy picnic. Usually, there is one who makes the sandwiches and distributes them to all children. The tenderness of lettuce, sower taste of pickles, and delicious spicy Sosis Bandari is a winning combination. 
As its name suggests, Sosis Bandari is from the south of Iran, so we can see why it is a little bit spicy. As a famous Iranian street food, you can order Sosis Bandari from almost every food truck or fast food place. But, making it in your home and moderating the spiciness will definitely be worth it.
What Do You Need to Make Sosis Bandari?
Sosis Bandari may not be the healthiest option among all Iranian foods, but you can always count on its outstanding taste and easy recipe. Preparing this food when you want to try something new or cooking something for your kids' birthday is highly recommended. The ingredients are very simple and easy to find, so you just need a short stop at the nearest supermarket to purchase what you need. 
Sausages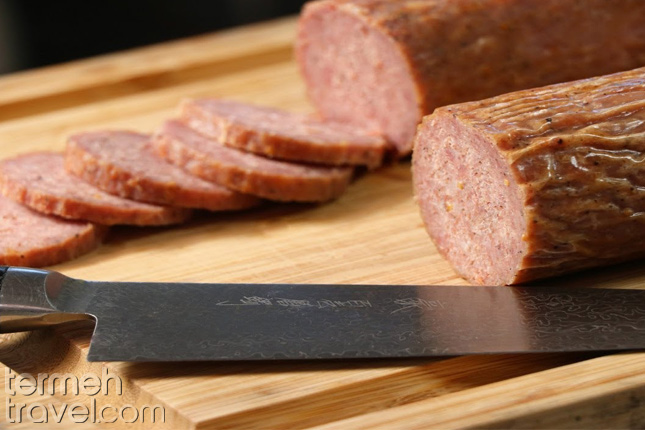 We all know that sausages are not the best type of ingredient when it comes to eating healthy. But, who can deny the delicious taste of them? As a Persian child, when you are hangry and no adult is around, frying sausages and eating them with flatbread, some tomatoes, and pickles is so satisfying!
When someone is making Sosis Bandari or any other food with sausages, it is like a tradition to pick one or two not cooked sausages and eat them. The taste of that small piece of sausage that you had is just excellent. It is not just this specific ingredient; when it comes to making Sosis Bandari, you just have to filch some ingredients during the cooking process.
To make a tasty Sosis Bandari, you should pick your sausage wisely. The best type of sausage for this food is Frankford. If you are a vegan or vegetarian, you can pick your favorite kind of sausage to use. 
Potatoes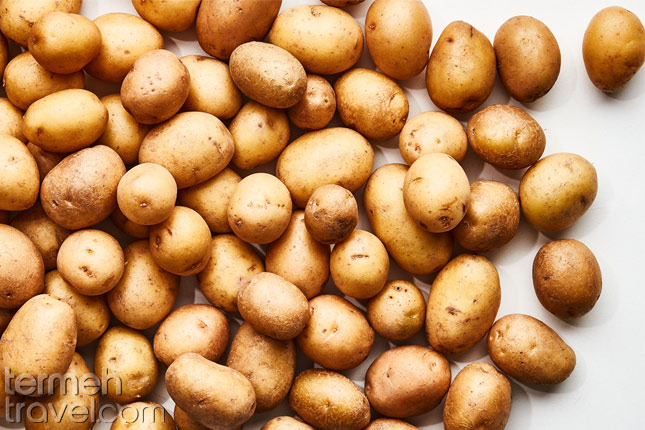 Potatoes come into the scene to play a significant role in Sosis Bandari. You need potatoes to add carbs to your food and make it more delicious. When the potatoes absorb tomato paste and create a sour and sweet taste while eating, you can make sure you did a good job.
For making a good Sosis Bandari, having the same amount of potatoes and sausage is usually more preferable. However, you do not need to stick to this rule. If you like the taste and texture of potatoes, you can change the balance and adjust it to your preference.
Tomato paste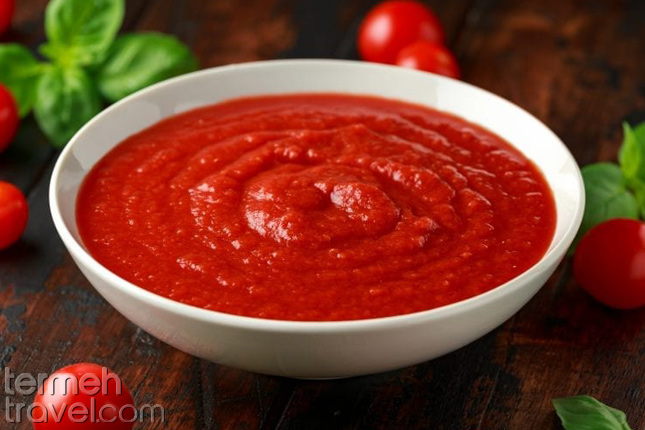 Tomato paste is the ingredient that keeps everything together. You can buy any tomato paste from stores, but making it would be more joyful. If you want a delicious homemade Sosis Bandari, you can cut some tomatoes in half, grind them well, and put them on the heat in a big pan. The heat helps to evaporate the tomatoes' water and will eventually give you a delicious rich paste to use in different dishes. By using fully ripe tomatoes, your paste will have a better look, so make sure to find the ripe ones before starting the process.
Onion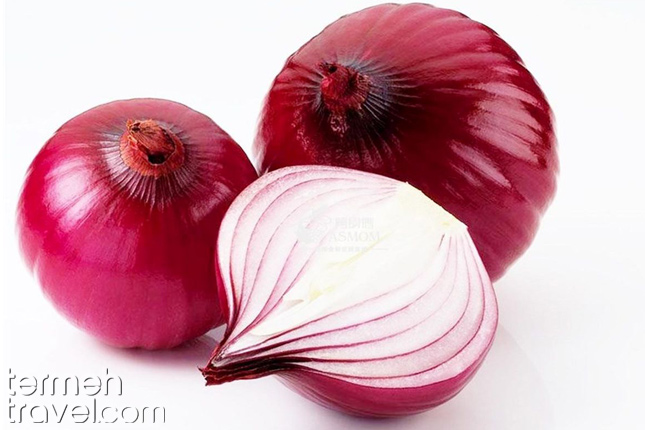 There is a fact about Persian cooking. Every delicious dish starts with a golden Piaz Dagh! Piaz, AKA onion, is one of the essential parts of Persian cuisine. If you want to start making Persian food, you go and grab an onion just by instinct. Onion can give a sweet caramelized taste to the Sosis Bandari and make it even more outstanding. You can use any kind of onion that you wish, but red onion is sweeter and better for cooking.
How to Make Sosis Bandari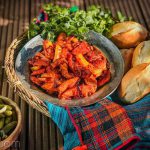 Print Recipe
Sosis Bandari
fry the onion and potato, add spices and tomato paste, add sliced sausages.
Ingredients
300

gram

Sausage

2

medium

Potatoes

1

big

onion

2

tbsp

tomato paste

6

tbsp

vegetable oil

1

tsp

tumeric

1

tsp

salt and pepper
Notes
Step one:
Add oil to a pan, and while the oil is getting hot, saute the onion and put them in the pan. While you are waiting for the onion to get golden, you need to go to the next step.
Step Two: 
Saute potatoes in small pieces and go back to onions. When you see that the color of onions is slowly changing, it's time to add salt, pepper, and turmeric to it. Then add potatoes to the ingredients. You can cook potatoes before cutting them, but you can just put them raw in the pan and fry them well. 
Step Three: 
When the potatoes are cooked and fried enough, you need to slice sausages and add them to the pan. Then it is time to stir everything and wait for sausages to get fried a little.
Step Four:
It is time to add your tomato paste to the rest of the ingredients, stir them and put the lid on, and let it cook for almost five minutes. Then, your Sosis Bandari is ready to be served. 
To make a perfect Sosis Bandari Sandwich, you need to pick your baguette or flatbread, add some mayonnaise and put enough Sosis Bandari on it. Then, you can add some sliced tomatoes, pickles, and lettuce as toppings. Your sandwich is ready to blow your mind and make you crave it for the rest of the week.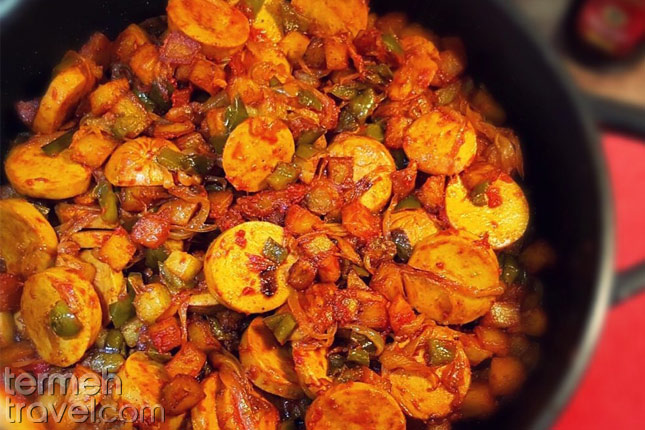 If you are interested in Persian cuisine and want to learn more about Persian food recipes, check out our blog for more Persian foods and recipes.