Imagine you are getting home after a long day at work, and you need to make something delicious, nutritious, and gorgeous for your family. My advice is to go with Eshkeneh and Kale Joosh. These two Persian stews are not only tasty but also warm and cozy options for cold winter nights. You just need to spend at most 30 minutes to make these gorgeous stews, but the rich texture of them makes you feel filled for a long time and would give you the energy to continue your day.
What is the Difference Between Eshkeneh and Kale Joosh?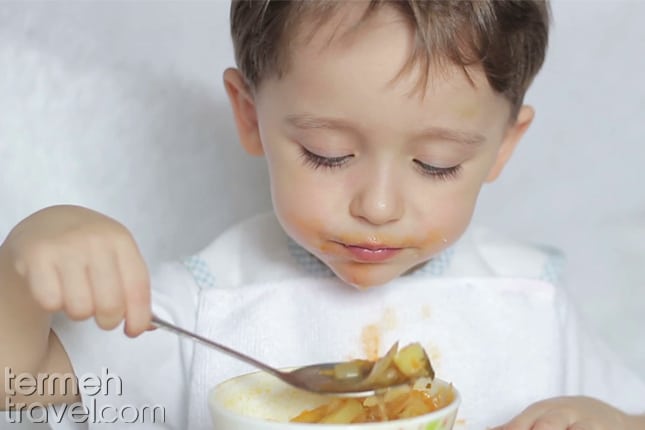 Although Eshkeneh and Kale Joosh have different types and styles, we can compare the most popular types of them. These two Persian Stews share many similarities in appearance. They both have a delightful green color covered with a layer of shiny oil which is appetizing.
However, in Eshkeneh, we need to use eggs while Kale Joosh is totally egg-free. On the other hand, we use dried mint in Kala Joosh, which is different from the herb we use in Eshkeneh, which is called fenugreek. Since the herbs are different, the fragrance of these two Persian stews differs as well. Kale Joosh has a similar smell to Ash Reshteh, but Eshkeneh has a different story that we need to discuss in more detail.
What Is Eshkeneh?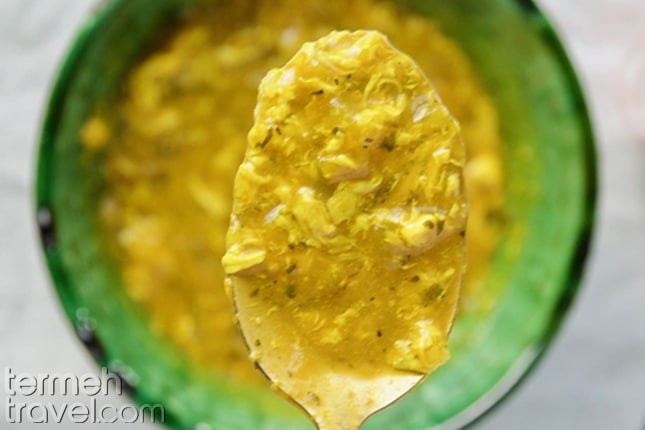 Eshkeneh is a combination of vegetables, liquid, egg, and herbs. According to Nader Mirza, when Iranians were traveling in the deserts or did not have meat in the house, they made Eshkeneh. The nutrients in this dish gave them the energy to continue hard labor and keep their bodies hydrated when they were under the burning sunshine. 
Today, you can make Eshkeneh, this nutritious dish, and enjoy its fantastic taste as well. Eggs will help your body absorb more vitamin D and reduce the risk of heart disease. Since eggs are perfect sources of good cholesterol, you don't need to worry about high blood pressure, and you can enjoy eating your Eshkeneh. 
Also, fenugreek is well known for its benefits in helping your body fight illnesses and improve your immune system. By eating fenugreek, you have a better chance of reducing the risk of heart disease, cancer, and stroke.
What Are Different Types of Eshkeneh?
Different cities of Iran have their own versions of Eshkeneh. Some of them use vegetables and tomato paste, which gives the dish a bright red color, while others prefer the green color of it and add herbs to it. This dish mostly belongs to desert areas of Iran, so Isfahan, Khorasan, and Kerman Provinces are experts in making Eshkeneh. 
How to Make Eshkeneh?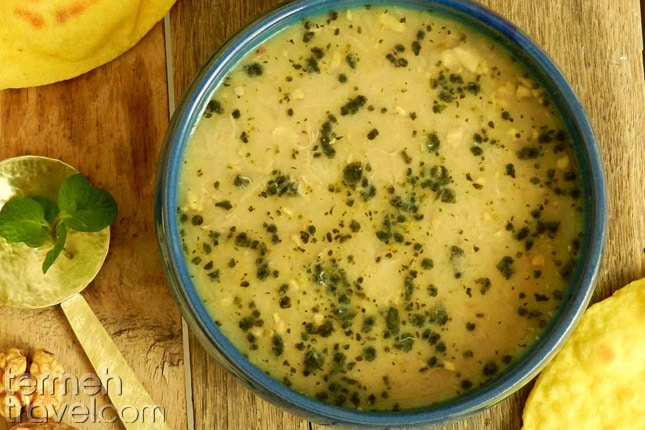 Ingredients:
One chopped onion
One teaspoon of fenugreek
Some oil
Salt, pepper, and turmeric as much as you like
Two eggs
2 cups of water
Recipe:
Step One:
Fry the onion in the pot with oil and spices until it looks golden brown.
Step Two:
Add the fenugreek to it, but be careful because it can burn in seconds. Then pour the water and let it boil.
Step Three:
You need to crack the eggs in a bowl, mix them, and add it to the pot. Then stir it well and enjoy your Eshkeneh. 
How to Make Khorasani Eshkeneh?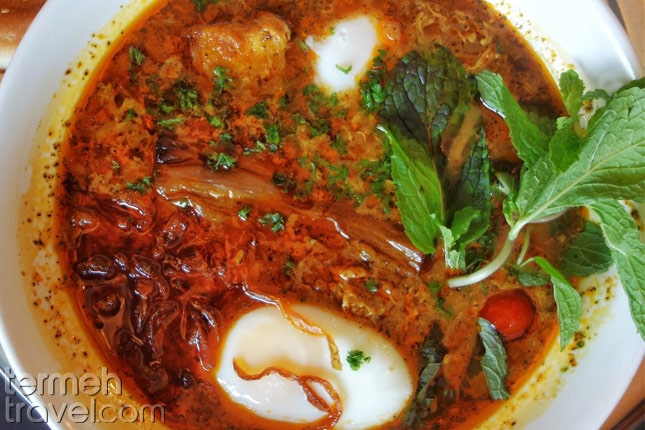 Ingredients:
One chopped onion
One diced potato
Two tablespoons of tomato paste
One egg
Two cups of water
Salt, pepper, and turmeric as much as you want
Recipe:
Step One:
Saute the onion with salt, pepper, and turmeric, then add the potato and tomato paste and stir it.
Step Two:
Pour two cups of water into the pot and let it boil. You can do the same thing with the egg as you did in the other Eshkeneh's recipe and mix it with the ingredients in the pot.
Step Three:
Your Eshkeneh is ready for you to serve it with raw onion and edible herbs.
What is Kale Joosh?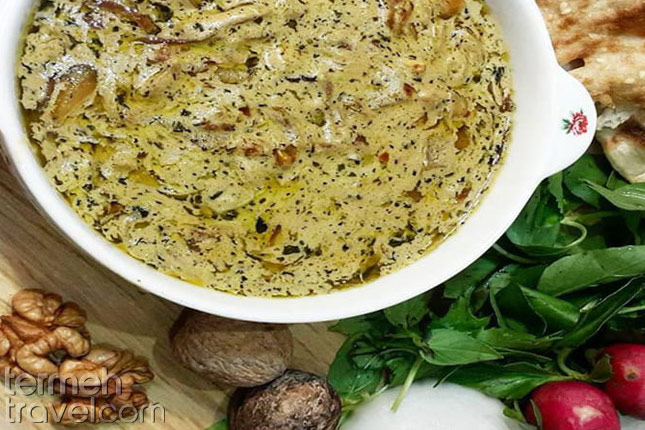 Kale Joosh or Kala Joosh is the creamy, delicious, gorgeous Persian Stew that can satisfy you when you crave Ash Reshteh, but you are short in time to make it. The rich texture and saltiness of whey sauce or Kashk goes well with fried mint and diced walnut and offers you a nutritious meal as well.
Kashk or whey sauce is a rich source of calcium that helps with bone's health. Iranian traditional medicine categorizes ingredients into two main categories of hot and cold in nature. These categories have nothing to do with the temperature of the food. They are two features in Iranian medicine that Persians consider in their cuisine. Hence, they try to find a balance between hotness and coldness in a dish. Since Kashk is cold, by adding walnuts, we want to find the balance. Besides that, walnut is an excellent antioxidant and rich in O-mega 3.
What Are Different Types of Kale Joosh?
Like Eshkeneh, Kale Joosh has different types. Basically, we have two different types of Kale Joosh. One of them which is more popular in the center of Iran and in Isfahan is totally vegetarian friendly. You can always replace Kashk with vegan whey sauce or thick vegan yogurt as well. The other one that belongs to Zanjan, Azerbaijan, and Ardabil that are Turkish parts of Iran has meat in it.
How to Make Iranian-Turkish Kale Joosh?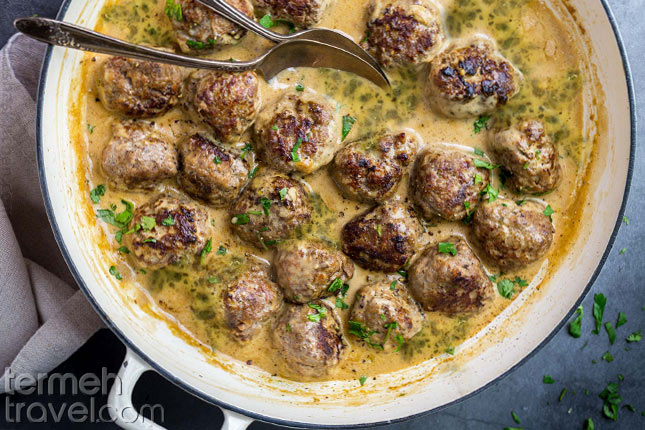 Ingredients:
One chopped onion
One tablespoon of dried mint
Salt, pepper, and turmeric
4 tbsps of Kashk
Diced walnuts 95 gr
Ground meat
Two cups of water
Recipe:
Step One:
You can decide whether you want to have meatballs or simple ground meat. If meatball is your choice, go ahead and make them with ground meat, one teaspoon of flour, salt, pepper, and turmeric and then fry them.  
Step Two:
Add the diced onions to the hot oil and stir until they look perfectly gold. Then add the spices and the diced walnuts.
Step Three:
After a few minutes, add the dried mint and wait a few seconds, then add the ground meat and stir it. The meat needs to be cooked well(if you are using meatballs, you can add them now.)
Step Four:
You can combine the whey sauce or Kashk with water and add it to the pot. You need to turn off the heat when you see that the stew starts simmering because boiling the Kashk will spoil it. Then you can enjoy the Kale Joosh.
How to Make Isfahani Vegetarian Kale Joosh?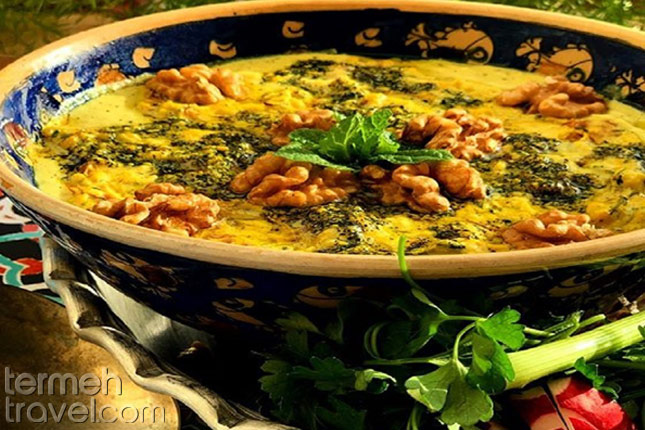 The ingredients and recipe for vegetarian Kale Joosh are the same as the one above. You just need to ignore the meat part and follow the rest of the recipe. After making Kale Joosh once, you will definitely want to put it into your diet and enjoy its pleasant taste. 
How to Serve Eshkeneh and Kala Joosh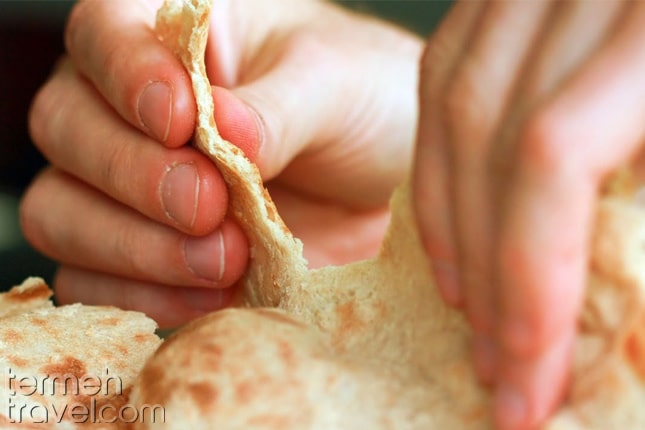 Now that you know how to make these two Persian stews, Eshkeneh and Kale Joosh, you should get familiar with the concept of Tilit. To serve a stew, Iranians break pieces of bread or Persian dried bread, put it into a bowl, and then add the stew. When the bread soaks in the delicious liquid of the stew, you can enjoy this fantastic combination.