After a perfect day watching Persian architecture and glory in different museums when you are walking on the street, just when you are tired and hungry, you get stunned with pleasantly wonderful smells. You have no other choice than to change your path, follow the aroma, and eventually find yourself looking at a small store that has thrown a festival of the most lovely street foods in Iran.
You can travel to different metropolitan cities in Iran and stroll different streets with their unique atmosphere and characteristics. However, all these places have one thing in common, the colorful Persian street food. You see the shiny delicious food in the store's windows and feel your mouth watering by looking at this attractive food. Before entering the store and making yourself happy by ordering one of the foods, let's introduce you to the most popular street food in Iran and the different characteristics of each.
Falafel: The Perfect Vegan Choice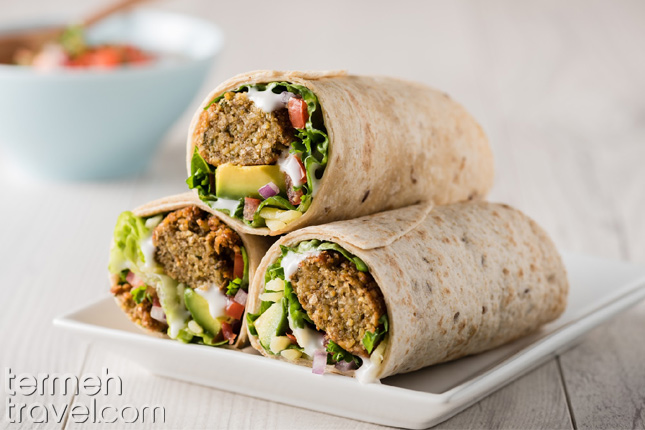 You have definitely heard of Falafel as this food is one of the most popular and healthy (well, it has vegetables in it!) fast foods in the world. But, you can try a new version of Falafel in Iran by walking in any street, in every city. If you are a foodie and picky, you can look for Falafel buffets in which you can make your own sandwich, just the way you like it. Do not forget about the amazing toppings and special sauces that you will find in these shops. Even if you like to keep your meal simple, you should try these items at least once because they take your sandwich to the next level.
If you want to know how to make homemade Falafel, you can check out Falafel's recipe and give it a go.
Sambooseh: The Love Triangle!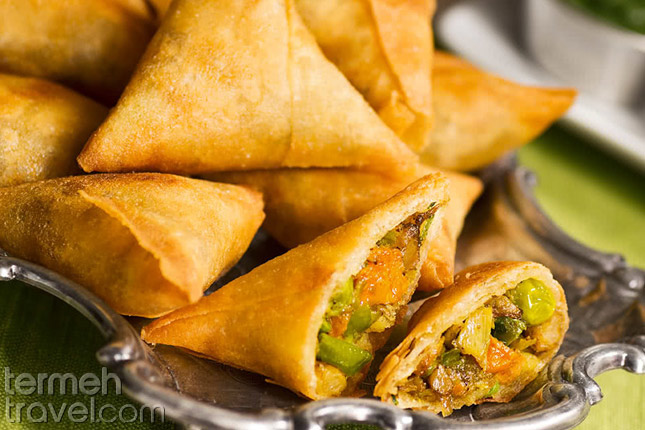 Unlike traditional Persian meals, street food in Iran is made for vegans and vegetarians, and Samooseh is one of the best. Sambooseh or Samosa comes a long way from the south of Iran to different parts of the country to be one of the most popular Persian street foods. However, Sambooseh is originally from India and adopted by Iranians to suit their own taste.
The combination of baked potato, aromatic herbs, and spices is so simple yet creates magic. By grabbing the first bite, you hear the sound of the crunchy bread shattered in your mouth and then feel a smooth, creamy paste between your teeth. The good news is that you do not have to wait to visit Iran and try Persian Sambooseh. You can look at Sambooseh's recipe and make it on your own by combining the ingredients, wrapping them in flatbread, and frying them in hot oil! Voila!
Balal: Persian Barbecued Corn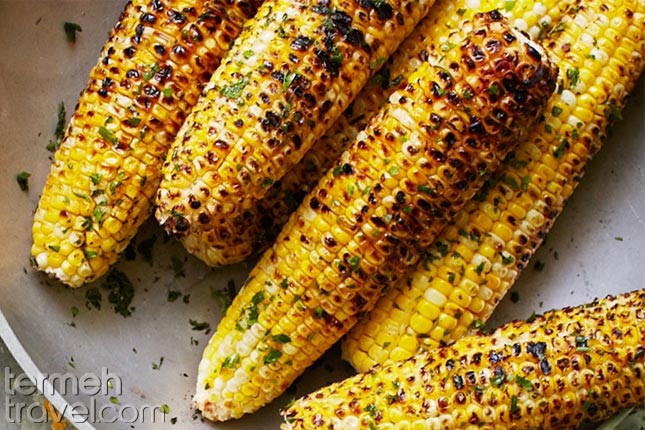 Similar to Mexican Street Corn, Iranians have created a healthy, simple, and yummy snack to try while you are in the street called Balal. The word "Balal" means barbequed because if you want to make an authentic Persian Balal, you have to barbeque the corn on charcoal. Unlike the Mexican one, Persian corn is less sweet, but it has more flavor to it, and it is healthier because there is no 'mio sauce' in it.
If you have ever been to Iran, especially during the summer, you have definitely seen people on the street with a small barbeque, turning corn on fire and once they are cooked, put them in a bowl full of salty water. If you go to buy a Balal, they will give you a slice of lime to add to your corn and make it more delicious.
Ash Reshteh: The Beauty of Winter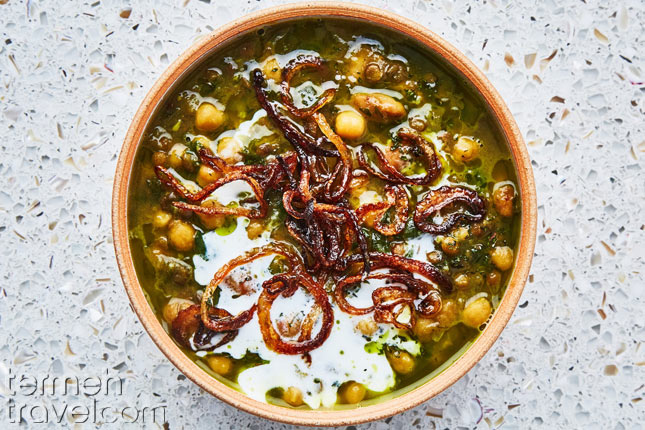 Ash Reshteh is pure perfection, especially if you have it on cold winter days. Let's go on a journey to get the essence of what I am talking about. Imagine you are walking on the street on a cold night while you cannot feel your nose and cheeks due to the freezing weather. At that moment, the only thing that can make you feel better is either a hot drink or a bowl of Ash Reshteh, also known as a Persian noodle soup.
Ash Reshteh is more than just street food in Iran or even comfort food. It is a Persian tradition that links you to Iranian culture. The delightful herbs and pleasing texture of legumes between your teeth go well with the soft noodles. The taste of fried onion mixed with salty Persian whey sauce is outstanding and unforgettable.
Before traveling to Iran and trying this masterpiece, you can make Ash Reshteh by yourself using the ultimate Ash Reshteh recipe and enjoy!
Jigar: The Meat Lovers Choice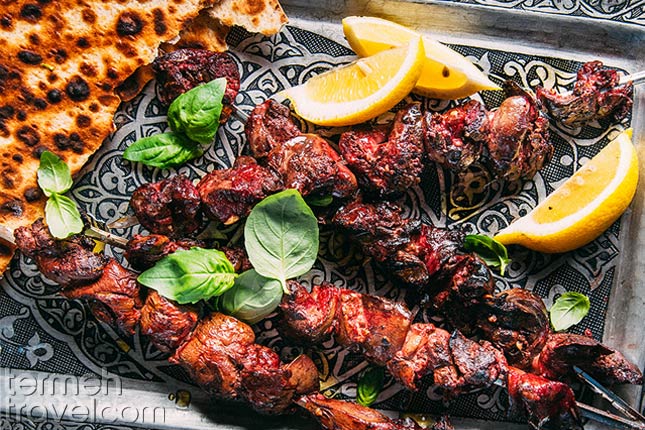 When we talk about Jigar, we basically mean grilled lamb's liver, as simple as this! There is no difficulty making this food. The only things you need to have are a barbeque filled with charcoal, liver and some salt. If you have not tried this food, you may not like the idea, but you should definitely give it a try; it may surprise you!
The best way of having Jigar is to find a food truck on the street and ask for some. When your food is ready, you should take the grilled livers out of the stick and eat them while they are still hot.
The Jigarakis, the shops that sell this Persian street food, also sell grilled hearts and kidneys of the lamb, which are also popular in Iran.
Labou: The Sweet Red Street Food in Iran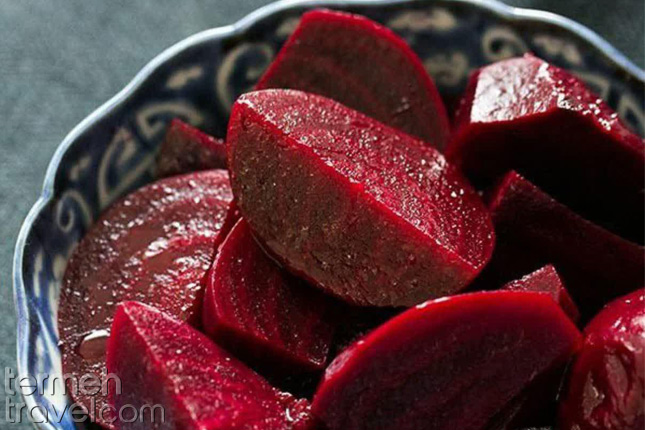 Labou is another winter souvenir that not only makes you fall in love with its taste but also beautifies the street. When you are walking on a snowy day in Tehran, you can see some tables with shiny beetroots on them like juicy rubies. If you ask for some sweet Labou, the vendor will generously give you a plate of hot beets that smell incredibly delicious and make your mouth pleased with its sweet and fresh taste.
Baghali: The Big Magical Beans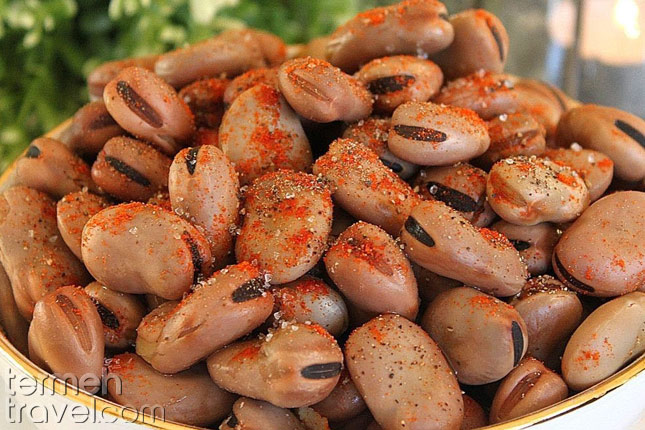 One of the most unique snacks or street foods in Iran is Baghali which is boiled or steamed fava beans. When you are walking on the street to visit an attraction in Iran, you can find delicious fava beans seasoned with salt and Golpar (Persian hogweed) powder. By buying a bowl full of fava beans, you can add some lime juice to it and enjoy. There are two ways of eating fava beans; you can either peel them to taste the soft texture of beans or have it with the skin. Either way, the taste is stunning.
Fries, Onion Rings and Fried Mushroom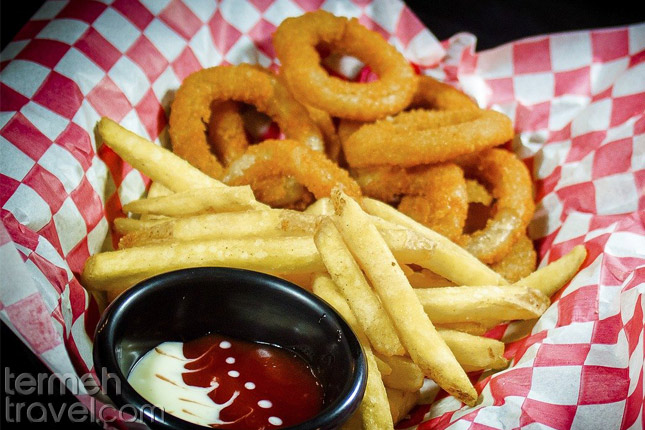 The western street food that you can find in the streets of Iran is french fries, onion rings, and fried mushrooms. If you travel to Iran, you should definitely taste the Persian style of these fast foods and enjoy the salty and yummy taste of them. Besides these items, you can also try spicy fried wings and Persian-style Chinese chicken strips with their crispy outside and tender meat inside them.
Doner Kebab: The Turkish Sandwich in Iran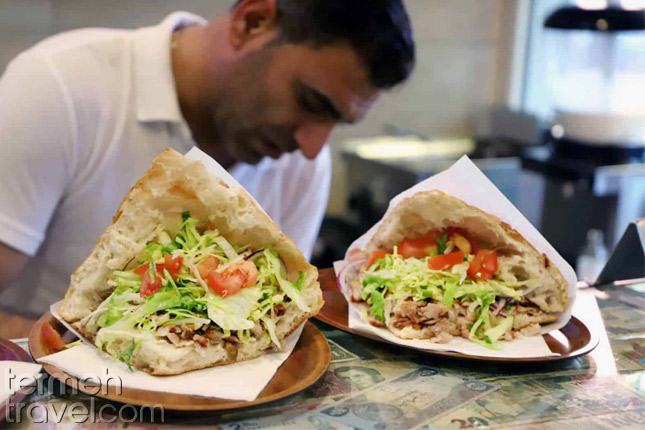 If you are a meat lover who wants to try some Eastern food in Iran, you should go for some Doner Kebab. The chicken, meat, or the combination of both dance on vertical rotisseries and tempt you to order a Doner Kebab roll and take a big bite while walking to your destination. The juicy, fatty meat wraps combined with aromatic bell peppers and onion are delightful to taste.
What Are the Most Popular Places to Find Street Foods in Iran?
If you are in Tehran, you should visit 30 Tir Street, a stone-paved street with food trucks all around it. You can find different street foods in Iran there and try everything!
While you are in Isfahan, you can go to Shahin Shahr and explore Ferdowsi street at night when the food trucks come to open their wonders and serve you some delicious street foods.
In Shiraz, the gorgeous Chamran street is where you want to explore and eat street foods in Iran.
If you enjoyed reading this article and are looking for more information about Persian food, especially the vegetarian and vegan ones, you should check out the Ultimate Guide For Vegetarians and Vegans Traveling to Iran.