When you talk about breakfast, most people may think about a cup of coffee or a bowl of cereal; something to make in no time and start your day as soon as possible. But there is no rush in Persian breakfast. The beauty of Persian breakfast is that you take your time preparing it, you serve it for your family, and enjoy while listening to the happy sound of your family members when they eat this delicious delicacy.
For many Iranians, Persian breakfast is waking up in the morning with the perfect smell of fresh bread, Persian tea, and omelet. You come out of your room at the weekend and see your parents sitting around the table listening to the radio. No matter how late you wake up, you can find the colorful breakfast items on the table, but the downside is that the one who finishes the last must clean the table.
The Value of Breakfast in Persian Culture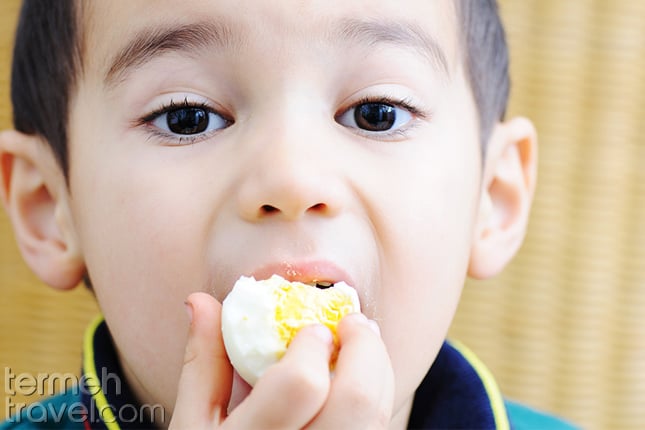 My grandfather used to say, "Eat your breakfast alone, have your lunch with a friend and eat dinner with your enemy." This old Persian idiom shows how Iranians care about breakfast. As the most important meal of the day, you have to eat a perfect breakfast and then start your day because there is always something missing without having a proper breakfast.
What Do You Need for a Perfect Persian Breakfast?
There are some items in Persian breakfast that cannot be ignored. They are the essence of this feast and can make it one hundred times better. You can always pick only one or two items, but knowing about all the items and how to prepare them is a great way to add more variety to your breakfast routine and get to know other cultures.
Persian Bread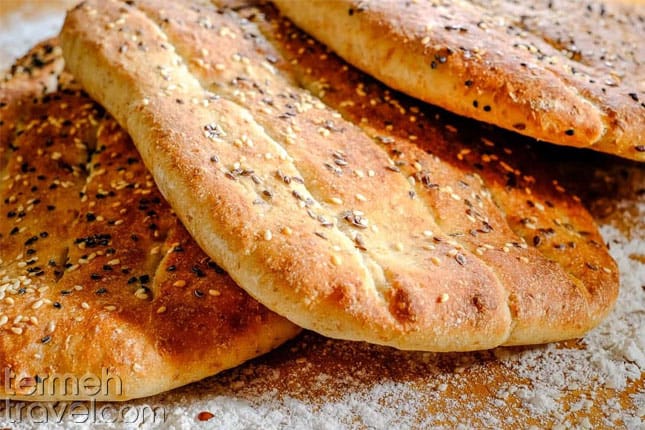 The inseparable part of Persian breakfast and the core of all Iranian tables is Persian bread, no doubt! You can find all you need to know about Persian bread and its different types in our blog post. To sum up the main points, there are three most popular types of bread that you can use for breakfast. Sangak, Barbari and Lavash! These three wonderful types of bread are what you need to have to make your breakfast awesome. In Iran, you can wake up early in the morning, go to a bakery to buy some loaves of bread, and go back to your home and enjoy the aroma of bread that fills the surrounding. To get more information about Persian bread and how to make them, you should check out the Persian Bread blog post.
Feta Cheese, Walnut, Cucumber, and Tomato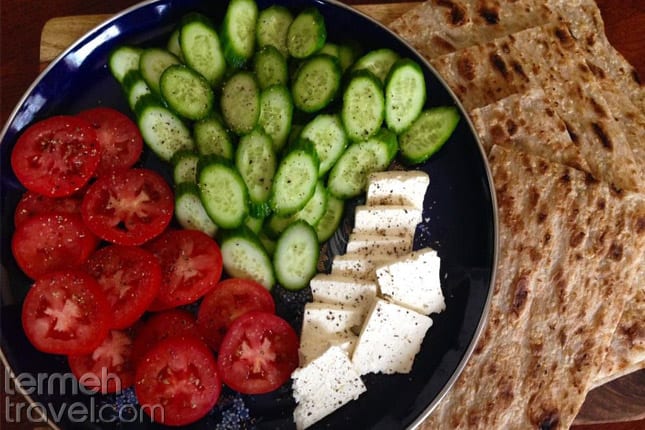 Of course, eating feta cheese, walnut, cucumber, and tomato are individually good, but you should do as follows if you are looking for perfection. Pick up a knife and slice the tomato and cucumber into smaller pieces. Add some salt and black pepper to the sliced vegetables. Cut a small piece of bread with your hand, put some feta cheese on it, add one slice of cucumber and tomato to it, and put a piece of walnut on top. Wrap everything with bread, and congratulations, you have made a magical Loghmeh, which gives you the creamy and salty taste of cheese combined with the freshness of vegetables.
The Unforgettable Part of Persian Breakfasts: Eggs
If you are not a big fan of eggs, do not worry, Iranians have come up with various ways to prepare eggs to please every taste. As a superfood, eggs are one of the most nutritious meals for you to start your day. You can use one of the methods below and make a delicious breakfast egg:
Nimroo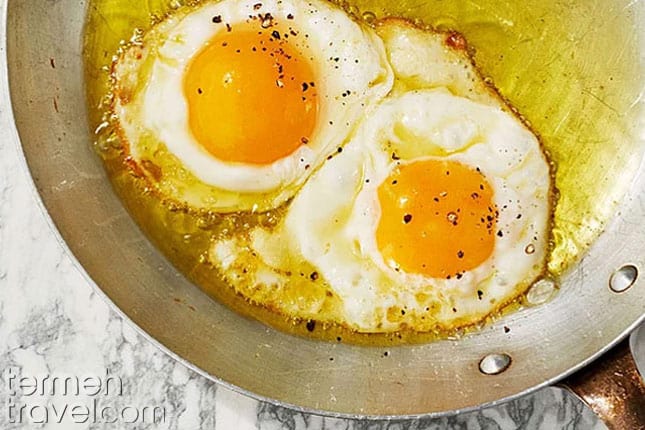 Making Nimroo is super easy. You just need to pour some oil into a small pan; when it is hot enough, break the egg in the oil. Then add some salt and pepper and wait till you think the egg is cooked enough. Some people prefer it well cooked, and others want the yolk runny. You can also stir the egg when you break it to combine the yolk with whites. It's not Nimroo anymore, but it is delicious.
Pro tip #1: You can add only pepper to the egg and serve it with honey.
Pro tip #2: If you add a little turmeric to the egg and put a lid on it, the egg's color would look amazing.
Omelet
Persian omelet is an extraordinary and easy-to-make breakfast, and the delicious taste of it is unforgettable! If you want to learn the best way to making Persian Omelette, you can find all information you need in the Persian Omelete blog post.
Boiled Egg
If you are looking for a healthy Persian breakfast, a hard-boiled egg is a great option. To prepare it, you just need to put some eggs in a pot, add some water to cover the eggs, and let it boil for 10 minutes. Then you can crack the egg and eat your delicious breakfast.
Pro tip: You can boil a small potato with the egg to make mashed potatoes and put it beside the boiled egg.
Khagineh
Khagineh is one of the most delicious types of egg that you can prepare for breakfast. You should break the egg into a bowl, stir it well to have a smooth combination. Then, add salt and black pepper to it and pour it into the hot pan. Turn the heat down and put a lid on the pan. When the bottom of the egg is cooked, you can turn over the egg and let the other side cook as well.
Butter, Cream, Jam, and Honey
If you have a sweet tooth and craving for something sweet early in the morning, the combination of butter or cream with jam or honey is perfect for you. Taking this breakfast to the next level, you should make the jam yourself.
Having homemade jam is not difficult. To start making jam, you should decide on its flavor. Carrots and cherries are two popular types of jam.
After grating the carrots or pitting cherries, you need to put them in a pot, add five cups of sugar and 1 cup of water. When the sugar is fully melted in water and the jam's texture is rich enough, you can turn the heat off and let it get cold. Then, put some of your homemade jam in a bowl and serve it next to the butter.
Pro tip: You can mix and combine some butter with honey and eat it with bread.
Adasi: The Delicious Vegan Persian Breakfast
If you are a vegan or vegetarian and feel left alone with these Persian breakfast items, do not worry! Adasi is waiting for you to make you feel better. This wonderful breakfast is a thick lentil soup rich in protein. To make it, you should wash a cup of lentils, add it to the fried onion, and season with turmeric, salt, and pepper. Then add 2 cups of water to it on low heat and wait for about 40 minutes to serve your delicious Adasi.
P.S: If you want to learn more about Persian vegan and vegetarian meals, check out Ultimate Vegetarian Guide
Ardeh, The nutritious Persian Breakfast
There are other uses for tahini (Ardeh) besides making Homos, and that would be having Ardeh Shireh as breakfast. You can combine tahini with date syrup to see how delicious the combination is. You can serve it next to any bread and use the Loghmeh method as always.
Halim
Eating Persian Halim in the morning opens a new door to you. This marvelous porridge of wheat and meat gives you the energy you need for the rest of the day, and it is super delicious. You should definitely try making Halim at home; if you want to know how to make Halim check out Persian Halim.
Kaleh Pacheh
Kaleh Pacheh literally means head and legs, but unlike its savage name, the food is extraordinarily delicious. To make Kaleh Pacheh, you need a sheep's head and legs to cook for hours with fried onion, turmeric, salt, and pepper. Making this food needs patience and time, so if you want to try it, look for a Persian restaurant near your house or wait to come to Iran.
And Of Course, Persian Tea
You cannot have a perfect Persian breakfast without drinking Persian tea. Chai is the cherry on top of the breakfast, which goes with all the foods we introduced to you. Drinking Persian black tea completes your meal, and its caffeine makes you ready for a fresh start. Learn more about this exceptional drink by reading the Persian Tea blog post.
Best Places for Eating Authentic Persian Breakfast in Iran
When you travel to Iran, there are some places that you shouldn't miss if you are a breakfast fan. In Tehran, do not forget to visit Amoo Houshang restaurant in Niavaran and order their famous omelet. In Isfahan, Sharbatkhaneh Firooz is where you can find delightful breakfasts. If you are traveling to Shiraz, Joulep Cafe is where you see the gorgeous Vakil complex and enjoy your breakfast in the awesome weather of Shiraz.