On a cold winter morning, when you are still in bed, suddenly you smell the enchanting aroma of Persian bread or as Iranians call them "Naan" that your parents just bought. Thinking about a delicious breakfast with feta cheese, herbs, sweet black tea, and fresh, warm Persian Bread gives you enough motivation to get out of bed and start the day by eating breakfast with your family.
However, the value of Persian Bread for Iranians is more than nostalgia. Persian Bread is the main item on every Iranian table. Different types of it are simple, elegant, and delicious.
Persian Bread and Persian Literature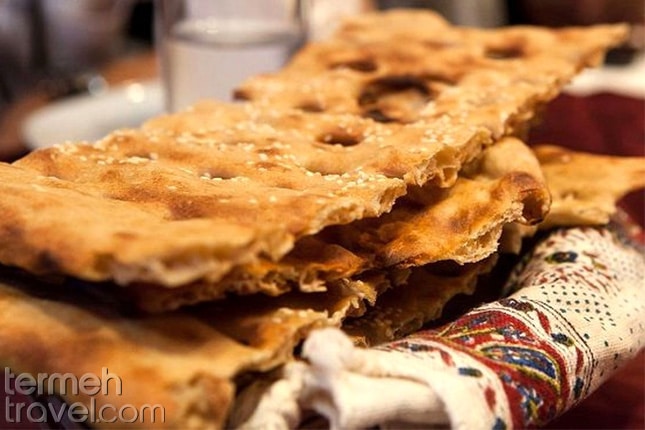 Dr. Behnia talks about the concept of Persian Bread in Persian Literature, in his book and explains that "Naan" carries a sacred meaning. In Zoroastrianism and Islam, bread, alongside another item such as date, salt, or cheese, was mentioned as the simple food that people are supposed to eat. It is also related to generosity, wealth, survival, and strength. If you read about the lack of bread in a family or city, it means that the mentioned place is either doomed or famine.
Many Persian poets such as Rumi, mentioned bread in their poetry to show the significance of it. In "The Interest Without the Capital" poem, Rumi says,
"The lover's food is the love of the bread;
no bread need be at hand:
no one who is sincere in his love is a slave to existence."
Although most types of Persian bread are made of wheat flour and water, they are different in shape, color, and even taste. However, all of them are delicious in their own way. You just need to know which type of Persian Bread you prefer the most and which one goes better with specific meals.
What Are 7 Different Types of Persian Bread?
Sangak Bread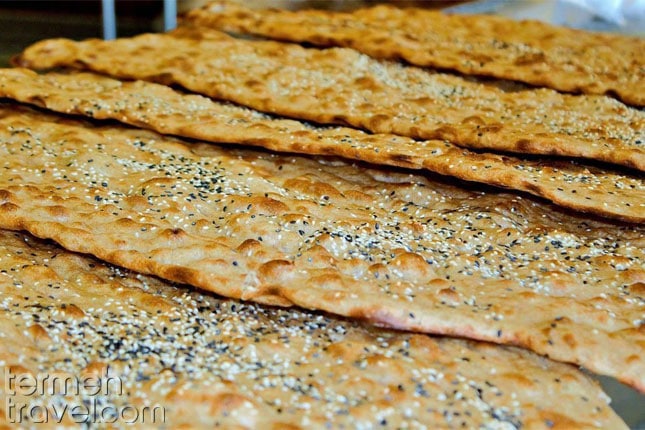 Sangak is probably the most well-known type of Persian Bread. This delicious and unique bread is baked on lots of hot pebbles (small rocks) inside the oven. Iranians call pebbles "sang," so that is why this Persian bread is called Sangak. You can find both crispy and soft texture in Sangak bread, which has a pointed shape on one side and a square shape on the other side.
How to Make Sangak Bread?
In order to make Sangak, the baker combines flour with water, salt and yeast. Then, lets it rest for a while and finally, flattens the dough on a flat surface, the baker usually puts some white or black sesame seeds on it and places it on the stones inside the oven. The outcome is breathtaking; you can eat it for breakfast with cheese, Persian Omelet, or jam. Also, Iranians make Sangak Bread into small pieces and put it inside Abgoosht or Stew to soak and then eat it. This combination is called Telit and is truly amazing.
Lavash Bread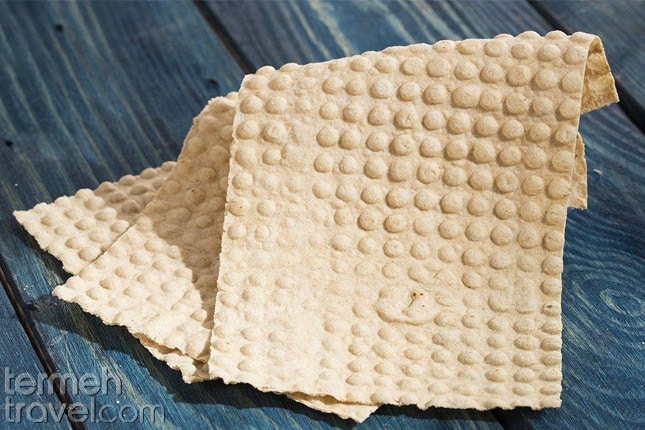 Lavash is a thin, smooth, flat Persian bread that is used every day in Persian homes. Lavash bread might be low in nutrition in contrast to other types of Persian bread, but it is probably the most useful one. Iranians use it to make small stuffed roles called "Loghmeh" mostly for breakfast and dinner.
How to Make Lavash Bread?
To make a delicious Lavash bread, you need to put some flour on a flat surface, put a little of dough there and flatten it with a rolling pin and have a square shape. Then you need to put a pan on the heat and let it get hot, then place the flatten dough inside the pan like a pancake. After a few minutes, you need to make the other side of the bread cook as well, and you have your perfect Lavash Bread in your hand.
Be careful about the baking time. Lavash bread can be easily overcooked, so you need to check it multiple times.
Barbari Bread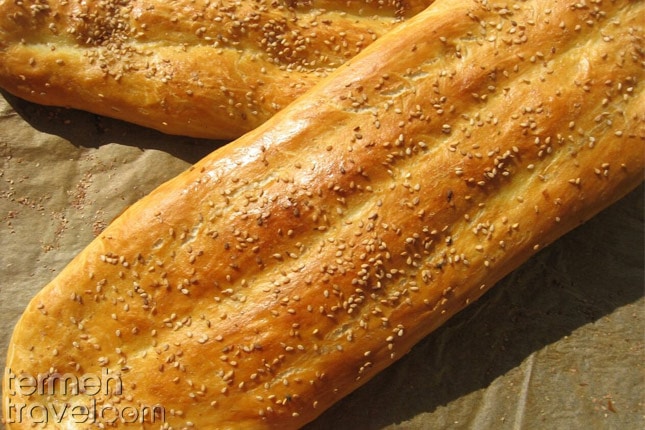 Barbari bread is probably the most good looking Persian bread. The golden crispy layer makes your mouth water, and the soft texture inside it surprises you. Barbari bread shows its perfection when you are eating it while it is still fresh and warm. You can enjoy this excellent bread for breakfast with some cheese or the awesome combination of butter and honey with black tea.
How to Make Barbari Bread?
To have a perfect Barbari bread, you should mix wheat flour, a pinch of salt and sugar, yeast, a little bit of oil, and water for the dough. Then let the dough rest for a few hours, and after that, put some dough on an oily surface. You need to make a long oval shape just like the picture below, and draw some lengthwise lines on it with a knife. If you want to have that golden layer, you need to put some mixed yolk on it with a brush and sprinkle sesame on it if you like. By putting it in the oven for about 20 minutes, the result will make you stunned.
Taftoon Bread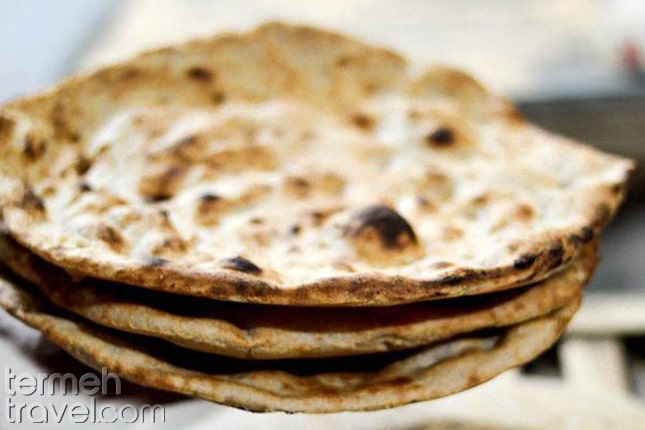 Taftan or Taftoon bread is a soft yet crispy, light yet nutritious bread that can make you fall in love. Taftoon bread is similar to Lavash bread; however, Taftoon has a circular shape, while the most common form for Lavash bread is square. The light brown bubbles on the surface of Taftoon can make it different as well. Also, to make Taftoon, you need to add some oil.
How to Make Taftoon Bread?
All the ingredients of Taftoon bread are similar to the Barbari. However, the shape is totally different. You need to have a thin layer of dough with a rolling pin and put it in the oven or on a hot pot. Baking Taftoon is easier than Lavash bread since the oil keeps the soft texture longer.
We learned about different types of Persian bread that are salty and can be served with meals. However, Persian cuisine offers you different types of bread as dessert as well. If you have a sweet tooth, you will enjoy all of these Persian bread for sure.
Shirmal Bread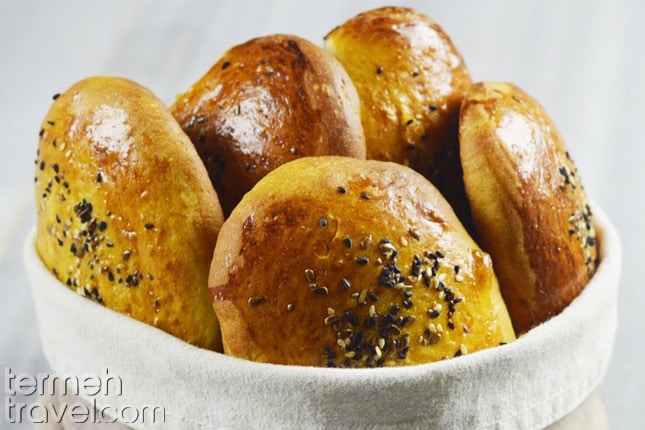 Shirmal is a delicious Persian bread with light and fluffy texture. Although you can use this bread in breakfast with feta cheese or other salty foods, there is a moderate sweet taste in Shirmal Bread. You should try Shirmal with a delicious Persian black tea in the afternoon.
How to Make Shirmal Bread?
The ingredients used in this bread are the same as others with one major difference. The name of it, Shirmal, gives us a hint. In the Persian Language, "Shir" means Milk, so you need to add Milk instead of water to make the dough. You can adjust the sweetness of Shirmal bread based on your taste by adding honey or sugar to the dough.
By putting some dough on the table, and flattening it with a rolling pin, you need to make a thick circle shape, add some egg yolk to it and put it in the oven. After 30 minutes, you can enjoy your Shirmal bread.
Naan Khormaei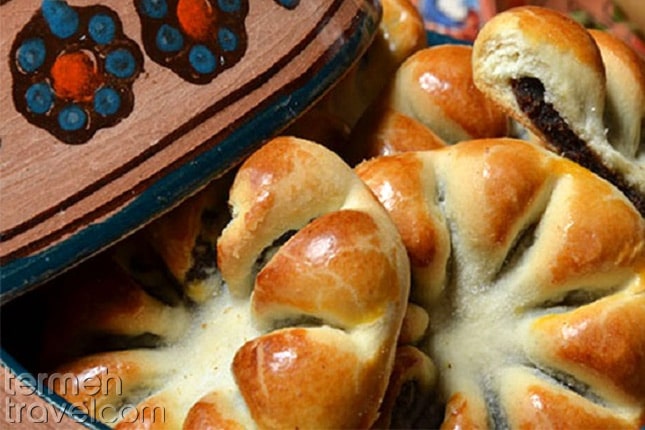 Naan Khormaei or Date bread is a sweet delicious Persian dessert which is popular in all parts of Iran, but it is originated in Kermanshah. You can serve it with tea during Persian gatherings, especially during Nowruz, when the houses are full of guests.
How to Make Naan Khormaei?
You need to use wheat flour, two spoons of yogurt, sugar, baking powder, butter, a little rosewater, and water. By combining them all, you will have a dough that needs to be flattened and stuffed with dates. You should remove the date kernels and put the date inside the dough. Then by adding egg yolk and sesame on top of the dough and putting it in the oven for 30 minutes, your Naan Khormaei is ready.
Naan Khamei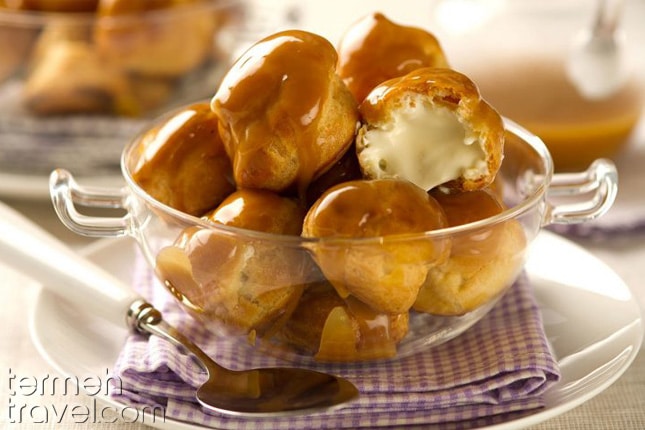 Naan Khamei, Noon Khamei, or cream puff is the classic fantastic Persian dessert that has to be served with tea. The tiny, golden shape of Naan Khamei may not reveal the authentic taste and feel of it, but the taste of this dessert is out of this world. Once you try it, you cannot stop eating it.
How to make Naan Khamei?
In order to make Naan Khamei, you need to add flour, water, butter, an egg, a pinch of vanilla powder, and salt in a bowl and mix them well. Then, put a spoon size dough on a pastry sheet and put it inside the oven for 20 minutes. When the bread is cooled down, you need to stuff it with whipped cream and put it in the refrigerator. After an hour, your dessert is ready.
Every type of Persian bread is mesmerizing and delightful. You need to start making them as soon as possible to enjoy the taste. However, by getting an Iran Visa and traveling to this country, you get to try the real taste of Persian Bread and remember it for the rest of your life.