Do you remember when you were a kid and looked forward to receiving souvenirs? Yes, I am talking about the feeling of joy and excitement of waiting for someone to come back from a trip and bring you something special. As you grow older, although the thrill of getting a souvenir is still there, buying your loved ones gifts and souvenirs is more fulfilling. Therefore, we want to tell you every little detail about Iranian gifts that you can purchase when you are in Iran.
Unique Iranian Gifts and Souvenirs to Buy
Iran makes sure that you find your ideal gift for your friends and family without any complications. The diversity of Iranian gifts suits all those fastidious friends who exhaust you thinking about what to buy for them. Also, you will find something very special for your loved one among all those enchanting handicrafts with their colorful and mesmerizing designs.
Now, let's dive deep in a list of top Iranian gifts.
Khatamkari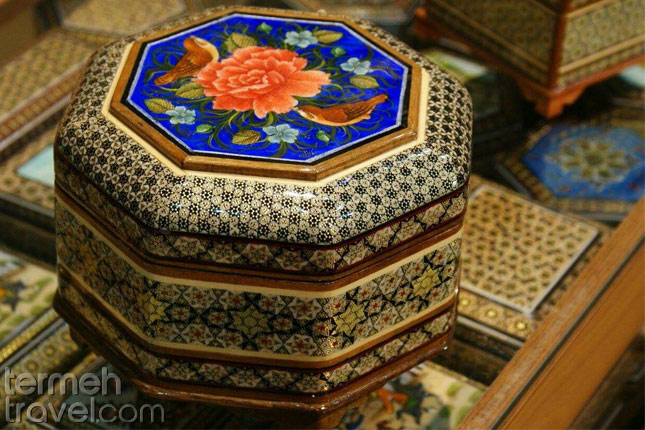 Are you looking for a small souvenir to put in your bag and bring back to your country? Khatamkari handicrafts are one of the best options. If you go to local bazaars, especially in Isfahan or Shiraz, you see delicate geometrical patterns on pens, jewelry boxes, vases, and some beauty products that shine gorgeously to capture your eyes. These lovely Iranian gifts can offer you a piece of Iran to share with those who were not present to see the immense beauty of this country by themselves.
Handmaid Cloth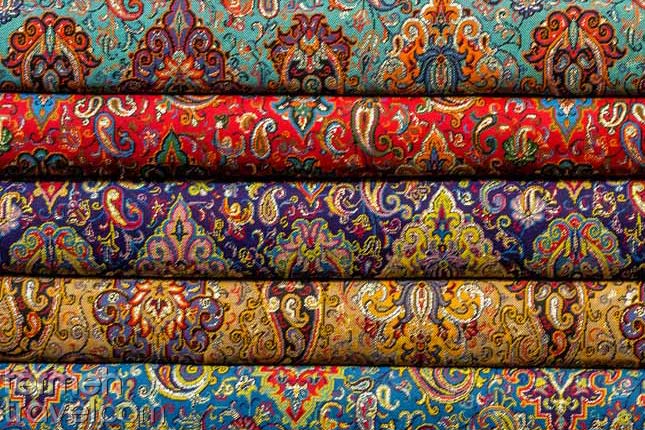 One of the most adorable gifts for everyone, including yourself is Persian cloth, especially the handmaid ones. You can travel to every city in Iran, visit a local bazaar, and witness the combination of patterns and colors that look beautifully attractive. It is hard to choose between these wonderful fabrics that show a part of the Persian culture within their design.
Among many wonderful Persian fabrics, Termeh stands out as a delicate, beautiful, and precious cloth. You can buy Termeh in different forms, such as clothes, tablecloths, and even accessories. You can read our "Termeh" blog post to learn more about this gorgeous Persian gift.
Persian Sweets: A Feast for the Sweet Tooth
Who will get angry if you bring them nuts and sweets? No one! Iran is full of delicious sweets and nuts which are some of the best souvenir choices. Even the most picky eaters will find something delicious among Persian pastries and nuts. Let's take a look at what Iranian cuisine offers:
Gaz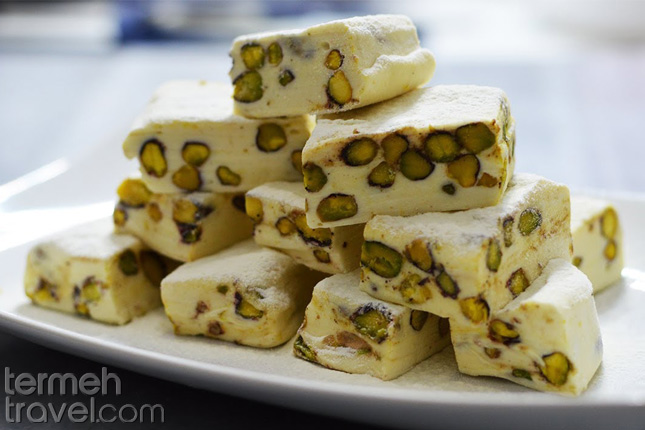 Gaz is one of the loveliest and most delicious Persian sweets that you can buy as a souvenir. The soft sweet texture of Gaz combines with the tenderness of pistachio and/or almond to create a delicious experience for you. Isfahan is the ultimate place for producing and buying Gaz, so make sure that you will give Kermani and Mozaffari Gaz stores a visit as they are two top Gaz companies in Iran.
Yazdi Sweets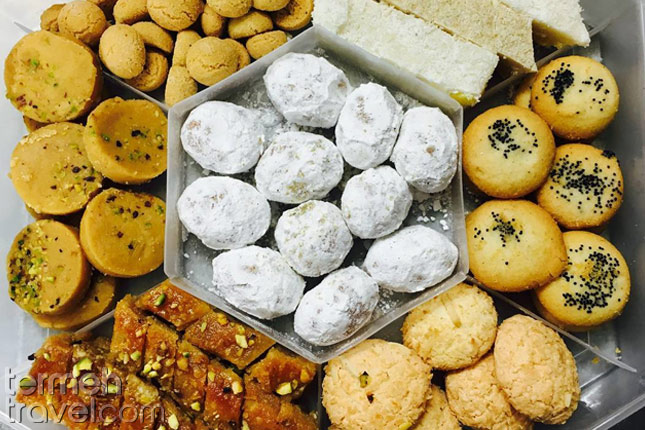 Yazdi sweet is a package of yummy, delicate and gorgeous Persian pastry that is gathered in a box to make you fall in love with Iranian desserts. The softness of Loz, tenderness of Qottab, and crunchiness of Haji Badoom are out of this galaxy. The variety of tastes and shapes in one package makes these sweets an amazing Iranian gift to carry back to your country.
Almond Candy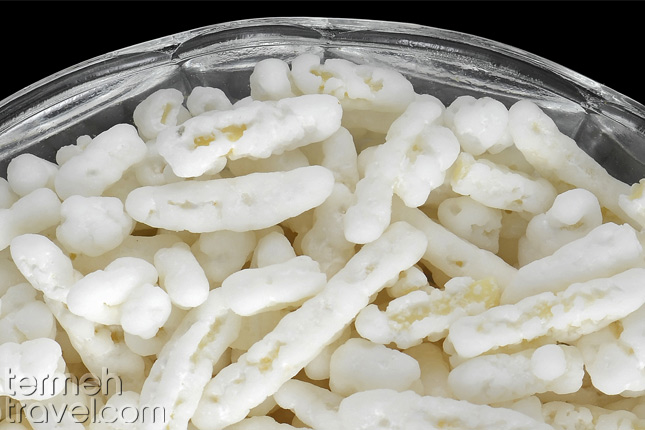 A very famous souvenir from Shiraz is the Almond candy that looks like snowflakes but tastes like heaven. Iranians love to eat these soft and sweet candies with a big cup of Persian tea. One of the most traditional uses of these candies is during weddings when the bride and groom's families throw Almond candies on the couple's head to wish them a sweet happy life ahead.
Fouman Cookies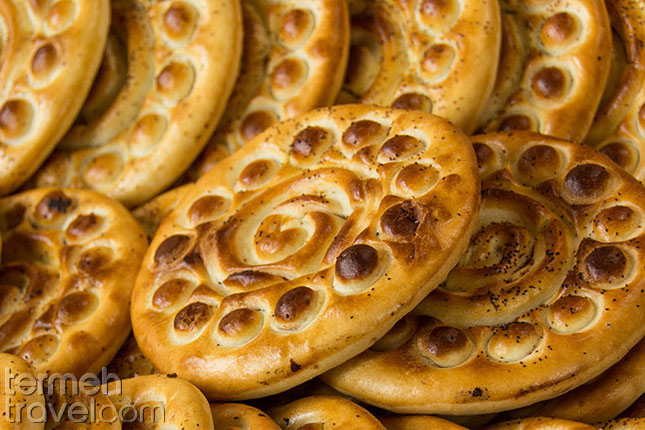 Forget the taste of all the cookies you have eaten so far. Fouman cookies shine among all Iranian gifts and souvenirs to offer you a new taste. If you look at the shape of this cookie, you will find your path to heaven through all the lines and dots. Then, the first bite shows you what you have missed your whole life. You can buy Fouman cookies when you travel to the north of Iran.
Persian Nuts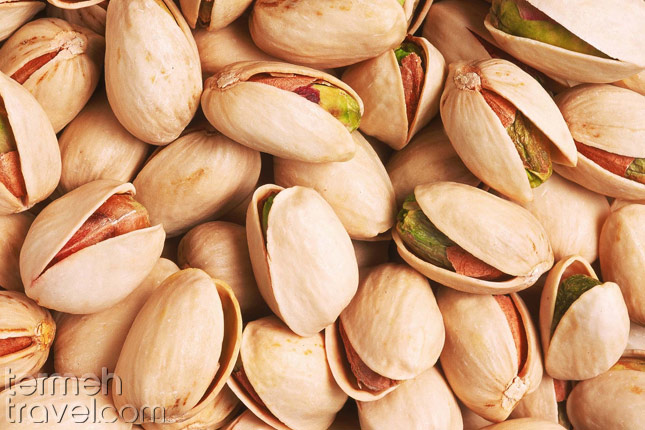 Are you thinking about buying gifts and souvenirs for those who do not have a sweet tooth? Persian nuts are here to rule out other candidates. There are a variety of nuts that you can purchase, such as almond, cashew, and walnut, but the most popular and unique Persian nut is pistachio which can be found in most parts of Iran. Therefore, buying a bag of pistachio can make your loved ones very happy.
Saffron: The Red Queen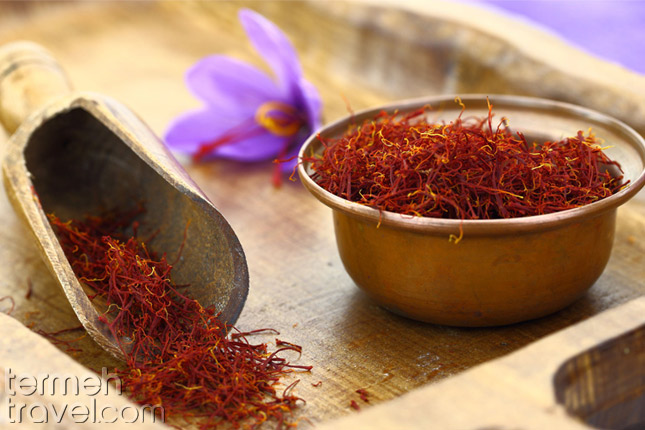 Buying Saffron for your family, friends, and loved ones is like giving them the magic powder or the essence of life. You will probably try Saffron on your trip to Iran, so you will definitely recognise its uniquely bitter taste and pleasing aroma. So, why wouldn't you bring some Saffron to your country and let others experience the true happiness that you get after tasting Saffron in a dessert, tea, or food?
MinaKari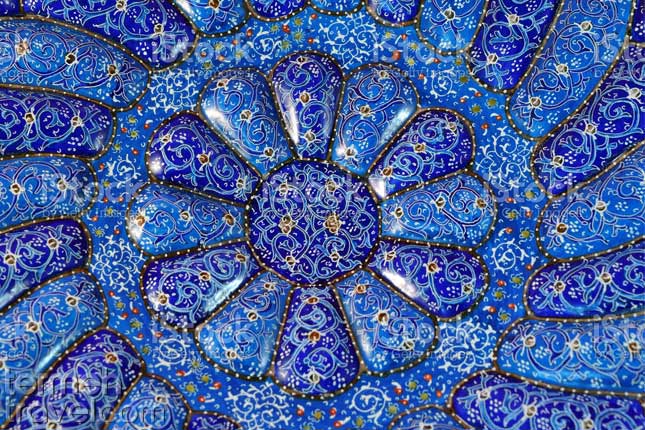 When you are in the north or south of Iran, away from big cities, you see how the gorgeous blue sky with its fluffy clouds mesmerizes you. This is the moment when you want to engrave this picture and have it with yourself for the rest of your life, or even share it with people you love. Minakari is that gorgeous sky on a dish that makes you think about the good memories you had in Iran while exploring its fascinating nature. You can buy this lovely art in the local bazaars of Shiraz or, in the narrow alleys of Naqsh-e Jahan Square in Isfahan.
Ghalam Zani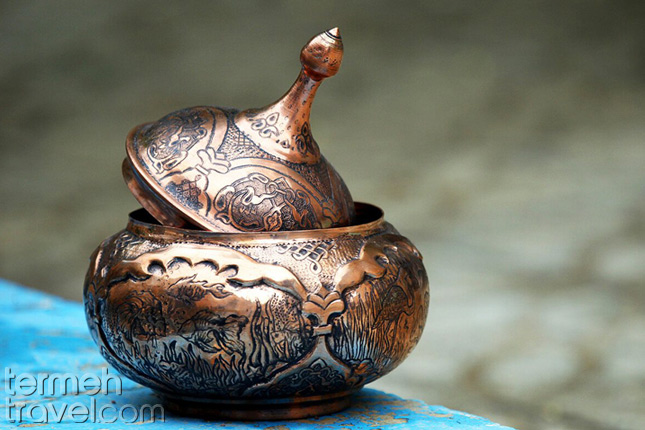 Ghalam Zani is the art of engraving an image or text on a piece of metal. It may look simple until you see outstanding jewelry boxes, vases, and jewelry pieces in traditional bazaars. Each of these legendary and mythological images have their own story to tell, which you can share with your family members and friends when you get back home. The amount of time and patience that artists put into making a Ghalamzani piece makes this Iranian gift more valuable.
These items are a small part of Iran's diversity in handicrafts. You have to visit one of the traditional bazaars to see the awesomeness of each and do the hard work of choosing among these many beauties. If you have not been to Iran before, here is an Ultimate Guide for First Time Travelers.