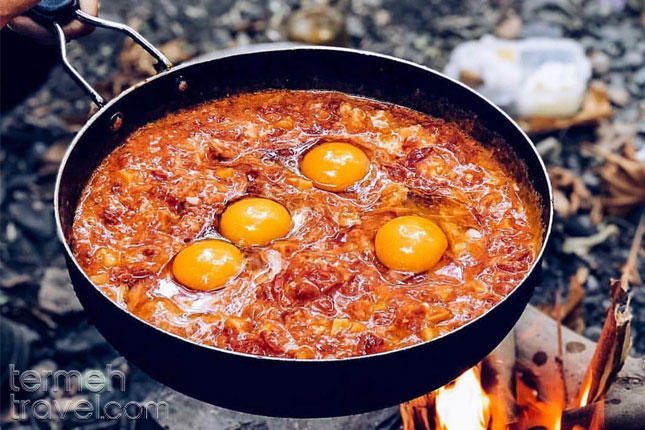 Persian Omelette is the White Knight, the savior, and the candle in the darkest night for single parents, college students, and the hungry or lazy individuals who hate cooking.
The recipe is simple. Saute tomatoes and mix them with eggs. However, I'm going to show you how to elevate the Persian omelet into a dish from a Michelin star restaurant (just kidding). It can be served as a breakfast, dinner, or even lunch.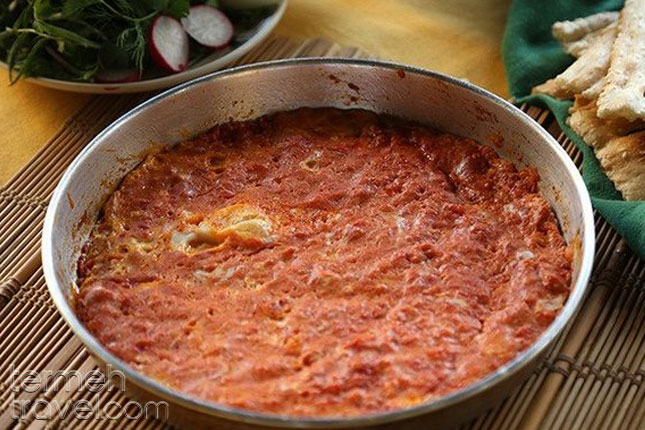 You can enjoy it in a jungle cafe in Gilan, a beach cafe in Qeshm, in the crowded Bazaar of Isfahan, or even a luxurious coffee shop in the north of Tehran. You can make a Persian omelet on the hot stones of the Lut desert or the 5,610m peak of Damavand mountain. If you ever happen to visit the city of Qazvin, ask for a place called Dehkhoda, they have the best omelet that I've ever had.

I will take you to the smokey Persian Ghahvekhaneh, the hangout place for hard-working laborers, charismatic oldmen, and even thugs, and criminals. I will take you to a place that has only three items on the menu, Ghelyoon (Hooka), omelet, and tea. Fasten your seatbelts and enjoy the ride.

What do you need to make Persian Omelette?
Eggs: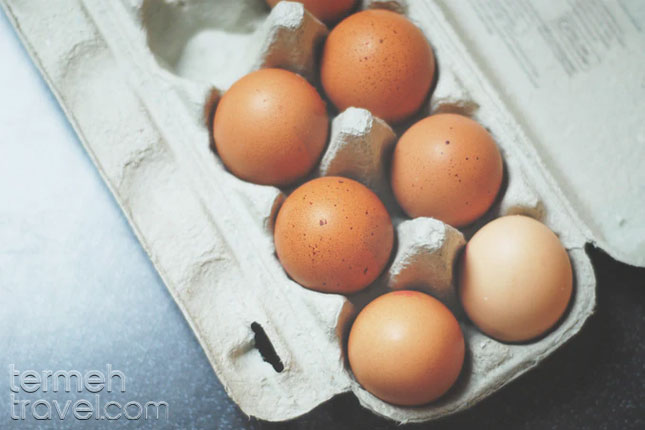 Eggs are the main ingredient of any omelet, and the Persian omelet is not an exception. The difference is that unlike the classic way of making an omelet, you don't need to push the cooked portions from the edges toward the center constantly and repeat the process, which is time-consuming and difficult. The mixing process is straightforward and doesn't require special skills. According to Healthline, eggs are loaded with vitamins, minerals, high-quality protein, good fats, and various other lesser-known nutrients, including calcium, iron, potassium, zinc, manganese, vitamin E, folate and many more.

Tomato or Tomato Paste: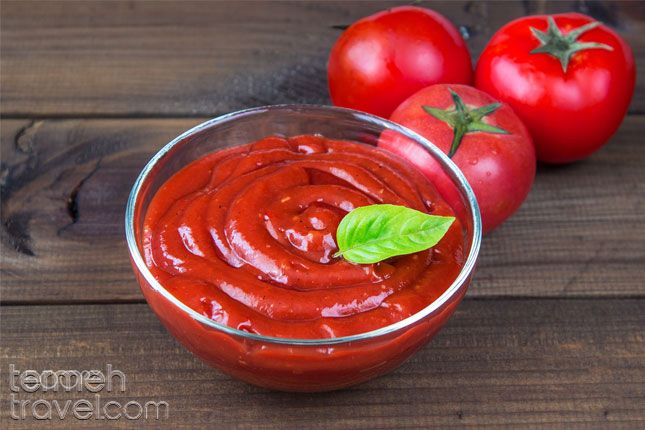 Tomato, tomato paste, or a mix of both determines the taste and color of the Persian Omelet.
More tomato means more color and sourness, and I personally like to mix chopped or grated tomatoes with tomato paste to achieve a darker color and deeper taste. Just be careful about the type and amount of tomato paste since some types contain salt and might ruin your omelet. Always taste the paste before using it.
According to Healthline, Tomato products such as ketchup, tomato juice, tomato paste, and tomato sauces are the richest dietary sources of lycopene in the Western diet, providing over 80% of dietary lycopene in the United States. They are also a good source of several vitamins and minerals, such as vitamin C, potassium, vitamin K, and folate.
Onion: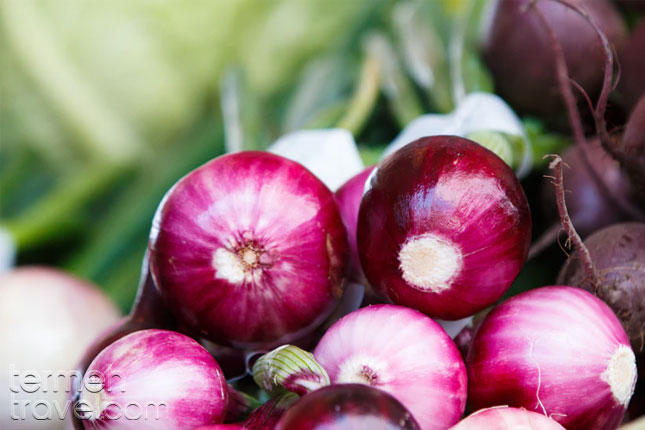 Onion is not a necessary ingredient, but it sneaked into my recipe recently when I had the best omelet of my life in a breakfast cafe called Dehkhoda in Qazvin.
Crispy fried onion can make a huge difference in taste, texture, and aroma of the omelet. You should not mix it in the cooking process, but rather prepare it separately and add a generous amount on top of your dish.

Onion is loaded with vitamins and antioxidants; it reduces cholesterol and can play a crucial role in metabolism, red blood cell production, and nerve function. Lastly, it's a great source of potassium, a mineral in which many people are lacking.

Flatbread: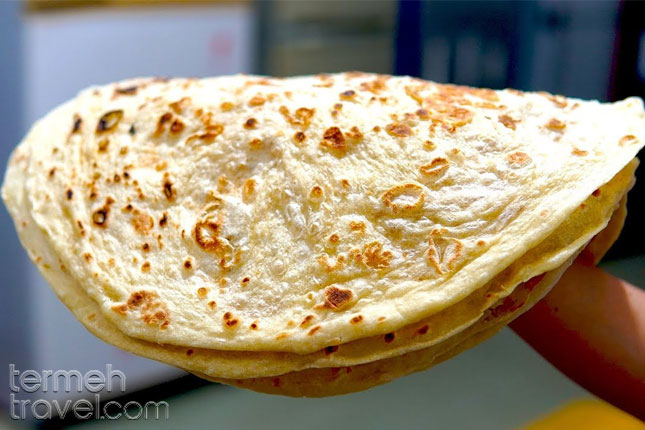 You can serve Persian omelet alongside bread or rice, but the most common and proper way is the bread. We are going to have a separate article on Persian bread, but for now, if you are close to a Persian supermarket, try to buy some of their flatbreads; otherwise, any non-sweet bread will be fine.
If you couldn't find any Persian bread, you can make it yourself. There is a great recipe for flatbread with no yeast. You only need plain flour (all-purpose flour), salt, butter, milk, and oil.
You can find the complete recipe on the RecipeTin Eats website.
Persian Omelette
Ingredients
Ingredients for 2:
4 eggs (376 cal)
6 medium tomatoes (144 cal)
1 tbsp tomato paste (13 cal)
2 tbsp vegetable oil or 100 g butter (124 cal)
1 medium onion (44 cal)
Salt, black pepper, cinnamon
Instructions
Step 1: Dice finely or grate tomatoes, saute on medium heat until almost all of the juice evaporates. Add the tomato paste and vegetable oil/butter and fry for 1-2 min.
Step 2: Crack the eggs and mix it with tomatoes on low heat and try to achieve a balanced, reddish color. Taste it, and then add the salt, pepper, and cinnamon, based on your taste.
Step 3: Slice the onion and make crispy, fried onion. You can saute, microwave, roast in the oven, or even use a pot full of boiling water and use its lid to make it oil-free.
Step 4: Put a generous amount of crispy fried onions on your omelet and serve it alongside flatbread, veggies (basils, garden radish, pickles, and raw onions).
Nutrition Facts
Persian Omelette
Serves: 2 persons
Amount Per Serving:
Calories

555

% Daily Value*
Total Fat
0
Saturated Fat
0
Trans Fat
Cholesterol
0
Sodium
0
Total Carbohydrate
0
Dietary Fiber
0
Sugars
Protein
| | |
| --- | --- |
| Vitamin A | Vitamin C |
| Calcium | Iron |
* Percent Daily Values are based on a 2,000 calorie diet. Your daily values may be higher or lower depending on your calorie needs.

How to Make Vegan Persian Omelette?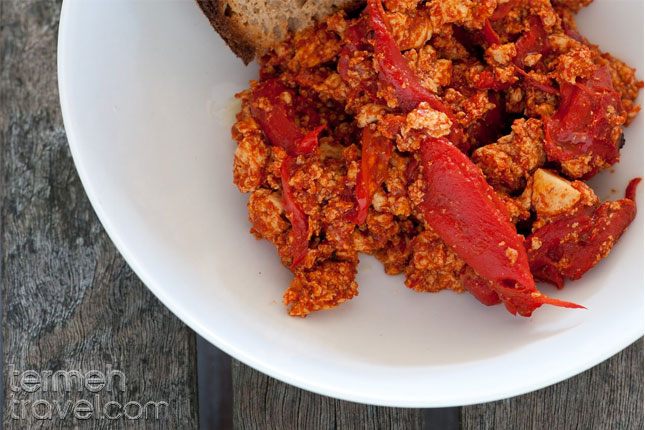 The only thing that you need to change in a Persian omelet to make it Vegan is the main ingredient, the eggs. The process is the same, and you can add some vegetables to it like garlic, cauliflower, mushrooms, or diced squash. You can use olive oil, coconut oil, or sesame oil. Instead of eggs, you should use tofu cheese or chickpea flour. I will only explain the tofu as it tastes better, in my opinion.

I was inspired by Simple Vegan Blog for this recipe.

Ingredients for 2:
300 g firm tofu (348 cal)
3 tbsp tomato paste (39 cal)
2 tbsp vegetable oil or 100 g butter (124 cal)
1 medium onion (44 cal)
Salt, black pepper, cinnamon

Chop the tofu and use a fork to crumble it into small pieces. Add some oil and saute for a couple of minutes. The rest is the same as the classic recipe, except not using any tomatoes, which may result in a watery omelet, and instead, you use more tomato paste. The last tip would be to use Kala Namak salt (available in Indian grocery stores), which makes your tofu taste like real eggs.