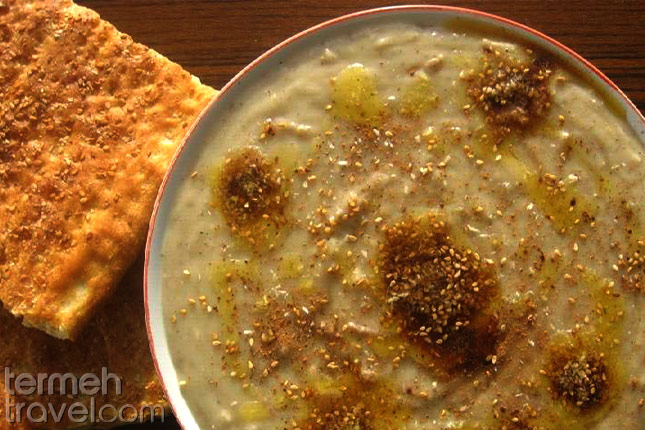 Persian Halim(Haleem) Wheat and Meat Porridge
The word Halim comes from the Arabic language meaning shredded meat. Halim is a very popular food in the Middle East, Central Asia, and the Indian subcontinent. There are many varieties of Halim based on different regions. Persian Halim is different from the Halims served in the Arabic countries, and here is what you need to know about this Persian cuisine.

About a thousand years ago, the Alawites used to cook Halim only on sacred nights, and by morning they would hand out the food they had prepared to people. This act was called "giving out Nazri", and "Nazri" meant free food. They believed that Halim was the most difficult and most time-consuming food to cook, making their Nazri more meaningful.

Time passed. Persians kept the holy meaning of cooking Halim, but they also added a new sense to it. Halim was served warm, and it counted as breakfast. So on the long cold nights of winter, the people of Jasb (a city in the middle of Iran) cooked this food throughout the night. They served it as a hot breakfast to their family members, warming them up for the cold day ahead. They did this for the entire season.
Nowadays there are Halim shops all over Iran; those who want Halim for breakfast, often buy theirs from these shops. It is served year-round and in varieties too.
The original Halim, the one that started it all, is made from barley, shredded meat (beef, lamb, chicken or turkey) and spices. This dish is cooked for several hours, which results in a paste-like consistency, blending the flavours of spices, meat, barley, and wheat.
The ingredients of different Halims are basically replacements of the ingredients of the original. I'll explain in more detail further on.

Milk Halim / Wheat Halim
The people of Jasb are known as Halim cookers, while I'm not sure who invented Halim, Jasbians are famous for their food. Here is what you'll need to make the famous Halim.
Course: Breakfast
Cuisine: Persian
Prep Time: 0
Cook Time: overnight
Servings: 4
Calories:

Ingredients
2 cups Barley/wheat germ
4 cups Water
300g Shredded meat (chuck meat is best)
1 Medium-sized onion
1 ½ tsp Salt
½ tsp Pepper
2 cups Whole milk
2 tsp Cinnamon
A generous pinch of sesame seed
Sugar or salt as desired (typically Halim is served with sugar and most often than not it's a sweet dish, but some don't like it that way, so they add salt)
Instructions
In a medium pot, add two cups of water, the meat of your choice (beef, lamb, chicken or turkey), two halves of a medium-sized onion, 1 ½ teaspoon salt, and ½ teaspoon pepper.
Turn the heat on low and let it cook overnight
In another pot, boil the remaining two cups of water and add two cups of wheat germ or barley.
Let it simmer overnight on very low heat until cooked.
Strain the broth and shred the meat.
Mix the shredded meat with cooked barley, pour 2 cups of whole milk to the mix, and let it simmer for thirty to forty minutes. Don't worry about over-cooking because Halim has a paste-like consistency.
Once everything is completely cooked, get your trusted blender and blend until you can't visually tell the ingredients apart.
For garnish, use cinnamon, sesame seed, and a little bit of shredded meat.
You can also add a tablespoon of vegetable oil on top if you want an unhealthy but incredibly delicious version of this Halim.
Mix the garnishes with the Halim and enjoy with bread.
Notes:
Wheat Halim is originally bland, and you can season it with salt or sugar and cinnamon. (depending on if you have a sweet tooth or not).
Back in the day, when calorie counting wasn't a thing, chefs used to make Halim tasty, the best way they knew how; By using a ton of fat. So if you want a tastier Halim, you can use oil and cream too.
If you want to make oats Halim, use oats instead of barley.
If you don't have milk lying around, but you want Halim, just don't add milk, and you will have an equally tasty wheat Halim.
Fun Fact
Milk Halim counts as a special breakfast; that's why in Isfahan, milk Halim is widely served only on Fridays, which is the Persian weekend.
Halim Bademjan or eggplant Halim
Halim Bademjan is mostly served throughout the country during the Islamic holy months of Ramadan and Muharram of the Muslim Hijri calendar.

In the month of Ramadan, after fasting for most of the day, this is a go-to dish for Muslim breakfast (Iftar); it's high in nutrition, protein, carbs, providing energy for the fasters after a long day of not eating food. In Muharram, people of Iran serve it as Nazri to their neighbours, or strangers passing by.

As I said, wheat Halim is the base of all other Halims; once you know the recipe of one Halim, you can pretty much cook the others just by changing a couple of main ingredients. For eggplant Halim, you will need to use rice instead of wheat, Kashk instead of cream, and add eggplants to the list.
Let me break it down for you.

What's Kashk?
According to Wikipedia, "Kashk is a fermented food that is made from grain mixed with sour milk or yoghurt." Kashk can be found in many forms and varieties. The Kashk that Persians use for cooking has a sour-cream like consistency, it is very salty, and depending on what animal-milk it is made from, it tastes different on the tongue, having an effect on the overall taste of your food.

Kashk can also be found in ball shapes, and be used as a snack throughout the day. Some people like to have a salty treat from time to time, and because Kashk is a dairy product, some consider it as a healthy snack.

My advice to you, taste the Kashk you bought for cooking and keep in mind its saltiness; this will come in handy when you are seasoning your food with salt.

How to Cook Halim Bademjan or Eggplant Halim
Halim Bademjan or Eggplant Halim is served on different occasions or even as a main course during a normal day, Some restaurants even serve Halim as supper or an appetizer. Here's how to cook Eggplant Halim.
Type: Main Course
Cuisine: Persian
Keywords: Halim, Persian Halim, Halim Bademjan, Halim Bademjan Recipe, Persian Halim Bademjan, Persian Eggplant Halim,
Recipe Yield: 4 Servings
Calories: 2249
Preparation Time: 1H
Cooking Time: 5H
Total Time: 6H
Recipe Ingredients: 2 cups of Rice 6 cups of Water 300g Shredded meat (chuck meat is best) 5 Eggplants 3 Large Onions ½ tsp Salt ½ tsp Pepper 1 tsp Turmeric 5 tbsp Kashk Dried mint leaves
Recipe Instructions:
1: Peel and cook the eggplants in two cups of boiling water in a large pot. Once they are done, drop them in your food processor or use a blender and blend them until they have a paste-like consistency.
2: In a medium pot, add two cups of water, the meat of your choice (beef, lamb, chicken or turkey), two halves of an onion, ½ teaspoon salt, ½ teaspoon pepper, and ½ teaspoon of turmeric.
3: In another medium pot, boil two cups of water, add one teaspoon of salt and add your washed rice to the boiling water. Make sure your rice is overcooked before you take it off the stove.
4: Finely dice two large onions, use a medium pan and caramelize the onions, for this step you'll need a "more than necessary" amount of oil, five to six tablespoons. Season your caramelized onion with half a teaspoon of turmeric and three tablespoons of dried mint leaves. (you can use more mint if you desire.)
5: By this point, all your cooking steps will be done, so grab your largest bowl and add the eggplants, cooked rice, shredded meat, three tablespoons of Kashk, and half of your caramelized onions to the mix.
6: Mix and blend, with a food processor, all the above until you have your Halim. Basically, it should look like green Hummus, YUM!
7: Garnish your Halim bademjan with the rest of the caramelized onions, scoop up the oil with dried mint leaves and pour it on the surface with a spoon (trust me it'll be delicious), add dollops of Kashk and design your dish however your artistic side tells you to.
Note
While peeling your eggplants be sure to remove the stem, and for a faster cooking process, you can cut the eggplants into three-inch pieces. Since everything is going to be blended together, you don't need to be specific in how you cut them.
Halims can be a simple snack on your busy days, or they can be a full three-course meal, sweet or salty, burning hot or semi-cold, you can enjoy them however you like. They are extremely versatile, and you can't go wrong with this amazing Persian cuisine.
I hope this post makes you want to try it, let me know in the comments if you do.