These few years have proved that no matter where we are, we cannot live without social media. Connecting to people through social media applications is a big part of our lives these days. Traveling to Iran can always be a great option since there are many wonderful places to explore. You can be a business traveler or take trips just for fun to Iran, and yet you still need to keep your communications running. However, it is widely known that Iran is not the best country when it comes to using social media easily. Many applications are filtered in Iran, and it makes communicating with other people more difficult than it should be. However, you cannot stop your life and relationships when you are traveling to this country. So, what do you need to do to visit Iran, enjoy your trip and have the opportunity to use social media? Which messenger can you have access to? Can you use WhatsApp in Iran?
Can You Use WhatsApp in Iran?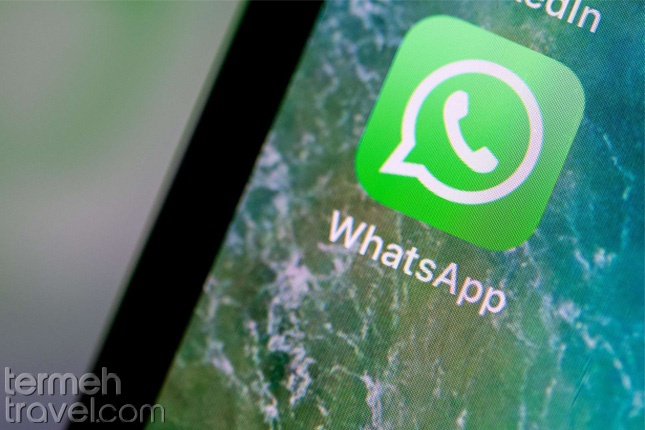 Let us put it briefly, yes, you can use WhatsApp in Iran. WhatsApp is one of those applications which is available in Iran without connecting to a VPN. So, you can easily use this app to stay in touch with your friends and family. So, no need to worry about being isolated and feeling left out by traveling to Iran.
In fact, WhatsApp is the most popular messenger in Iran. Almost all Iranians talk to their friends, families, and colleagues using WhatsApp since the design of this application barely changes. So, people of all ages can use WhatsApp.
How to Download WhatsApp?
If you are traveling to Iran, it is a good idea to download WhatsApp on your phone. The first thing to do if you are an Android user is to open Google Play and type "WhatsApp" in the search box. You can easily touch the download button and wait for the app to get downloaded. WhatsApp is only 16 MB, so downloading it would not take a while. When the download is finished, you can find the app in your list.
If you are an iOS user, you can open the App Store, write down "WhatsApp" on the search box and find the application. After touching the download button, you can easily see the app installed on your device.
No matter which operating system you use on your phone, you can also open WhatsApp's website and download the application directly.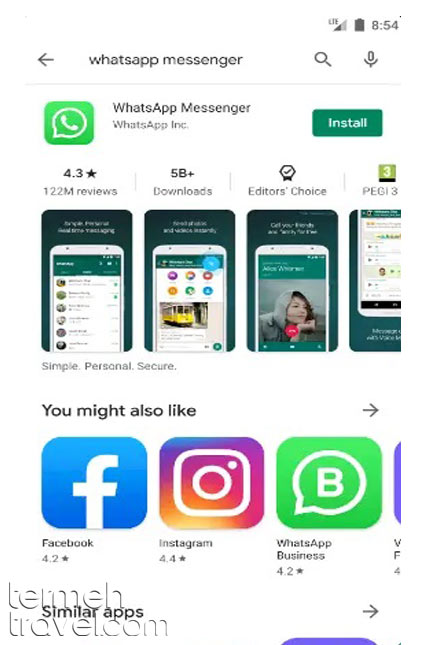 Note: WhatsApp is also available for Windows, and there is a web version that you can use. But, in order to use them, first, you need to install the app on your phone.
How to Install WhatsApp?
Now that we know the answer to the "Can you use WhatsApp in Iran question", you should know the following steps to install WhatsApp and use it in Iran:
Step one: Open the application and click on the big green button which says "AGREE AND CONTINUE". By touching this button, you agree with the terms and conditions of WhatsApp. You can read this information by touching the blue lines above the button.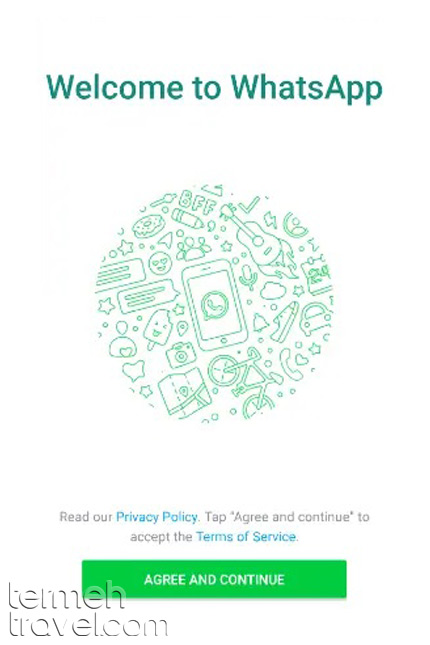 Step Two: After accepting terms and conditions, you see a page with two sections. In the first section, you need to choose your country. Then you need to write down your phone number in the second section.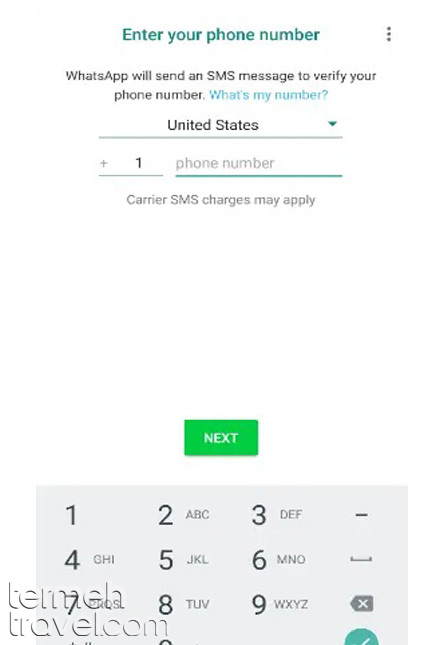 At this point, you need to know that if you want to use your own phone in Iran, you need to register it. You can find all the information you need about registering your phone in Iran here.
Also, you can use your own sim card for this matter, but you should know that you need an Iranian sim card for using some other application in Iran. Look at our "Sim Card in Iran and How to Get it" before traveling to this country to make sure you know everything you need to know.
For entering your phone number, first, select your country's code and then enter your number. By touching "Next," a code will be sent to you through SMS, so make sure that you have entered the correct number.
Step Three: At this point, you just need to enter the code in the section. Sometimes, the app auto-fills the code itself.
Step Four: You go to another page on which you need to fill out your username, which is the name that is going to be displayed on your profile. Then, you should select a profile picture and confirm the information, and it's done. You can see the list of contacts and can send messages to anyone you want.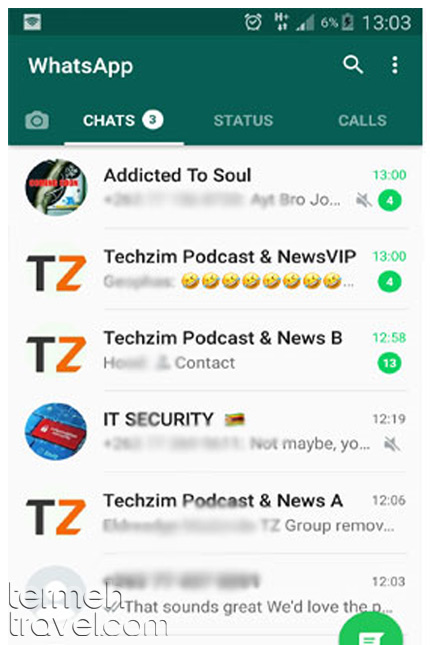 What Are WhatsApp's Features?
A few years ago, you could only use WhatsApp for sending written texts. Today, there are many features that you can use to improve the quality of your communication.
If you feel homesick, you can use WhatsApp in Iran to have video calls with your loved ones. If you are not willing to have a video call, voice calling others is also possible. The group call option is also available both for video and audio calls to help you talk to up to eight people on the same call. You can also send voice messages to your contacts to make them hear your voice.
Emojis and GIFs are great ways to help you convey your message while you are texting. WhatsApp supports Stickers, emojis, and GIFs to help you communicate your feelings too.
How to Use Stickers, GIFs, and Emojis in WhatsApp?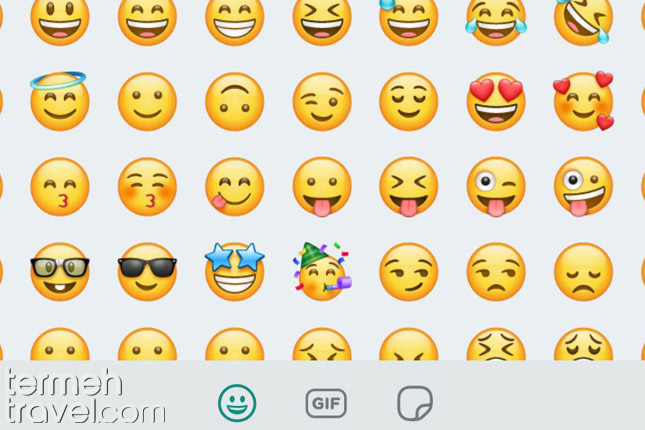 You can find all these options by touching the emoji shape at the left-bottom of the screen. When the list is opened, you can see all three options at the bottom.
How to Make Video/Voice Calls on WhatsApp?
There are two ways to use video or voice calls on WhatsApp. You can either select your contact and find the buttons at the top-right part of the screen. Also, you can go to the "call" tap and select the individual or group call there.
Note: During a call, you can change a voice call to a video call or vice versa if you want.
What Are Other Social Media Platforms Available in Iran?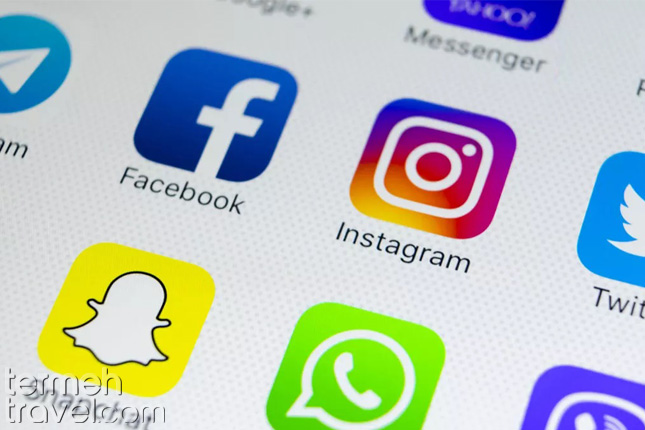 You should know that you can access all social media platforms such as Telegram, Facebook, and Twitter in Iran using a VPN. To get more information, you should read the "VPNs and Filtered Sites in Iran" blog post. However, if you are looking for available applications in Iran, you should know that there are a few more platforms to use besides WhatsApp.
Instagram is a nice application that is probably the number one social media platform in Iran. Instagram is not filtered in this country, so you can enjoy posting amazing photos of Iran and the highlights of your trip for your followers.
Skype is also not filtered in Iran, which is a good option for business travelers to arrange their virtual conferences there.
If you need more information about using WhatsApp in Iran or any questions about traveling to this country, feel free to contact us or leave a comment down below.
Source: devicesfaq.com