How to Make the Best Tahchin Ever in 5 Steps
Tahchin is one of the most popular and lovely Iranian foods that can make you fall in love with Persian cuisine. This sumptuous dish has every element of a superb Persian food inside to create perfection. You look at Tahchin and see the golden Tahdig (the scorched rice) shining with a thick layer of oil on it, and feel its crunchy texture in between your teeth. The fragrance of saffron fills the air, and you can savor the deliciousness of this Persian spice.
Tahchin literally means "arranged at the bottom". The lovely appearance of it is neither too fancy nor too modest. Therefore, Tahchin is the type of food that works well for both a cozy gathering and a big wedding. Also, with some minor changes, it can turn to one of the best vegetarian meals that you can make over and over.
What Do You Need to Make Tahchin?
Rice: Just like many other Persian dishes, rice is one of the main ingredients in Tahchin. Rice can keep you full for a long time because of its high carbohydrate count, and the good news is, there is no fat in it. Vitamin B, E, and fiber in it are what you need for having beautiful, healthy hair and skin. What Iranians care the most about in rice, is the pleasant smell of it. The aroma of Persian rice enchants you and promises you a fantastic meal.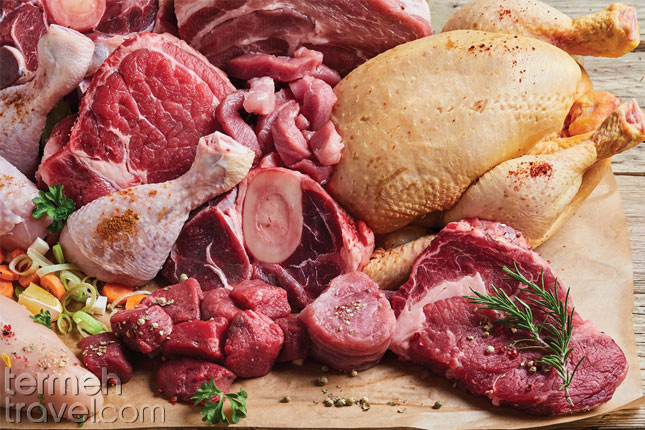 Meat: Another significant part of Persian cuisine is meat, which is a good source of protein for your food. The most popular form of Tahchin is cooked with chicken, locally known as Tahchin Morgh. However, many people like it with lamb meat as well, or a combination of both. There is no obligation for choosing your type of meat, but if you are looking for healthier food, the chicken would be a more desirable option.
For vegetarians, any source of protein would be sufficient such as tofu or even chickpeas. However, Iranians do make Tahchin Bademjan or eggplant Tahchin.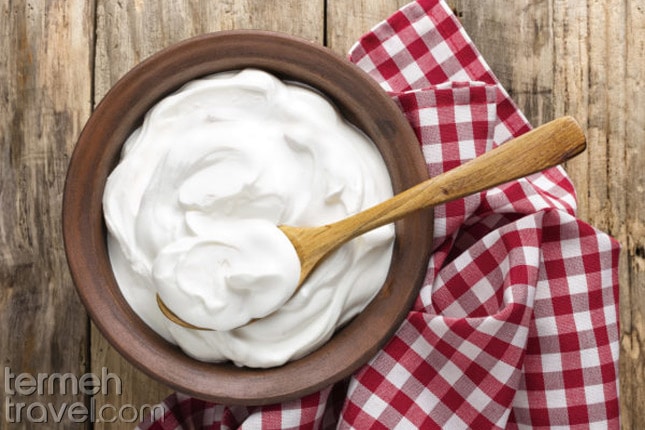 Yogurt: Iranians love yogurt! Persian yogurt is a little bit sour, and most people have it on their table as a side dish. They combine it with grated cucumber and add some salt, pepper, and dried mint to make Mast Khiyar. The yogurt used in Tahchin must be creamy to give a rich and fluffy texture to your meal. Therefore, if you are looking for the most satisfying Tahchin, we recommend using Greek yogurt for you.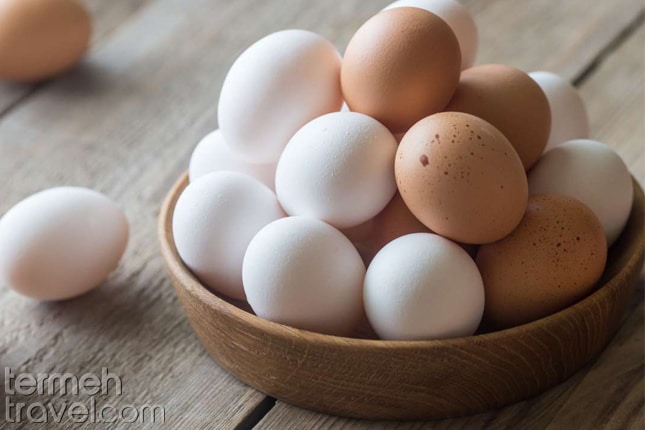 Eggs: Many scientists believe that eggs are one of the superfoods since they are super nutritious and healthy. Each healthy person can eat one egg per day and receive most of the needed nutrients such as vitamins, minerals, high-quality protein, and good fats in a day. For making Tahchin, we only need to use egg yolks, which work as a glue to let all the ingredients stick together and keep their forms.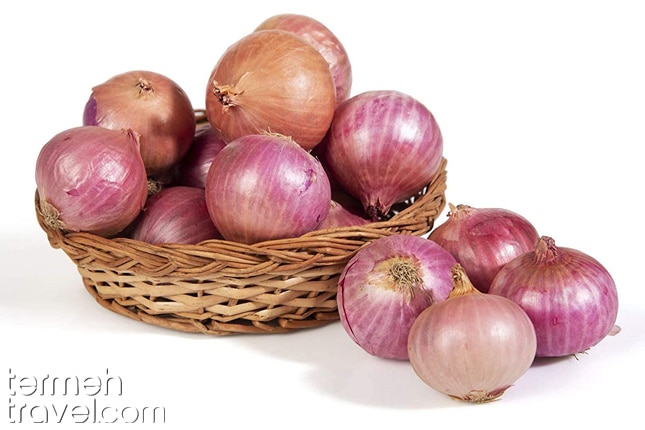 Onion: Nothing more than onions can make the bad smell of meat go away. Therefore in order to make an excellent Tahchin, you need to use at least one onion in your food. Besides that, onions are full of antioxidants that help you with your skin, and since this vegetable reduces cholesterol levels, it will significantly reduce the risk of heart attacks.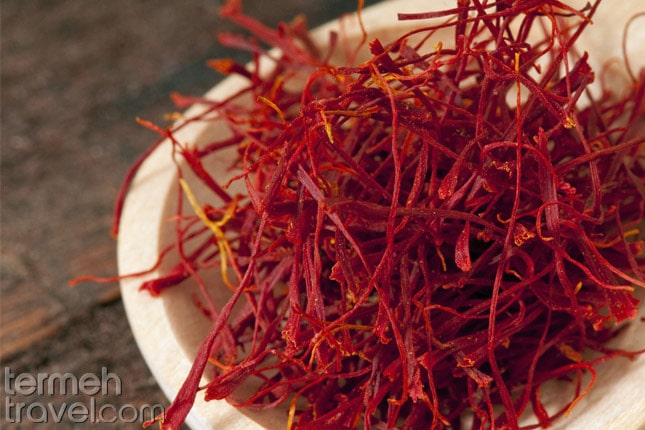 Saffron: The queen/king of Persian spices is saffron. This costly, valuable, and beautiful spice is often used in Persian cuisine. Iranians love to add flavor to everything they eat, such as foods, desserts, and even drinks, using saffron. To show their appreciation to their guests, they usually add some saffron into their tea and serve it with sweets. However, for having brewed saffron, you need to add saffron powder or threads into a cup, add an ice cube and hot water to it and see how the red color of saffron dances inside the cup. The color, flavor, and aroma that saffron gives to Tahchin make this food unique and outstanding.
Ingredients
Rice: 2 cups
Onion: 1 large
Chicken or meat: 600 gr
Greek Yogurt: 250 gr
Egg yolks: 3
Barberries: As much as you want
Saffron threads: ½ teaspoon
Salt and pepper: 1 tablespoon
Oil or butter: 50 gr
Instructions
Step One: Chop the onion and stir it with chicken or meat in a pot for 6 minutes, then add the spices and dried berries.
Step Two: Boil the soaked rice for a few minutes until seeing rice seeds floating on the water, then drain it.
Step Three: Combine the rice with yoghurt, eggs and saffron in a bowl and stir them well.
Step Four: Pick a pot, put some oil in it and put a layer of rice on the bottom of it. Then you need a layer of the meat that you prepared on it. Continue this process until you are out of ingredients.
Step Five: Put the pot on heat or inside the oven that you preheated to 400 F. After about an hour you can dig in.
Notes
You can design your Tahchin with sliced pistachios and dried berries.
Nutrition Facts
How to Make the Best Tahchin Ever in 5 Steps
Serves: 4 person
Amount Per Serving 1 slice
Calories

540

% Daily Value*
Total Fat

22g

33.8%
Saturated Fat
0
Trans Fat
Cholesterol
0
Sodium

119mg

5%
Total Carbohydrate

47g

15.7%
Dietary Fiber

0.6g

2.4%
Sugars

2g

Protein

35g
| | |
| --- | --- |
| Vitamin A | Vitamin C |
| Calcium | Iron |
* Percent Daily Values are based on a 2,000 calorie diet. Your daily values may be higher or lower depending on your calorie needs.
https://blog.termehtravel.com/how-to-make-the-best-tahchin-ever-in-5-steps/
Step One: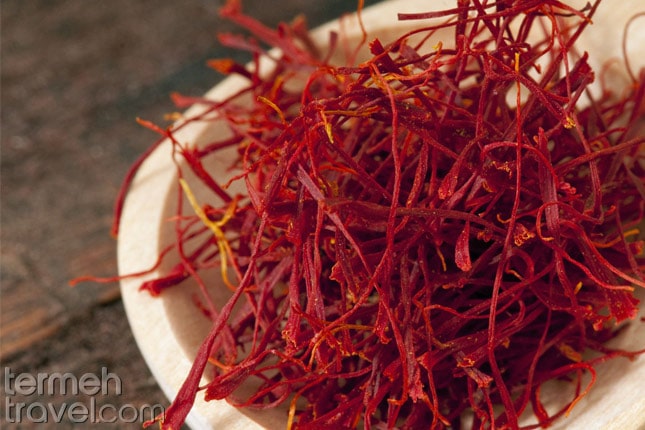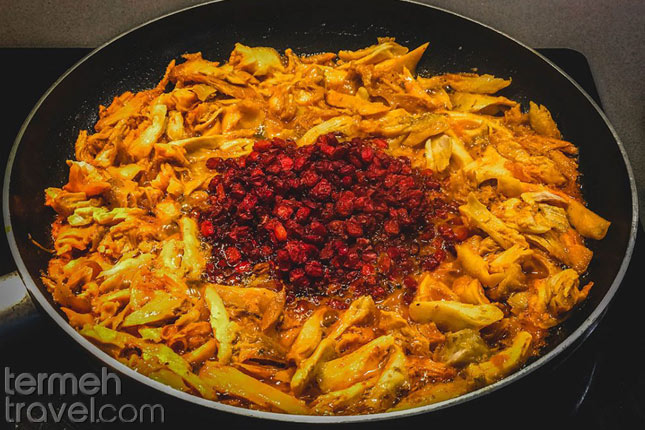 First things first, you need to chop the onion and stir it with chicken or meat in a pot. After a few minutes, when the onion is looking golden, you should add turmeric and pepper to it. Adding salt in this step can decrease the tenderness of your meat. However, feel free to add some salt when the chicken is cooked.
After adding the chicken or the meat, fry it for two minutes, and then, you can add one and a half cups of water into the pot and let it cook for a while. Meat usually takes more time to be prepared, but when you can easily separate the chicken or the meat from the bone with a spoon, they are ready. Then you need to remove the meat or the chicken from the bone in chunks. While doing that, you should use all your multitasking abilities and do the next step somehow simultaneously.
Step Two:
In this step, you need to add the rice that has been soaked for at least 4 hours and boil it in water with salt. When the seeds are coming on the surface of the water, and you can easily squish them with your hand, the rice is ready to be drained. Drain your rice, pour some cold water on it, and put it aside.
Step Three:
In the third step, you need a big bowl to combine everything. Pour the yogurt, egg yolks and brewed saffron into the pot and add some salt, pepper, and butter to it. When you mix them well, you need to add the rice into the bowl and mix them all together.
Step Four: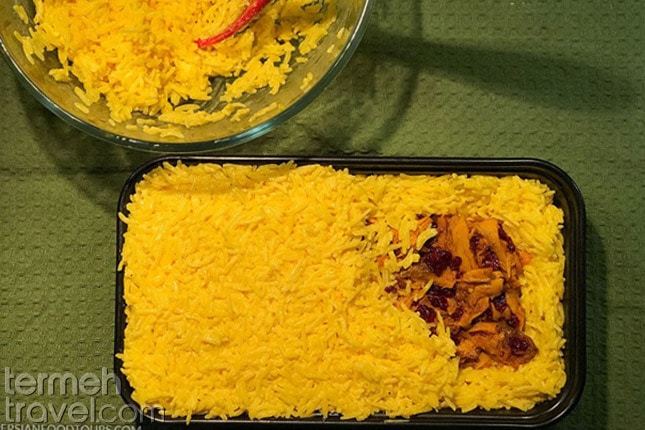 Now, you need another pot or a dish that can be used in ovens. Add some oil into the dish, and pour some of the mixed rice into it. By using the back of your spoon, you can evenly spread the rice in the dish. For the second layer, you should add the chicken or meat on top of the rice and continue adding layers until you are out of ingredients. It is not a must but if you are a fan of sour taste, you can have some dried barberries, saute them with a pinch of sugar to moderate the sourness and then add them on top of each layer. It is important to make sure that the first and the last layers of your food are rice, not meat.
Step Five:
Place the dish into the oven which has been preheated to 200 Celsius (400 Fahrenheit) and cover it with an aluminum foil to keep its freshness. Your Tahchin needs to be in the oven for about 45 minutes. Also, you can put the pot on high heat, for about 5 minutes in order to have an awesome Tahdig and then lower the heat and let it cook for 45 minutes. After that, place a plate on your pot and turn the dish upside down. Now you can see the beautiful crispy layer of tahdig in front of you. You can garnish it with some sauted barberries, sliced pistachio and almonds. Barberries can add more flavor to your dish and make it look gorgeous, so if you like the barberries' taste, feel free to add them as much as you like. Then cut it into smaller squares.
The final step would be to enjoy this fantastically delicious meal.
How to Make a Vegetarian Tahchin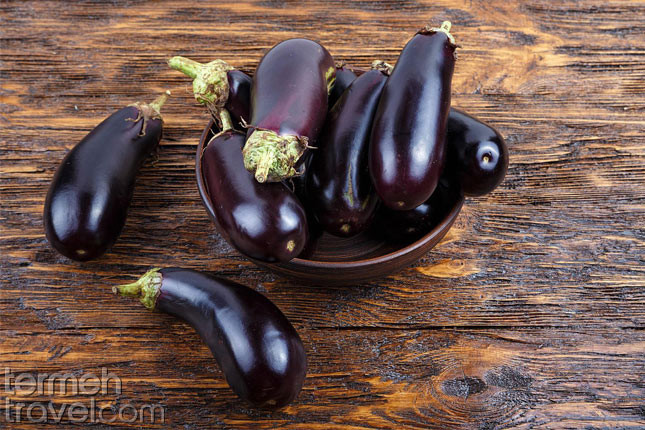 Making a vegetarian Tahchin is quite simple. All you need to do is replace the meat with another ingredient like tofu. However, you can use eggplants to keep the recipe completely Persian. To use eggplants, you should cut them into small pieces and fry them well. Then add it to the layers of Tahchin.
The significant point in making Tahchin is to continue cooking it over and over again to master it. When you have fully mastered this yummy meal, you cannot stop making it on different occasions.