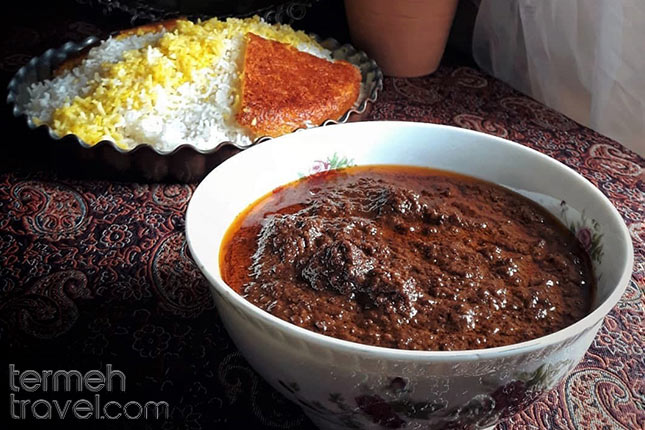 Fesenjan, Persian Walnut Stew
When a Persian mom wants to surprise her family or plan for an important dinner party, the only thing that comes to her mind is Fesenjan. The Persian Walnut Stew, Fesenjan, or Fesenjoon is the pride of Iranian cuisine.
Sweet, sour, tangy, and rich, none of them can describe the real taste of this Persian delicacy. Its magical aroma makes every hungry mouth drool and the hideous, yet somehow inviting look is the perfect reminder of the paradoxical sweet/sour nature of Fesenjan.

In this article, I will try my best to cover everything about Fesenjan. I will show you the standard way to make it, and the Vegetarian/Vegan Fesenjan for our Veggie lovers out there.

What do you need to make Fesenjan?
Walnuts: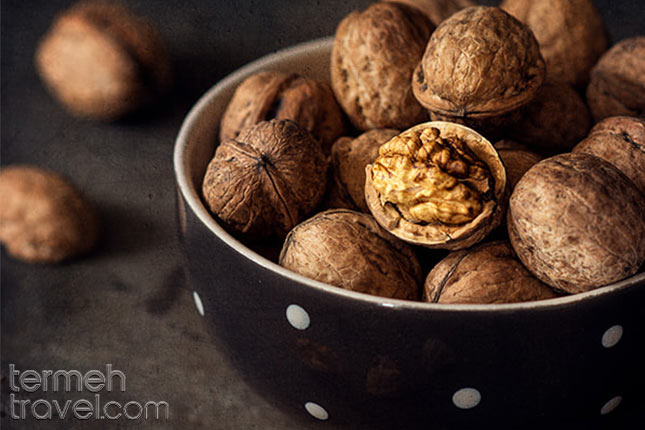 Walnut is the most nutritious element in Fesenjan. The rich and tasteful nature of this delicious nut creates a mouthwatering sauce for the stew and makes it healthy since it starts to release its natural essence, making your dish oil-free.
You can also use some larger pieces of walnuts in your stew to playfully flirt with the texture. This trick is somewhat risky as some people may not like it, but it will make your dish unique and one of a kind. You can even roast these nuts a little bit to darken the color of the stew and deepen the flavor.
According to the Healthline website, walnut is rich in Antioxidants, a super plant source of Omega-3s, supports weight control, supports good brain function, and improves blood fats.

Pomegranate molasses: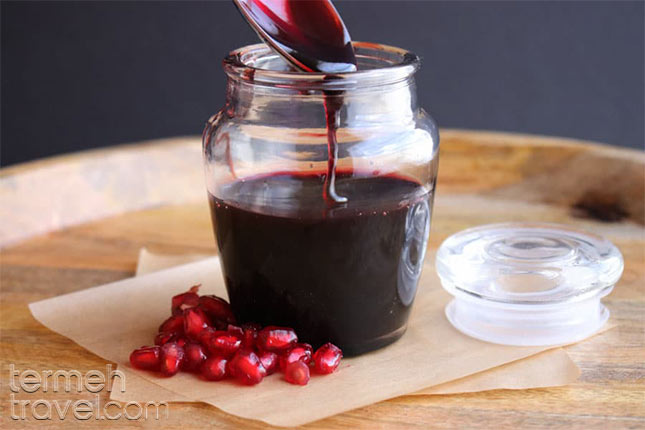 Pomegranate molasses, pomegranate paste, or even reduced pomegranate juice, they all work!
You don't need to wait for the Persian Pomegranate molasses to come from Iran itself to make this dish. If you couldn't find any form of pomegranate juice or paste, you can substitute it with cranberry juice concentrate or reduced balsamic vinegar with honey, but do it on your responsibility since you are slightly sacrificing the real taste.
The sweet and sour taste of Pomegranate molasses is the reason behind the exotic taste of Fesenjan, and you can even mix two brands of it to find your desired flavor.
I took another look at the Healthline, and it seems like Pomegranate molasses is a rich source of B vitamins, as well as vitamin C. This is in addition to a low level of sugars, calcium, iron, no dietary fiber, and no fats or cholesterol.

The Protein: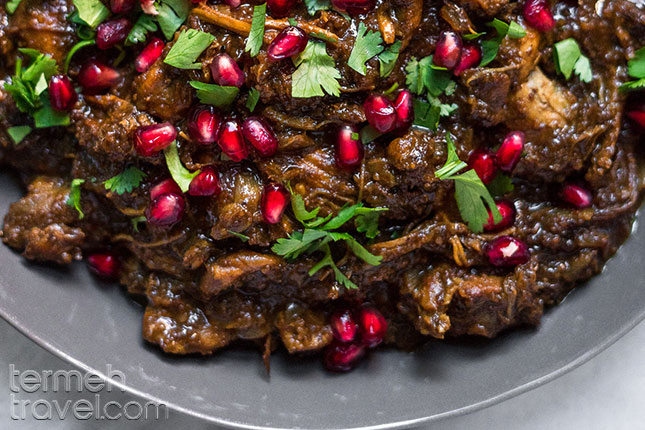 Traditionally, every Persian stew is made with vegetables, nuts, dried fruits, and lamb or chicken. Fesenjan is no exception and can be cooked with lamb meatballs, chunks of chicken or duck, and even with vegan alternatives. Fesenjan with chicken is the most popular method, while the duck version can be found in the north of Iran. Vegetarian and Vegan alternative options are mushrooms, and nuts such as whole almonds, whole cashews, and walnut halves.

Rice: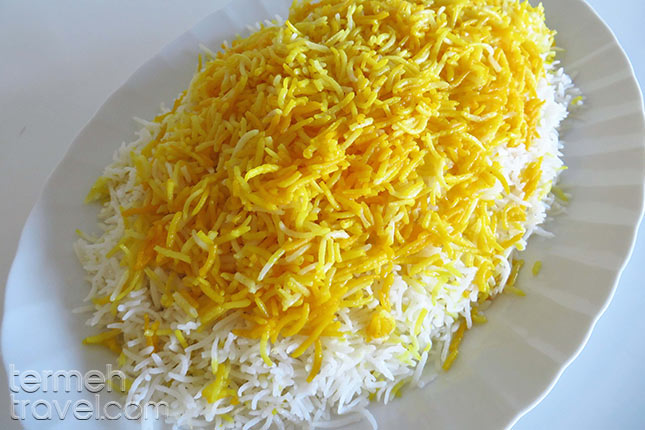 Like any Persian stew, Fesenjan should be served beside Persian rice. The rice gets cooked separately, and there are two methods available, Chelo and Polo. Polo is considered to be the more comfortable and most nutritious way of cooking rice, and since Fesenjan is a northern stew, Polo is more suitable for this recipe.
We are going to have an ultimate guide on how to cook Persian rice soon. Till then, you can use this recipe.


How to Make Fesenjan with Chicken?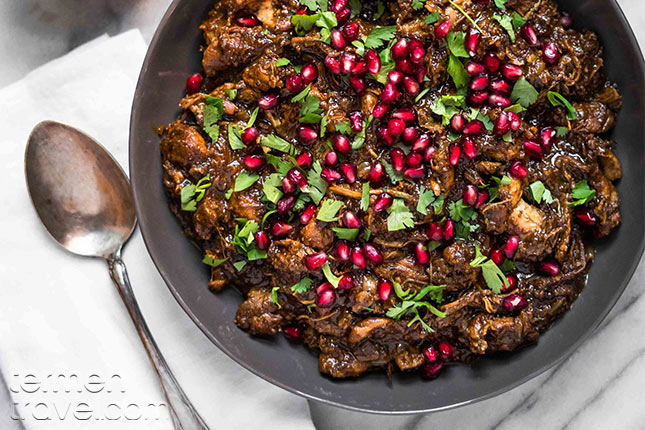 Ingredients for 4:
1 cup of ground Walnuts (523 cal)
250 gr chicken breast or thigh (412 cal)
4 tbsp sweet pomegranate molasses (234 cal)
2 tbsp sour pomegranate molasses (120 cal)
2 tbsp cooking oil (238 cal)
1 medium-sized onion (44 cal)
1 tsp Saffron (2 cal)
Salt, and red pepper (1 cal)

We are going to need the main pot for preparing the walnuts and a side pot for cooking our chicken.
Step 1: In the side pot, saute diced onion until golden, then add the chickens, salt, and red pepper. Saute the chickens along with the onion just for a couple of minutes to get white color. Add 2 cups of boiled water and let it cook until you have soft, moist meat.
Tip: If you're using a pressure cooker, you should only add 1 cup of boiled water.

Step 2: Saute the ground walnuts with oil in the main pot. For this part, low heat is required since ground walnuts burn easily. Add 2 cups of boiled water and let it simmer for at least 2 hours. The walnut is going to release its natural essence, which is going to make our dish rich and buttery.
Step 3: Now, you need to choose if you want the chicken boneless or not. If you are preparing it for a dinner party, it's better to keep the bones intact. A chicken thigh covered in Fesenjan sauce gives the dish a well-needed elegant look. Now it's time to add the chicken, pomegranate molasses, and saffron to the main pot, mix it a little bit, and let it cook for a half-hour.

Step 4: The final stage starts by tasting the sauce; if it is too sour, you can add some sugar to balance the taste.

Note: the dish must have some broth to avoid having a caramelized sauce. If your Fesenjan looks near caramelization, add ⅓ cup of boiled water.
How to Cook Fesenjan with Meatballs?
Fesenjan with meatballs gets cooked exactly like the classic way, but you need to mix the ground meat with grated onions. It also requires less time cooking in the side pot, and you can use black pepper instead of red pepper. The size of the meatballs depends on your preferences, but traditionally they shouldn't be larger than a walnut.

How to Cook Fesenjan with Duck?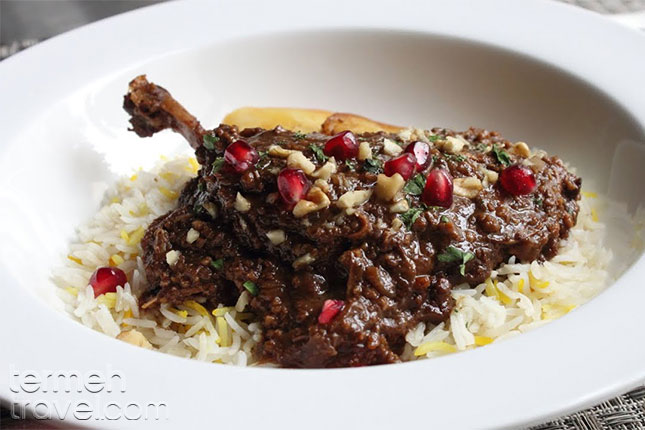 In the north of Iran, people sometimes cook Fesenjan with duck instead of chicken. The cooking process is almost the same, but you have to be more careful with the duck since it gets overcooked easier.

How to Make Vegetarian and Vegan Fesenjan?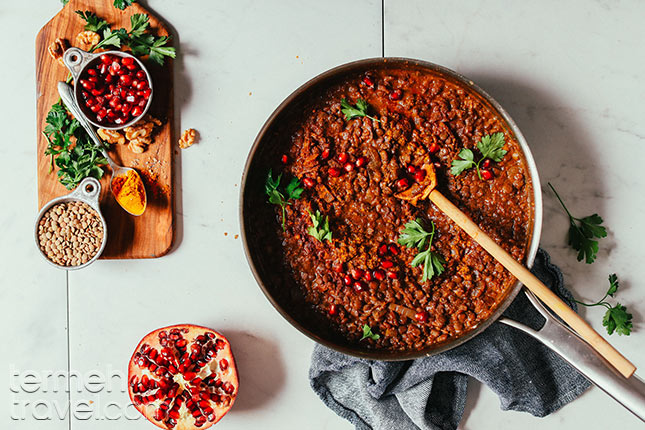 You don't need the side pot for the Vegetarian and Vegan Fesenjan.
You can use mushrooms, whole almonds, whole cashews, walnut halves, or a mix of these along with ground walnuts. The rest is the same as the classic recipe.

Final note: Usually, Iranians have a rice dish in front of them and add Fesenjan on top of that repeatedly. Each bite should contain a little bit of Fesenjan along with rice.