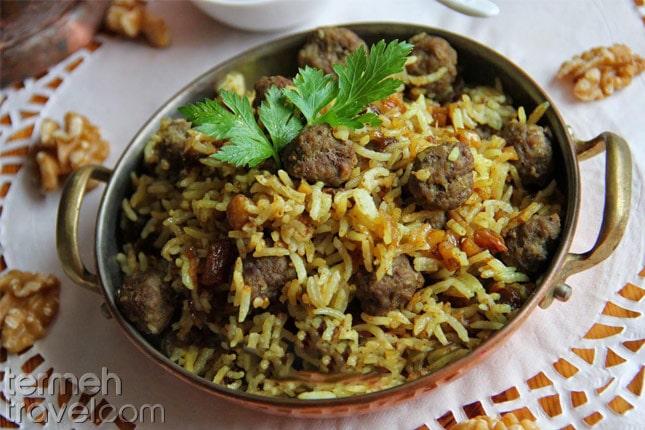 Kalam Polo Shirazi, the Magic of Shiraz
Knowing that we have Kalam Polo for lunch could make me jump over the moon. I used to stand beside my mother during the whole process waiting for the time that she allowed me to make meatballs with her. While rolling the meats in my hands, I used to listen to my mother singing Persian folklore songs and illustrate every word in my mind. Then, when the fragrance of Kalam Polo spread in the house, I knew that it is almost time to enjoy a perfect meal with my family.
One spoon of Kalam Polo is enough to delve your teeth deep into the tender meatballs and cooked and flavored vegetables to awaken all the sensors of your mouth and brain to capture it. However, it is not just the taste that delights you, the way you prepare Kalam Polo brings the family together.
What Do You Need to Make Kalam Polo Shirazi?
Kalam means cabbage in the Persian language, and Polo, as you might know, means rice. Therefore, Kalam Polo is a fantastic mixture of rice and cabbage with Persian herbs and spices. There are different kinds of ingredients that you can use for Kalam Polo. However, if you want to make the Shirazi version of it, you need to know what to look for.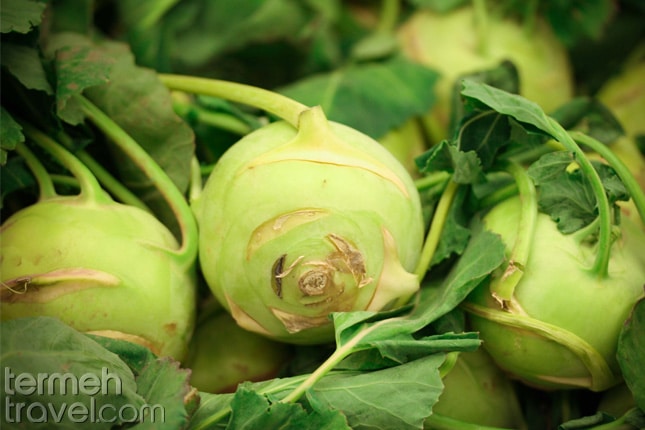 Kohlrabi: Kohlrabi or German Turnip, is the type of cabbage that we want for Kalam Polo Shirazi, which is not only delicious but also very nutritious and healthy. Kohlrabi is a rich source of vitamin C, which helps you to have bright, smooth skin and act fast to heal your wounds. Another benefit of this beautiful vegetable is to make your immune system strong enough to prevent certain diseases such as a cold. Kohlrabi is one of the vegetables you should consider in your diet during the pandemic time of the Corona Virus.
Although it is highly recommended to find kohlrabi to make an amazing Kalam Polo Shirazi, you can also use green cabbage.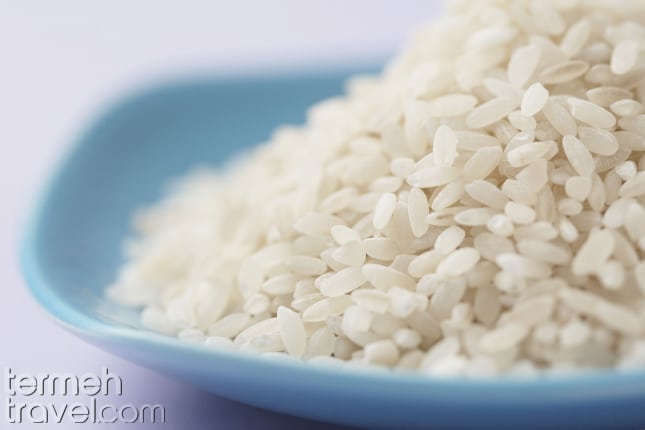 Rice: Having a Persian meal without including rice or bread is extremely difficult. The difference between Persian rice and other types of rice in the world is its aromatic nature. Since rice is an excellent source of carbohydrate, having a small portion of it can make you full for hours, so you have enough energy to continue your daily activity without any other snacks.
The magnesium in rice supports bone and muscle health, and it also helps with colon health to make sure your body maintains safe and sound.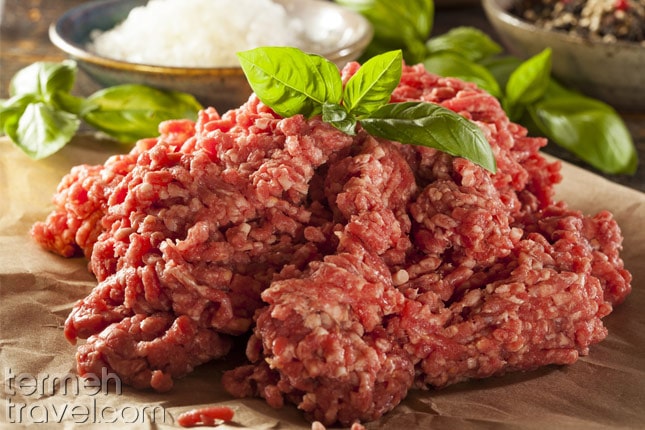 Meat: The meat inside Kalam Polo will guarantee the daily protein that your body needs. Protein is necessary for your bone and muscles' health. Comparing to other sources of protein, the iron inside red meat absorbs easier. Therefore, it helps with the red blood cells.
Although the traditional version of using red meat in Kalam Polo Shirazi is to make meatballs with it, you can dice or grind the beef or lamb and stir it with onions and spices to make the process of cooking shorter and easier.
Also, if you are a vegetarian or vegan, you can use ground soya chunks, tofu, or beans and make meatballs with them.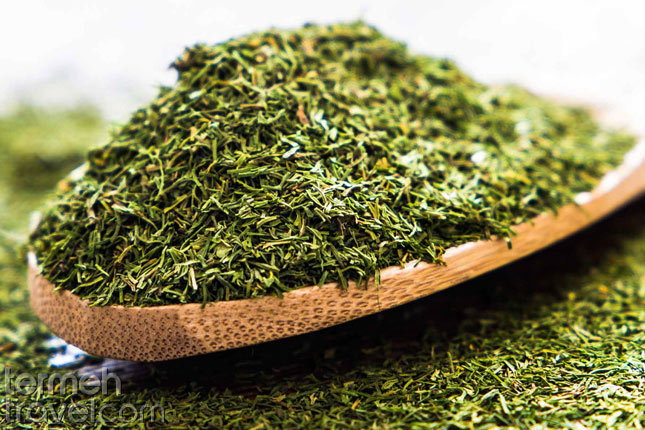 Herbs: The essential part of making Kalam Polo Shirazi is choosing the right herb to use. Dill, leek, tarragon, and basil are the herbs you need to have in your dish. These herbs can help with your digestive system and support your heart conditions.
You can use fresh herbs to have more nutritious food; however, using dried herbs makes your food look more beautiful. Also, there might be a slight difference between using dried and fresh herbs in the aroma of Kalam Polo, so try two versions to find your favorite.
What Are the Ingredients of Kalam Polo Shirazi?
Rice: 2 cups 400 cal
Diced Kohlrabi or cabbage: 3 cups 40 cal
Ground red meat: 450 gr 1500cal
Herbs: 3 tablespoons of each or 120g of fresh herbs. 15 cal
Salt and pepper: depending on your taste
Vegetable oil: 6 tablespoons 500 cal
Saffron: 4 tbsp of brewed saffron 8 cal
Onion: 1 medium 44 cal
How to make Kalam Polo Shirazi: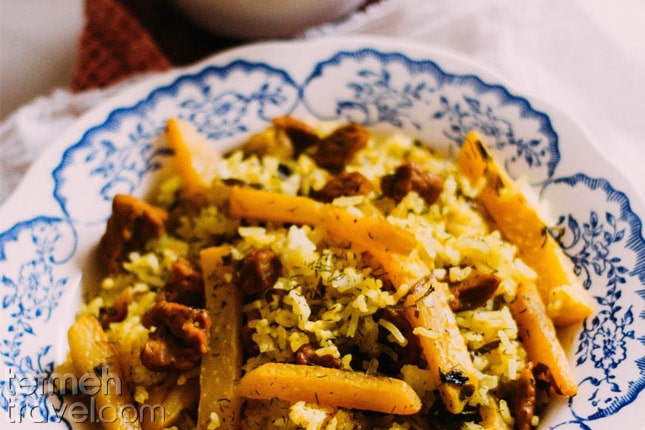 Step One: You need to soak the rice for 2-4 hours. Meanwhile, you should peel the kohlrabi and slice it into thin pieces. Then stir them on the heat with salt, turmeric, and verjuice.
Step Two: It is time to make tiny meatballs. To do so, you need to choose a bowl and put the ground meat, salt, pepper, turmeric, and chickpea flour into it. Then grate a medium onion, but remember to squeeze the grated onion well and put the onion juice away because it can cause your meatballs to lose their shape. Then, you need to mix everything well for about 15 minutes and take small portions of the meat and make tiny balls with it. Finally, put a pan on fire and fry the meatballs in hot oil and put them away.
Step Three: In this step, you need to cook the rice. First, put the rice into boiling water, add salt to it, and let it boil. There are several ways to see if the rice is ready for draining. After seven to ten minutes, depending on the type of rice that you are using, you can check the toughness of the seeds between your fingers.
The outside of the seeds needs to be a little soft while the inside is still firm (You can drain the rice when the seeds are firm and add more water during the cooking process).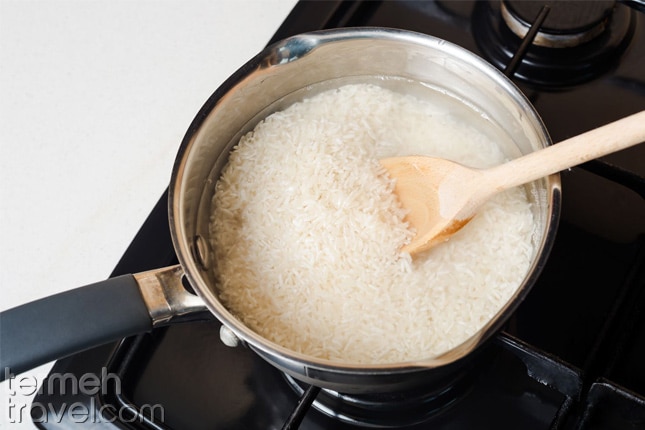 Another sign is to see small lines on the rice seeds and realizing that they are losing their shapes a little bit (the seeds get longer and transparent). Also, you can see some of the seeds floating on the surface of the boiling water. Then you should drain the rice. Cooking perfect rice needs practice, so do not get disappointed easily.
After draining the rice, then combine it with dried herbs and turmeric and saffron to have a gorgeous color.
Step Four: Place the pot back on high heat, put some oil in, add a layer of rice first, and cover it with meatballs. Continue putting rice and meatball layers until you are out of ingredients. Then, put the pot on high heat for a couple of minutes to make sure you are going to have a crunchy Tahdig, then lower the hit and put the lid on. After 45 minutes, your Kalam Polo Shirazi is ready. You can garnish it with saffron and serve it with Salad Shirazi.
How to Make Vegetarian Kalam Polo Shirazi?
Persian culture has a meat-based cuisine, but the good news is that you can make the vegetarian version of almost all the Persian meals. Kalam Polo Shirazi is no exception, so you can use your creativity and taste to make the food vegan.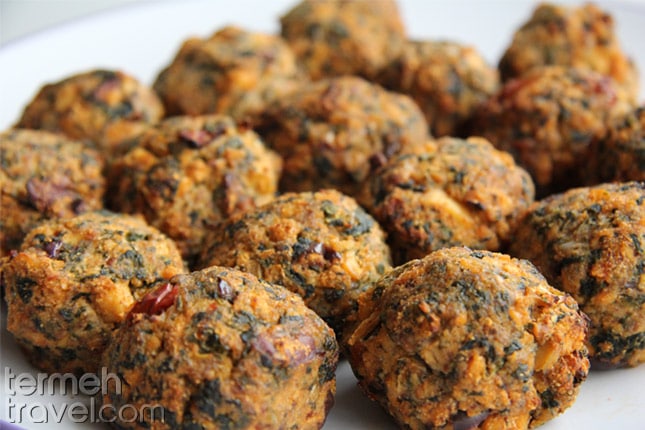 The recipe for making vegetarian or vegan Kalam Polo is the same. Follow the mentioned steps, but instead of meatballs, feel free to have tofu balls.
How to Make Tofu Balls?
Ingredients:
Mashed tofu: 1 package 76 cal
Gluten-free breadcrumbs: 1 cup 40 cal
Soy sauce: 2 tbsp 18 cal
Tapioca starch or cornstarch: 2 tbsp 30 cal
Garlic and onion powder: 1 tsp each 18 cal
Salt and pepper: As much as you want
You need to combine everything very well to have a sticky texture, make small balls, and fry them in hot oil. Continue the rest according to the mentioned recipe. And finally, do not forget to have Shirazi Salad on the table to eat with your vegetarian/vegan Kalam Polo.
How to Make Shirazi Salad?
The recipe is straightforward. To make Shirazi Salad, you need to have:
2 Cucumbers
2 Tomatoes
1 Onion
Dried mint
Salt and pepper
A cup of verjuice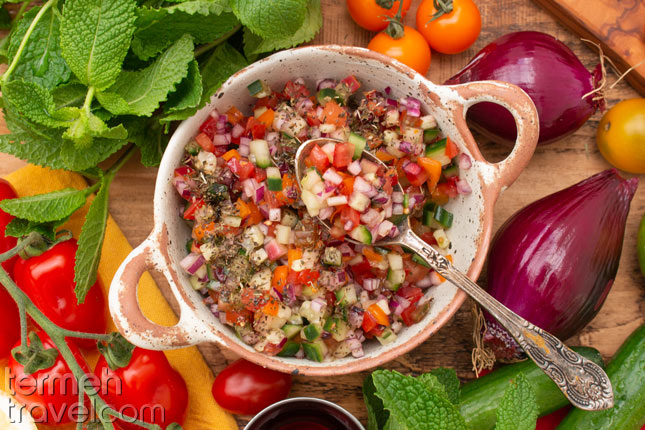 Dice all the ingredients well; then add salt, pepper, and dried mint to it. Finally, pour the verjuice into it as much as you desire and mix everything. You can use lime juice as well, but the original Shirazi Salad has only verjuice in it. Finally, your Shirazi Salad is ready.