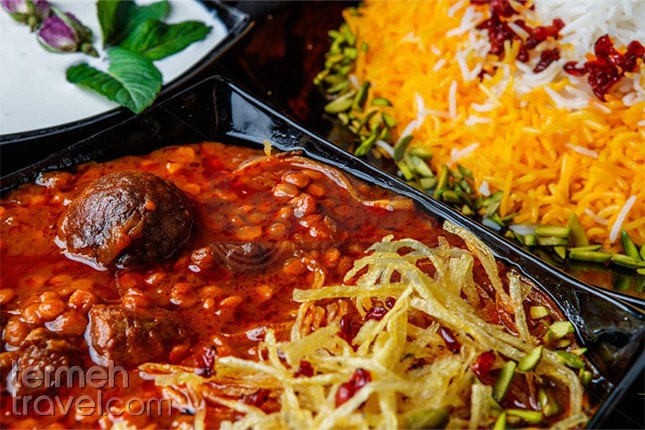 Well hello there, once again, I am here to introduce you to a new Khoresht, Khoresht Gheymeh.
This delicious Iranian stew is made with yellow split peas, meat, fried onion, tomato paste, and dried lime powder, and of course, every Khoresht comes with a plate of rice.

If you search for the word "Gheymeh" in Persian dictionaries, you will find that it means minced meat. Back in the day, every dish that had meat in it used to be called Gheymeh. Khoresht Gheymeh or split pea stew is one of the easiest dishes in Persian cuisine, and because of that, it's easy to add different spices to it. If you travel to Iran, every city's Gheymeh has a unique taste of its own.

As I said before, this stew is easy to cook, and most people enjoy the taste; thus, Khoresht Gheymeh is also served a lot in the Islamic holy months of Ramadan and Muharram of the Muslim lunar Hijri calendar. Persians serve this dish as "Nazri" (meaning free food) during these months.

Many believe that the Gheymeh served as Nazri is much more delicious than the home-cooked ones. I personally think that is because they cook Nazris in bigger batches, more fat, more lime powder, more meat, and just more of all the good things.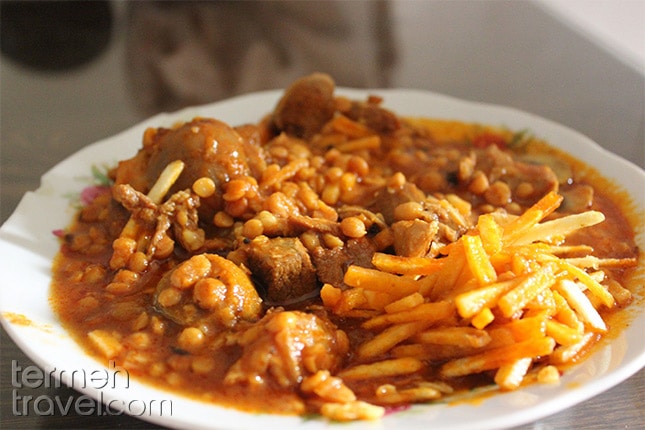 The chefs that cook Nazris also like to add different types of spices such as cumin, cinnamon, cardamom.

I can't speak for all the cities, so let me explain the original way to cook this delicious Khoresht.

You'll need
Yellow split peas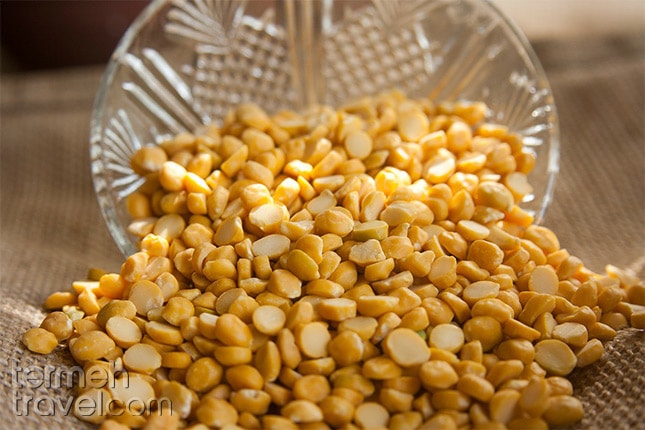 As you may have figured out by now, every dish of the Persian cuisine is rich in fiber, protein, fat (mostly the good kind), and carbs.

According to Garden of Life, yellow split peas are rich in fiber and protein. In fact, a half-cup of cooked, or one cup of dried yellow split peas, provides 110 calories, 10 grams of protein, less than one gram of fat, and 12 grams of dietary fiber.
I don't know which genius came up with this food, but I have all the respect for her/him. This Khoresht is packed with different tastes that all complement each other perfectly.

Caramelized onion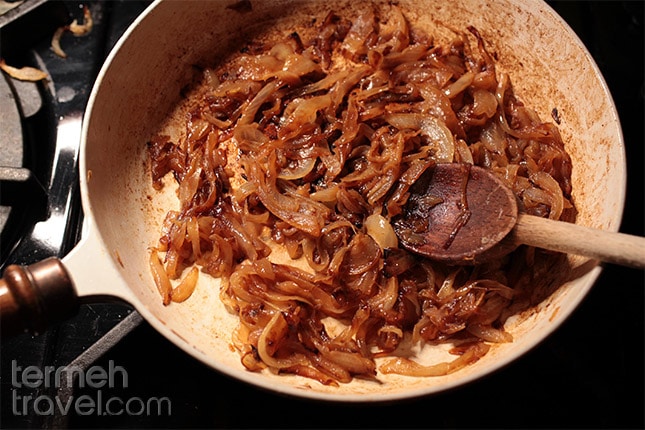 Caramelized onion is your best friend, not health-wise, god no, but taste-wise! When you eat fried onions, your taste buds thank you. So, of course, it is used in the tastiest food.

Salt, pepper, turmeric
The three musketeers of Persian cuisine. If anyone ever challenges you to cook a Persian dish without a recipe, use these spices, and you will have completed forty percent of the challenge.

Saffron
Other than using saffron for making saffron rice, you can use it to give your stew a nice golden color. Fun tip, if you want to make anything fancy, use saffron.

Dried lime powder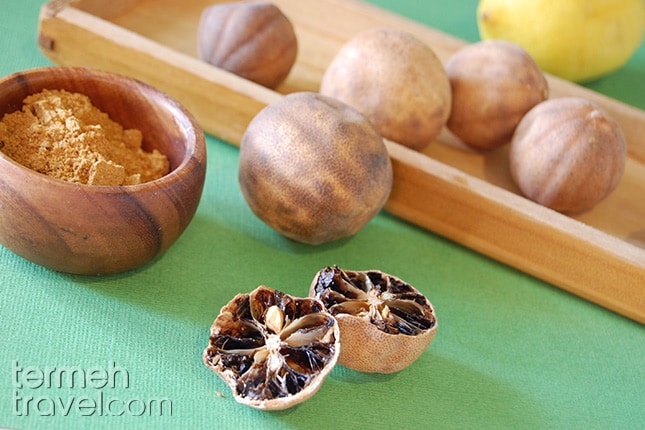 Lime powder is a mystery to me, if it's used in a stew, It's hard to understand its taste, but then again, if it isn't used, it's obvious that something is missing.

The only way I can explain it, or better yet, try to explain it, is that lime powder is sour but not too sour, and it is a little bitter, but you really can't taste the bitterness. By using it, your stew will have a unique taste, and also because of the brown color that it has, lime powder will give your Khoresht a subtle brown hue.

If you don't have lime powder, you can use lime juice. Keep in mind that lime juice will not do lime powder any justice.

Fries
Okay, I kept the best for last. A tasty dish of Gheymeh always comes with fries on the side.
It's the crunch guys! That's what makes this Khoresht more wonderful. A spoonful of rice with a little bit of khoresht, and then the crunch of the fries comes in, YUM!

I'll stop with the teasing and get on with the instructions. 
Ingredients
1 ⅓ cups Yellow split peas (147 Cal)
2 medium-sized Onions (112 Cal)
250g Lamb meat (357.5 Cal)
3 cups Water
2 medium-sized Potatoes (960 Cal)
3 tbsp tomato paste (39 Cal)
1 ½ tsp salt (1cal)
1 tsp turmeric (1cal)
½ tsp black pepper (1Cal)
3 tsp dried lime powder/ ½ cup lime juice (1 Cal)
A small pinch of saffron (optional) (1 cal)
Frying oil (600 Cal)
Instructions
Roughly dice one medium onion, add one tablespoon of oil to your pot and add the onions in.
Cut your meat into one-inch cubes and add them into your pot as well.
Add the seasonings with three tablespoons of tomato paste.
Wash the split peas and add them to the pot.
Pour three cups of water into your pot and let all your ingredients cook together for one hour.
Meanwhile, take a frying pan, chop your second onion and caramelize it in two tablespoons of frying oil on medium heat.
Chop the potatoes and fry them as well. Make your fries extra crispy and delightful.
Check on your stew, and see how much water is left. If the water to split peas and meat ratio is high, turn the heat up and let the water cook out until your stew is a little thick. If the ratio is low, check and see if your meat is well-done. You may have to add a cup of water if your stew is super thick.
If all is well, you can serve your dish and enjoy your meal.
Nutrition Facts
Khoresht Gheymeh
Serves: 4 persons
Amount Per Serving
Calories

2224

% Daily Value*
Total Fat
0
Saturated Fat
0
Trans Fat
Cholesterol
0
Sodium
0
Total Carbohydrate
0
Dietary Fiber
0
Sugars
Protein
| | |
| --- | --- |
| Vitamin A | Vitamin C |
| Calcium | Iron |
* Percent Daily Values are based on a 2,000 calorie diet. Your daily values may be higher or lower depending on your calorie needs.
https://blog.termehtravel.com/khoresht-gheymeh/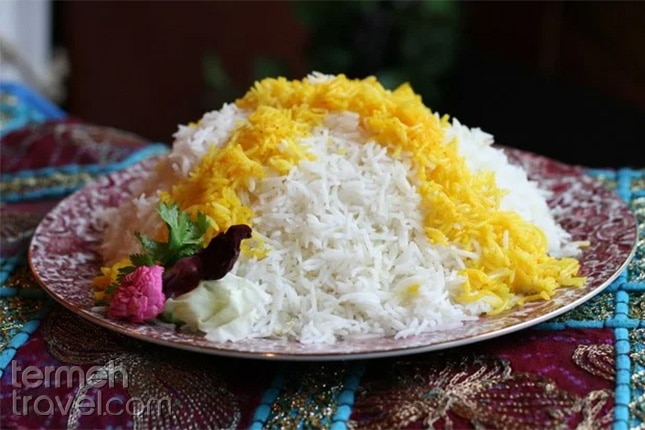 Persians have two different types of cooked rice, Polo and Chelo. Basically, Chelo is strained and steamed, but for Polo, you don't need to strain, and the cooked rice is only steamed. I will explain more in a second.
I have bad news for Tahdig junkies; you can't have Tahdig with Polo. So if you need to have Tahdig check out How To Make Persian Rice, Chelo? Otherwise, let me teach you how to make Polo.

You'll need
3 cups of Persian rice/white rice (¾ cup per person)
2 cups water, boiling
1 tbsp Salt
Instructions
First, soak the rice in a bowl of water for thirty minutes.
Meanwhile, boil two cups of water in a pot large enough for your rice.
Season the boiling water with one tablespoon of salt
Pour the soaked rice in the pot of boiling water and let it cook on medium-high for 15-20 minutes or until the rice is semi-cooked.
Here is where it gets tricky, so stay with me. By now your rice should be semi-cooked, so check on the water level in your pot. If there is no water covering your rice, pour a cup or two of boiling water on your rice and cover it with a lid. Let it steam until all the water is evaporated.
Voila, you've successfully made Polo. Enjoy!
One or two? That's the question.
Remember how I said enough water to cover your rice, well, the water should be an inch higher than the level of your rice. Keep in mind that if the water is completely evaporated during cooking, you may need to add more than two cups. Now if you are super lucky and the water left in your pot is just right, all you have to do is cover your pot with a lid.
Tips
Decorate your stew with caramelized onion and fried potatoes.
You can make saffron rice and serve your stew with Chelo or Polo.
Design your saffron rice with dried barberries.
If you have whole dried limes, you can drop them in your stew while it cooks, instead of using the powder. Keep in mind that actual dried limes are sourer and more bitter than lime powder. So two (whole dried limes) are enough.

Pro-tip
If you have an eggplant lying around in your fridge, peel it, slice it lengthwise, fry it in two tablespoons of vegetable oil, decorate your Gheymeh with these fried eggplant slices and voila you now have Gheymeh Bademjan. A completely new dish.

A vegetarian alternative
For my vegan/vegetarian friends, you guys can use half a cup of walnuts or cashews instead of meat. You can also skip this part because the split peas themselves have protein, you won't be missing your daily protein intake. Also, you only need one onion to caramelize. Enjoy your meal.