Updated 06, April 2020
The best thing about traveling is the opportunity of getting to know new cultures and an essential part of a culture is the language. Knowing the Persian language while visiting Iran makes you feel closer to people and provides better communication. Although, you do not have to master Farsi to start a conversation. We are going to provide a beginner guide for Farsi to help you enjoy your journey without getting nervous when someone does not speak English and says "Salam".
How to Learn the Persian Language
Linguists believe that children learn a new language faster and easier than adults because they actually acquire the language through a subconscious process during which they learn a language naturally, not through words memorization of grammatical rules. "After puberty, the human being's brain cannot acquire language anymore, so the learning process starts." (Noam Chomsky)
When you want to learn a new language, especially Farsi, you need to find the most suitable way to help you memorize different aspects of that language in order to learn it. The first thing that you should remember is that not only learning Farsi, but also language learning, in general, is a long process that needs time and effort. You cannot master a language in a few months; however, there are some tips to ease the learning process.
Set some goals and follow your plan: You need to be realistic about learning Farsi. Having high expectations and not reaching them can be disappointing; therefore, you can make a plan based on your situation and try to stick with that. For example, you can decide to learn one word every day.
There is no end to learning a new language, that's why you should make language learning your lifestyle. Getting used to learning a new language makes you more organized and no matter if you are sick or tired, you will automatically continue learning.
Do not get disappointed easily, and allow yourself to make mistakes. Since the Persian language is totally different from all Latin rooted languages, learning it would not be easy. You need to accept that this process is involved in making a lot of mistakes, which can lead to better learning.
Immerse yourself with language: It means that you need to constantly be exposed to the Persian language to learn it faster and better. You can listen to Persian music, watch movies or make new friends. Using technology is the best way to let you immerse yourself in Farsi.
How to Use Technology to Learn the Persian Language?
Today, language learning is not only limited to classrooms. By having a smartphone and being connected to the internet, you can have access to many language learning sources.
What Are the Best Applications to Learn Farsi?
Learn Farsi Persian: This application has provided basic Farsi for you which can be used only for Android. By listening to the pronunciation and seeing the translation, you can get familiar with the language.
Mondly (Learn Persian): By using this application, you will receive daily courses of Persian language every day from the very basics. No matter how much you know Farsi, you can choose your level from beginner, intermediate, and advanced and start learning Farsi. You can use this application for both iOS and Android.
Tandem: This app is a great platform for learning and making new friends. You choose the language you speak and what you want to learn and let the app give you a list of potential pen pals who are fluent in the language you wish to learn and are eager to learn your L1.
No matter if you are an iOS or Android user, you can install it on your device and start learning.
5 Best English – Persian Dictionaries
Beside Dehkhoda and Amid, which are Persian to Persian dictionaries, at the beginner levels, you can look for the meaning of a word in Persian to English dictionaries as well.
Good Reasons to Learn Farsi
Except for the purpose of traveling to Iran, there are other convincing reasons to persuade you to start learning Farsi. The following is just a hand-pick of the most important ones.
Persian Literature
Persian is the language of poetry because the sounds are ear-catching and pleasing. The works of some of the most famous philosophers such as Rumi and Khayyam, are written in Farsi. Also, this beautiful language offers sensible, romantic, and interesting poems of Hafez and Saadi. 
Finding some quotations of these poems that are translated into English is easy, but the pleasure of reading the original form is beyond imagination. No one, not even the most professional translators, can convey the authentic feeling and meaning behind these literary and philosophical works to other languages. 
You can also enjoy Persian novels, and short stories written by famous authors like Sadeq Hedayat, which were amazingly written and have been translated into other languages as well. Sadegh Hedayat was an Iranian novelist in the 20th century and an ideologist whose works are still popular among people. The Blind Owl is his most famous novel, which has a philosophical theme and criticizes his society.
Simin Daneshvar is also a famous Persian writer. Her most essential book is called Sauvashun, which shows the Persian culture by using the most delightful literary devices which need to be read in its original language in order to be felt and understood.
The language of classical Persian literary is not comparable with classical English literature, such as Shakespeare's works. The new generation of Iranians can still read and understand these beautiful works. Reading them is definitely a motivation to learn the Persian language.
Persian Movies
Film Industry in Iran went through a revolution and today Persian movies get nominated for international film festivals every year.
Abbas Kiarostami was an Iranian filmmaker who showed a new perspective about human beings' lives in his movies. By presenting a thick line between reality and fiction, he introduced Persian culture to the world. Where Is the Friend's Home is one of the most famous films that he directed. 
Asghar Farhadi is another Iranian filmmaker who won two Oscars for his two movies called The Separation in 2012 and The Salesman in 2017.
Is Iran the Only Country That Speaks the Persian Language?
Iran is not the only country that speaks Farsi. Some other countries such as Uzbekistan, Pakistan, Afghanistan, Tajikistan, and some parts of India speak different dialects of Farsi because they were a part of the Persian Empire once, and then became independent.
There are huge Persian communities in different countries of the world, such as the US and UK, as well. There is a great possibility that you have met at least one Iranian in your life.
Farsi or Persian?
What is the difference between Persian and Farsi?
The language of Iran is Persian; however, Iranians call it Farsi as well. The word "Persian" comes from "Persia", and was changed in 1935 to Iran by Reza Shah, who was the king of the Pahlavi dynasty.
Are Farsi and Arabic the Same Language?
Although the written form of the Persian language is similar to Arabic, there are essential differences between these two languages. After the Sasanian Dynasty, Arabs conquered Iran and automatically added some Arabic words to the Persian lexicon, but Arabic and Farsi have different roots. Persian is an Indo-European language, which means that it is more related to Dutch and English. However, Arabic is a Semitic language.
Today, if you know Farsi, you can learn Arabic faster and vise versa.
Similarities between The Persian Language and Other Languages
The Persian language might be a little bit difficult to learn, but the good news is that there are many shared phrases among Farsi and other languages, especially French and English.
You can always find similarities between languages to speed up the learning process.
There are a few similar phrases between Farsi and English:
Mother: Madar
Daughter: Dokhtar
Brother: Baradar
Loanwords between French and Farsi are a lot. Here are a few of them:
Chocolat(Chocolate): Shokolat
Commode (drawers): Komod
Sac (bag): Sak
What Does The Persian Alphabet Look Like?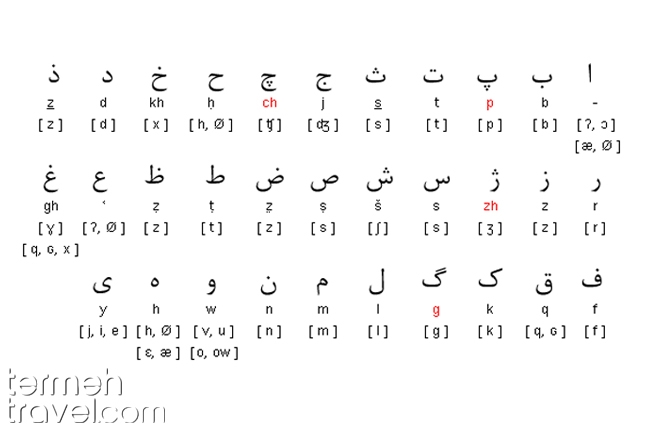 Essential Phrases in Farsi
The most important phrase that every traveler must know is how to greet people in the Persian language. Iranians love when you talk to them in their own language. The list below contains the most common phrases that you need to know.
Hello: "Salaam"
How are you?: "Khoobi?"
I'm fine: "Khoobam"
Thank you: "Mamnoon"/ "Merci"
My name is Sarah: "Sara hastam." Or you can just say your name without any additionals.
What's your name? "Esmetoon chiyeh?"
Yes: "Bale"/ "Areh"
No: "Na"
Please: "Lotfan"
Excuse me: "Bebakhshid"
I'm sorry: "Mazerat mikham"/ "Bebakhshid"
I don't understand/ I don't get it: "nemifahmam."
Nice to meet you: "Khoshvaghtam"
Me too: "Man ham"
You're welcome: "Khahesh mikonam"
I don't know: "Nemidoonam"
Thanks for your help: "Mamnoon az komaketoon." You can say the french word "mercy" as well.
Good morning: "Sobh Bekheir"
Good night: "Shab bekheyr"
Goodbye: "Khoda hafez"
In Case of any Troubles:
Would you help me? : Mishe be man komak konid? Or you can just yell out "Komak".
I'm lost: "Gom shodam."
Hospital: "Bimarestan"
Pharmacy: "Darookhane"
Police Station: "Polis"
Money: "Pool"
My papers have been stolen: "Madarekam ro dozdidan." You can also yell out "Dozd" to get help from others.
Numbers in Farsi:
1: "Yek"
2: "Do"
3: "Se"
4: "Chahar"
5: "Panj"
6: "Shesh"
7: "Haft"
8: "Hasht"
9: "Noh"
10: "Dah"
Time
Today: "Emrooz"
Tomorrow: "Farda"
Yesterday: "Dirooz"
Sunday: "Yek Shanbeh"
Monday: "Do Shanbeh"
Tuesday: "Seh Shanbeh"
Wednesday: "Chahar Shanbeh"
Thursday: "Panj Shanbeh"
Friday: "Jomeh"
Saturday: "Shanbeh"
Transportation:
I want to go to …. : "Mikham beram …"
I'm looking for the bus stop.: "Istgahe otobus kojast?" Or you can only say "Istgah- e utuboos" with question intonation.
Note: For telling your destination to the drivers you can only say the name of the place and see if they will drive you there or not.
To having a private taxi you can say "Darbast" when the taxi stops in front of you.
How much is the fare?: "Chand mishe?"
If you are using public transportation such as bus or metro you need to buy tickets. In this case, you can say:
I need a one-way ticket (which you can use only one time): "Belit yek tarafeh" or "Belit"
I need a bus/ metro card: "Kart-e otobus/ metro mikham."
How can I charge my card? "Chetori kartam ro sharj (Sharzh) konam?"
You can show your ticket and say the word "sharj" as well.
Would you please charge my card for 5000 Toman? "Mishe kartam ro barayeh 5000 Toman sharj konid?" or just show 5 with your hands.
By putting your money on the counter and say the amount of money that you want to pay, the staff will charge your ticket as well.
How can I get to the … station? "Chetor be istgahe …. Beram?" or just say the name of the station.
Useful Persian phrases in a Hotel
Luckily, almost all of the hotel staff in Iran know how to speak English, but knowing the most common Persian phrases which are used in a hotel won't hurt.
Hotel: "hotel"
Hostel: "Mosafer khaneh"
Single-bed: "Takht e yek nafareh"
Double-bed: "Takht e do nafareh"
Do you have a room available? : "Otagh e khali darid?"
I want to book a room. : "Otagh mikham."
I want a private room.: "Otagh shakhsi mikham."
Would you take a taxi for me?: "Mishe taxi begirid?"
I need room clean service.: "Service nezafat"
Where is *?: "* Kojast?"
How much should I pay? : "Cheghadr misheh?"
Do you accept credit card?: "Karteh banki ghabool mikonid?"/"Kart mikeshid?"
I stay in *: "Man dar * eghamat daram." or you can say " * Hastam."
Speaking Farsi in Restaurants
Some of the best local foods are usually served in old tiny places where no one knows how to speak English. To have the opportunity of experiencing amazing Persian food you need to know how to speak Farsi in a restaurant or café.
Food: "Ghaza"
Breakfast: "Sobhaneh"
Lunch: "Nahar"
Dinner: "Shaam"
Beverages: "Nooshidani"
Water: "Aab"
I would like to have …: " …. Mikham."
I'm vegetarian: "Man giyah kharam."
I'm vegan: "Man vegaanam."
Can I have an extra service? "Sserviseh ezafeh mikham."
I'm allergic to …: "Be …. Hasasiyat daram." You can say allergy instead of "Hassasiyat" as well.
It's delicious: "Khoshmazast."
Can I have the cheque, please? "Mishe chek ro biyarid?"
How to Speak Farsi when You Are Shopping in Iran
I like this one: "Ino doost daram."
Can I try it one? "Mishe prov konam?"
How much is this?: "Chandeh?"
Do you have a bigger size?: "Sizeh bozorgtar"
Do you have a smaller size? "Sizeh koochektar"
Can I get a discount? "Takhfif dareh?"
Note: It does always work to ask for a discount in Iran.
How to Express Your Feelings in Farsi
I love this place: "Inja ro doost daram."
I love you: "Doostet daram."
I'm happy: "Khoshhalam"
I'm sad: "Narahatam"
I'm angry: "Asabaniyam"
I'm cold: "Sardameh"
I'm hot: "Garmameh"
It's perfect: "Aaliyeh."
I'm tired: "Khasteh-am"
Beautiful: "Ziba"
Ugly: "Zesht"
Clean/ neat: "Tamiz"
Dirty: "Kasif"
You can say "Otagh tamizeh" which means "The room is clean."