Once upon a time, there was a beautiful and mysterious land in the East. Old merchants who had visited this land would say: You need to travel days and nights, pass high mountains and deep seas to arrive there. They would warn people about the cold nights and blazing hot days of desert they needed to pass to see the exceptional beauty of the land, which was called Persia. One day, an adventurous young man who had big dreams in his head decided to pack his bag and take his chance to visit Iran. That is how the Marco Polo's Adventures began.
Who Is Marco Polo and Why Did He Travel to Iran?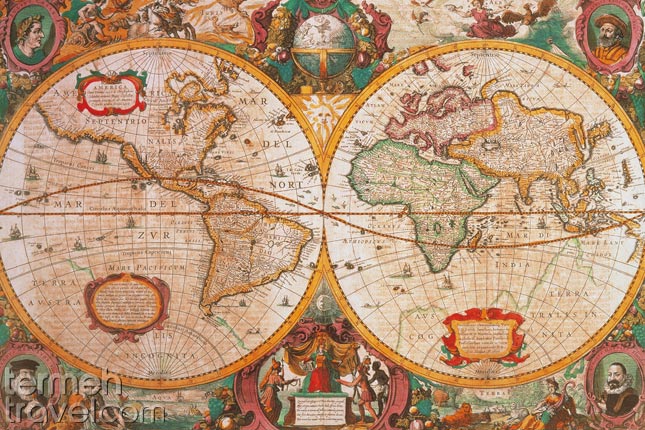 One of the most famous explorers and merchants in the world, Marco Polo, was born in Venice, Italy. He came from a family of merchants who were open-minded because of their numerous trips and the different cultures they encountered. Going on adventures was not uncommon in Marco Polo's family. So, when Marco decided to explore the countries with his father and uncle, he had his family's support.
Marco Polo was fascinated with China, its culture, the Chinese empire, and its goods. So, Marco and his family decided to travel to this country through the Silk Road, a network made for merchants and businesses. Traveling to China made Marco Polo visit some other countries such as Turkestan, India, and Iran. Marco Polo and his family were respected during their trip by different empires and people. However, when they got back, he went to prison. He was arrested because of commanding a Venetian galley in a war against Genoa.
Marco Polo decided to write down his trips' memories and his prison mates, who were writers, helped him complete his itinerary during his prison time. Finally, Marco Polo gave his itinerary to other travelers and explorers.
Marcopolo died in January 1324 when he was 69 years old.
What Was Iran Like During Marco Polo's Adventures?
When Marco Polo traveled to Iran during the 13th century, the country was ruled by the Ilkhani dynasty. At the beginning of this dynasty, the progress of Persian art decreased. Every piece of art, such as architecture and painting were inspired and shaped by the dynasties before the Ilkhanids. However, little by little, Ilkhanids inserted their style into Persian art when the kings got to know Persian culture better. Persian miniature is one of the arts inspired by Chinese patterns introduced to the Iranian artists by Ilkhanids.
Also, the urban sides of different cities changed in the case of art and architecture. Among those cities, Iran's capital at that time, Tabriz, got special attention and was turned into one of the most beautiful and cities in which you could have a high-quality life. These beauties got Marco's attention as he mentions Tabriz in his itinerary.
Marco Polo's Adventures in Iran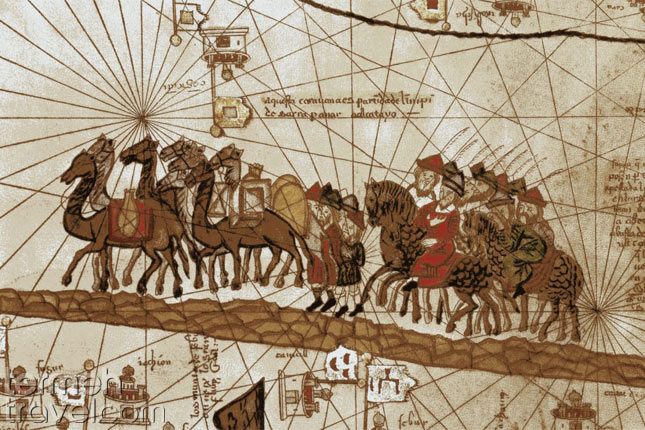 There were not many itineraries written about this country before Marco's adventures in Iran. So, Marco Polo's adventure in Iran was something special for himself and Iran. Although the main focus of Marco's itinerary is China, what he wrote about Persia is valuable for Persian history. Many history books got destroyed during different periods of time in Iran, so reading what Marco Polo had to say about this country gives us precious information about his Iran and makes us more aware of Persian history from the yes of a foreign.
Marco Polo entered Iran from the west and visited some cities like Kurdistan. Then he went to the center of Iran and explored Kerman and Yazd. His adventures continued to the south of Iran, Hormuz, and then to the east. Marco Polo's description of the cities he visited shows how interesting Iran was.
Let's focus more on what Marco Polo's Adventures tells us about Iran.
Marco Encounters Latino Merchants in Tabriz
The first city that Marco Polo visited is Tabriz which was Iran's capital. Marco describes Tabriz as a city with a perfect location that comes to its benefit. He explains that Tabriz's location makes importing goods to this city easy, so merchants from India, Iraq, and Europe can communicate with the city easily.
Then Marco continues: Everyone in Tabriz is doing their business. Locals make precious fabrics made with silk and sell them to merchants. As Marco Polo says, In Tabriz, you can find the best pearls that merchants sell and buy. There are many Latino merchants in this city, and those who think of having businesses can guarantee their success in Tabriz.
One of the attractions which grasped Marco's attention was an abbey near the city in which monks knit woolen belts. These belts can keep your waist warm and reduce the pain, so they are trendy among people, and everyone wanted to have one.
Marco Polo Observes Qanats in Kerman
By reading Marco Polo's itinerary and knowing his memories of his adventures in Iran, you can assume that Kerman was one of his favorite places in Persia. Kerman showed another aspect of living in an Iranian city to Marco. He got across Qanats which are tunnels in the ground to bring water to the surface. Marco called Qanats "rivers" and got fascinated by this underground system.
Besides the urban side of Kerman, Marco Polo talked about its people too. He mentioned that Kerman's women are experts in embroidery (needlework), as they create amazing fabrics with high-value silks and add jewels to them.
Marco Polo Witnesses the Ancient Tree in Yazd
Marco Polo's adventures in Iran brought him to Yazd. This city is entirely different from Marco Polo's hometown, Venice. The hot and dry weather and fascinating deserts around Yazd are definitely adorable. Marco mentioned that, after leaving Kerman, he reached Yazd after eight days, and there are only three guest houses for travelers. Marco was impressed by the city and said it takes seven days to get to walk across it. The unique architecture of Yazd, its adobe-made wind catchers, and the traditional houses of this city can attract every traveler.
Marco Polo witnessed something extraordinary when he explored areas around Yazd. He wrote about an ancient living creature, the 25 meters Abarkuh Cypress. You can still visit this mysterious and fascinating tree if you travel to Yazd.
Marco is Fascinated by Peoples' Different Lifestyle in Hormuz
Marco Polo's Adventures in Iran made him visit the four seasons of this country and witness the variety of Iran's culture, lifestyle, and atmosphere. When he got to Hormuz, he saw Iran's commercial port and the ships that transferred the goods. Marco Polo wrote that the ships that the people of Hormuz use for business are dangerous in the water. Because they make the ships with an inflexible kind of wood without using any nails; because by having nails in it, the wood would break apart like a piece of clay. The other materials that locals use in the ships have natural sources like fish oil instead of tar which, in Marco's opinion they were not that strong to keep the ships protected.
Marco Polo also talks about the locals of Hormuz who had different diets than what he experienced. As Marco says, locals eat dates and fish as their main food.
Marco Polo's adventures in Iran inspired many travelers to explore this country themselves. You can also start your own journey and visit different parts of Iran.
Sources:
Burgan, Michael, Marco Polo: Marco Polo and the silk road to China
Mirahmadi, Maryam: Iran in Marco Polo's Adventures