On the last Wednesday of the year, the sun is going down and taking its golden rains behind the mountains. If you listen carefully, you can hear the sound of laughing and the voice of mirth when Iranian people are getting ready for Chaharshanbeh Souri.
When the sky is pure black, and people are jumping over the fire while singing ancient hymns, you can stare at the dancing flames which illustrate the story of Persia and the value of fire for ancient Iranians
What is Chaharshanbeh Souri?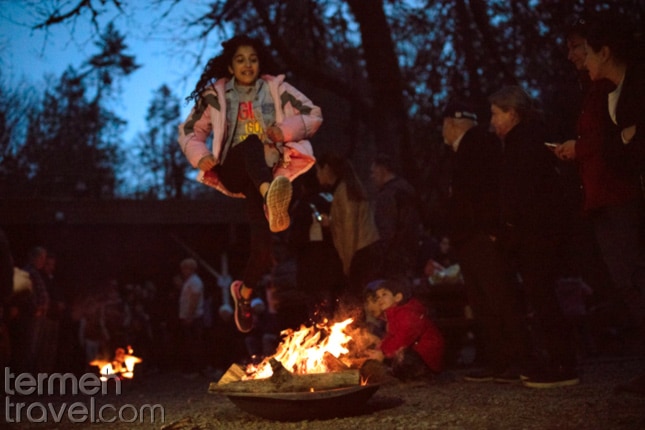 Throughout history, Iranians believed that they should not take the impurity and sickness with themselves and start the new year. Therefore, after cleaning their houses in a special ceremony called Khaneh Tekani, in which every spot of the home must look spotless, they use fire as the finishing touch. Fire is a sacred and purifying element in Zoroastrianism, so Iranians light the fire on the sunset of last Tuesday of the year to make sure everything is perfectly clean.
On the 18th of March, before the Persian New Year 2020, the Chaharshanbeh Suri ceremony is held by Iranians all around the world. On this day, Persians jump over bonfires and say, "Give your redness (health) to me, I'll give my paleness (sickness) to you." This song is a hymn to ask God for a year full of health and brightness.
What Is the Meaning of Chaharshanbe Suri?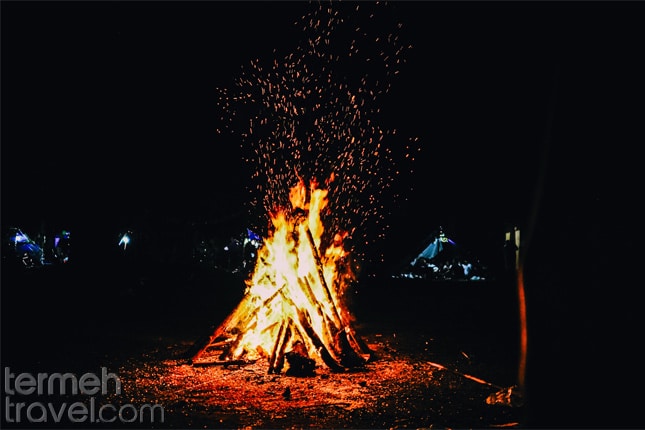 For translating Chaharshanbe Suri to English and explaining its meaning, we can divide it into two words, Chaharshanbe, and Suri. Chaharshanbe means Wednesday, but linguists consider two different implications for "Suri."
Some linguists believe that Suri means ceremony and party, which can be accurate because Chaharshanbe Suri is a ceremony. On the other hand, "Suri" can be translated to "Red" as well. In some Persian cultures and dialects like Lori, people call red, "Suri."
How Iranians Celebrate Chaharshanbe Suri?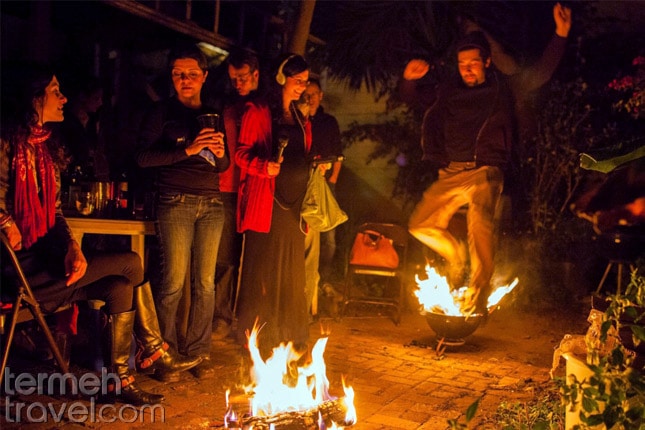 Persians want to use every opportunity to be happy, and spending the last Wednesday of the year with their families and their loved ones is one of these opportunities. Therefore, by holding big parties and gatherings, they celebrate Chaharshanbe Suri. Although today some Iranians use firecrackers, which turns Chaharshanbe Suri into a dangerous event, many people try to stick to the traditions as much as possible.
What Are Chaharshanbe Suri's Traditions?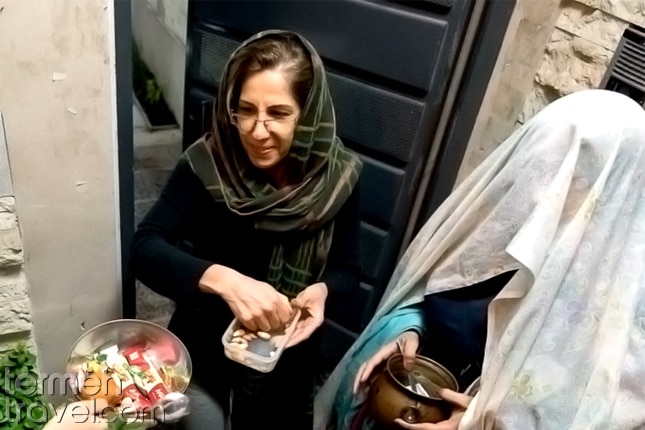 Besides making bonfires, Iranians cover their faces and knock on their neighbors' doors while beating on pots with spoons to get some sweets, like trick or treat on Halloween. Also, eavesdropping on strangers' doors is another tradition. Usually, single people make a wish, eavesdrop, and by hearing the first words, they realize if their wish will become true. Another tradition which is held mostly by elderlies or people living in villages is to drop a clay pitcher that had some coin in it off their roof. By dropping and breaking the pitcher, people believed that their bad luck would go away.
In some parts of Iran like Sistan and Balouchestan, which is a province in the southeast of Iran, people burn old blankets to make bad luck disappear.
In some other cities like Tabriz, people spray rosewater or Golab on people. Rosewater is the symbol of health, calmness, and happiness, and sparing it on people would bring luck.
How Do Iranians Celebrate Chaharshanbe Suri Today?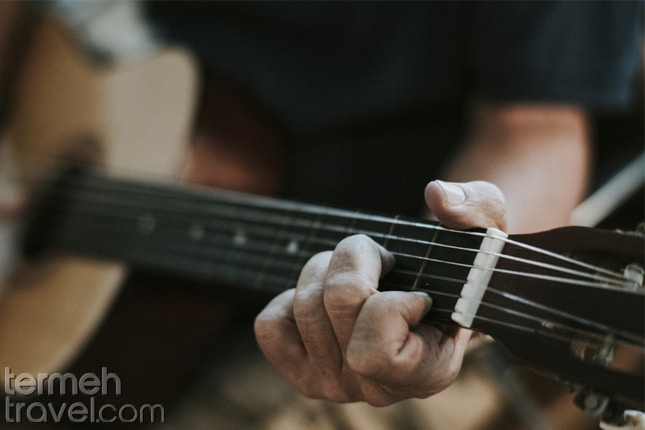 Usually, people prefer to go outside of the towns for Chaharshanbeh Suri Night to make big bonfires and celebrate the night without bothering people for being loud. However, still, in big cities, people make bonfires in the streets or different parts of the towns to celebrate Chaharshanbeh Suri by jumping over them for a few hours. Then they get back home and continue the party there.
Also, since most of the houses are turned into apartments, usually the neighbors make bonfires on the roof of their buildings and try to have some fun hours with others.
After spending a year full of different experiences, Iranians want to gather around and make the most of the last days of the year by being happy. Playing music and dancing are inseparable parts of Chaharshanbe Suri. When you walk in the street on Chaharshanbe Suri, you can hear the sound of the music being played or sang by people coming from different houses.
What Is the Special Chaharshanbe Suri's Food?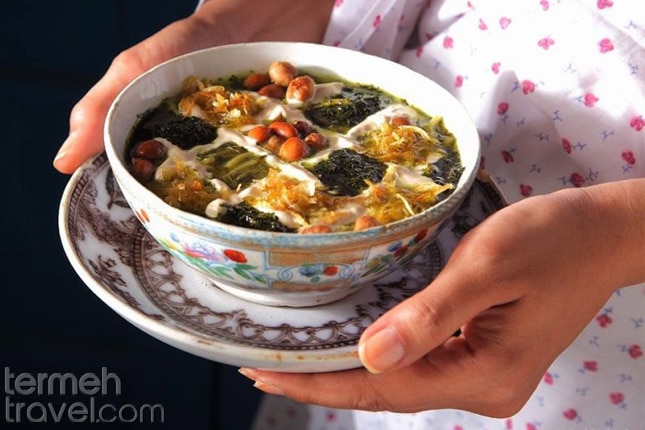 Besides eating sweets and candies, along with drinking Persian tea, the most popular dish for Charshanbe Suri is called "Ash." Ash is a kind of soup made of beans, rice, and herbs like parsley, leek, coriander, and spinach. Although there are different kinds of Ash in Persian Cuisine, people usually make Ash Reshteh for Chaharshane Suri. This delicious meal can be a fantastic food on the cold night of Chaharshanbe Suri, also like the cherry on top of a perfect gathering.
For making Ash Reshteh, you need to soak peas, beans, and lentils from the day before and change the water after a while. First, you need to have fried onion and add salt, pepper, and turmeric to it. Then you should cook the beans with some water. In the next step, you should add the saturated herbs into the pot and let them cook for about 20 minutes. After that, by adding Reshteh, which is an enriched flour-based Persian noodle to them and letting ash boil for ten more minutes, you will have an excellent combination of nutritious ingredients. Then you can design your food with fried onion, fried mint, and whey sauce.
Elderlies say that you have to eat Ash Reshteh with your friends and families, that is another reason for making this Ash in Chahrshanbe Suri.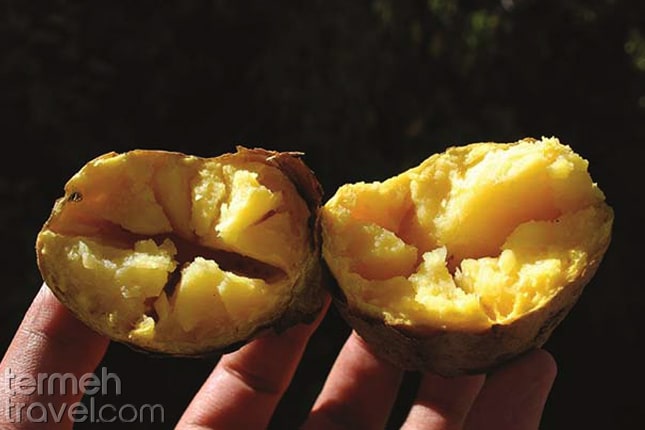 Although Ash Reshteh is very important, having a bonfire without fire-cooked potatoes is meaningless. Therefore, Iranians put some potatoes inside the fire to be cooked and eat them with salt, pepper, and butter.
By traveling to Iran before Nowruz, you can see how Iranians use the last days of the year to be together. Also, how they finish the year with sweet memories and get ready for a great year to come.

Works Cited:
Heidari Monfard, Asqar, Jashn-e Hasti, 2017
Intini, Dario, The Politics of National Celebrations in post-revolutionary Iran, 2015